All of my boys are at that age of almost-kindergarten learning. The twins won't go for another year, then the following year my 'baby' begins. For now, I just like covering the bases of their learning, such as the alphabet, colors, stuff like that. The best way to teach (or to even get the attention of) kids this young is by games. Their favorites are definitely these DIY Color Games.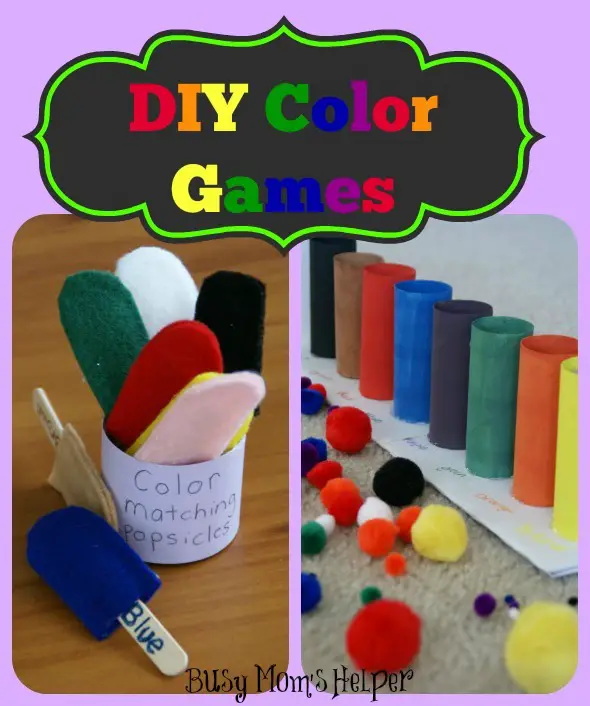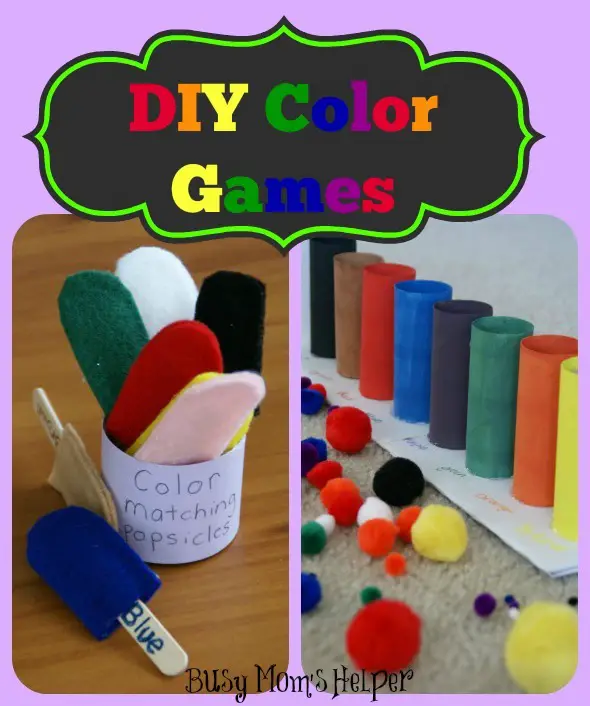 So I have to admit, I struggle a bit with teaching my twins. Superman catches on to learning so FAST, while Batman couldn't care less to learn. Superman can tell you colors, alphabet, and spell most of the names in our family (plus some of his friends)….Batman just doesn't care to try. Even if I ask him 'what color is this', he just names whatever color. It's a constant struggle, but he has time…and I'm trying not to push.
These games help get them interested, though, so I've been trying to bring them out more often. Or just take advantage of the everyday opportunities such as 'what color plate do you want?' and simple things like that. More is caught than taught, right?! Here's two of their favorite DIY Color Games that we use at our home…now you can quickly get your own made and have your kids learning right along, too!
This one is probably their #1 pick. The game is to sort the colored pom-pom balls into the matching colored tube. This helps them learn similar colors.
Supplies
Empty toilet paper rolls (one per color you want)
Piece of cardboard (big enough for a row of the rolls)
Paint, in the colors you want to use, and paint brush
Hot glue/stick
Colored pen, if desired
Multi-colored pom-pom balls
To Make
Paint each toilet paper roll a different color, allow to dry completely
Hot glue the rolls standing up on the piece of cardboard (paint the board, too, if you'd like).
You can write the names of the colors in front of the corresponding rolls.
Get a bag of multi-colored pom-pom balls.
Even little Green Lantern gets in on the fun…even though he's really not ready to 'learn' the colors, at least he's eager to try!
Another fun learning activity you can do with this…get a variety of shaped pom-poms and have them just put the 'big' ones in the right colors and leave out the others. Then they can learn sizes as well!
Now, this second one is also loads of fun….especially if you decide to give a relative treat along with it!
That's right, Color Matching Popsicle! This is great for teaching them the NAME (how it looks/is spelled) of the colors. They match the 'Popsicle' to the stick with that color's name on it. If you want, you can also just paint the stick that color and they match colors together. Up to you!
Supplies
Variety of colored felt
Popsicle sticks
Hot glue gun/sticks
Scissors
If you want: a cup/container to store them in
To Make
Cut the felt, 2 sides of each color, into the shape of a Popsicle. Be sure it's the right size for your Popsicle sticks!
Hot glue the top and side EDGES of the 2 pieces together, leaving the bottom open to slide onto the stick.
Write the name of the color on the Popsicle stick, so they know what color they're trying to match to which stick.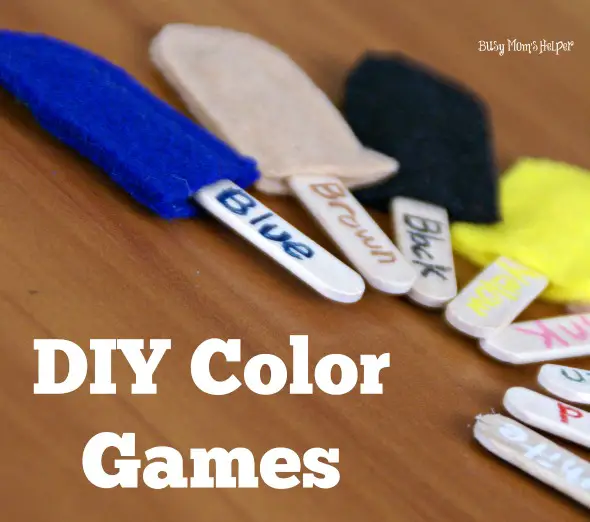 Like I said, I bet your kids would REALLY work hard on this if they happen to earn a REAL Popsicle from getting so many correct! Not that I'd ever bribe my kids or anything…..oh who am I kidding, I'd totally bribe my kids with Popsicles!
This content may contain affiliate links. We earn a commission at no extra cost to you if you make a purchase. We may earn money, free services or complementary products from the companies mentioned in this post. All opinions are ours alone…
The following two tabs change content below.
Latest posts by Kelly Dedeaux (see all)