Dry Erase Paint: Does it Work? TWO Projects!
So I've been hearing a lot of chit-chat the past few months about Chalkboard paint. Gotta say, I'm really not a fan of chalkboards because of the MESS that comes from all the chalk. So….then I noticed the hype of Dry Erase Paint. Hmm….sounded GREAT, but would it really work, or just be kind of ECK on my wall?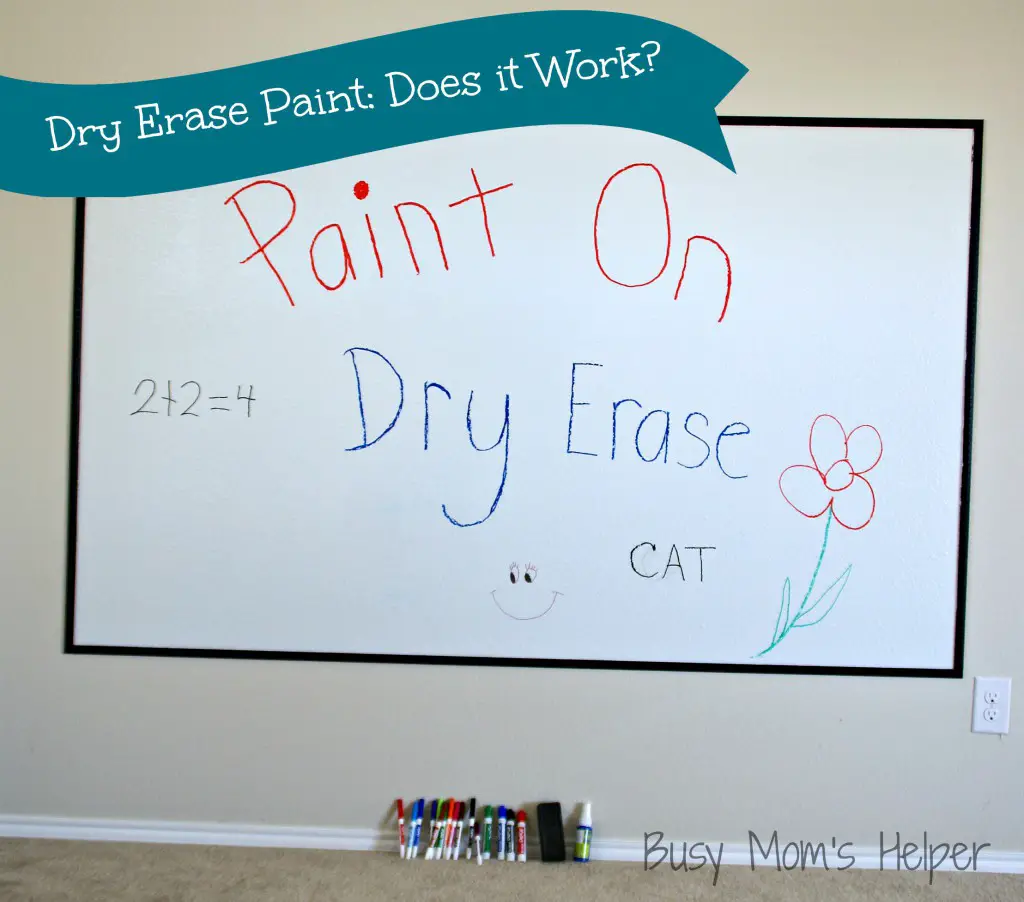 Contains affiliate links that support this blog at no extra cost to you. See our disclosure for more info.
You can get the paint for about $21 on Amazon.
IMPORTANT: You have to use all of the paint WITHIN 1 HOUR of mixing these, so make sure you're completely ready!!! For my projects, I planned ahead for both, so I could paint one, then do a coat on the other while waiting on the first. Then back & forth, etc. Just make sure you're ready before mixing. When you are ready, pour the smaller, yellowy liquid into the large can with the white paint. Mix VERY well. Then paint!!! Wait 20-25 minutes between coats.
The cans recommend using 2 coats, but I used 3 just to be safe.
Project #1: Dry Erase Paint Wall
So another blank wall in our house needed something, so I thought "hey, why not a big dry erase board for the kids when they're playing school, or coloring, or want to dry, or…" Ya, endless possibilities!
Step 1: Frame in the area
Step 2: Sand it nice and smooth
Step 3: Primer it, just to be sure it's a smooth color, cover up blemishes from sanding, and help it be as smooth as possible. Allow to dry completely before doing Dry Erase paint.
Step 4: Paint, wait 20 minutes. Paint, wait 20 minutes. Paint again
The product, as you can see at the top and below, worked just fine:
(Yes, that's my Superman wearing a Jake & the Neverland Pirates outfit)
Notes: Although we did spend quite a bit of time sanding, I really wish we had made sure it was VERY SMOOTH. When drying it, the little grooves and bumps do make it difficult and it isn't as good as I would have liked.
Effectiveness: For this wall, and it could be from the lack of perfect smoothness, I wish I had used 4 coats just so it would erase a bit easier. It works okay, but we do have to use the spray more than I'd like and there is a slight color left. However, again, this could be from the little roughness or from needing one more coat. Also, we could have tried mudding it to make it smoother, like we did the project below.
Still love it, though – the kids have used it TONS and still think it's a blast!
Project #2: Dry Erase Pantry Door Menu Board
I really have been wanting a nice, big, easily view-able Menu Board in my kitchen, so thought it would be fun to have it on my pantry door, right next to my fridge.
Step 1: Tape off area
Step 2: Sand the area smooth
Step 3: Mud it so every little bump/crevice gets filled for ULTRA smoothness
Step 4: Paint primer. Allow to dry completely
Step 5: Paint with Dry Erase Paint. Wait 20 minutes. Paint again. Wait 20 minutes. Final coat, allow to dry.
Final Product Menu Board
And it erased WONDERFULLY!!! It was so much smoother than the wall, so I bet that helped. Still 3 coats like the other, too.
I love it!!! It's been so nice to just erase as we have meals, and when I'm wondering what I had planned I can glance over and it's there in big, colorful letters. Cause colorful is more fun, right?
Have any of you tried Dry Erase Paint? I do recommend it – but make the area SMOOTH!!!
This content may contain affiliate links. We earn a commission at no extra cost to you if you make a purchase. We may earn money, free services or complementary products from the companies mentioned in this post. All opinions are ours alone…