Sugar Rush Party Series: Food, Drink & Goodies
How have you liked the Sugar Rush Party Series so far? I hope you've had fun looking – we had fun planning and doing!!! This is the 3rd and last part in the series – the Food, Drink & Goodies (best part, right?)!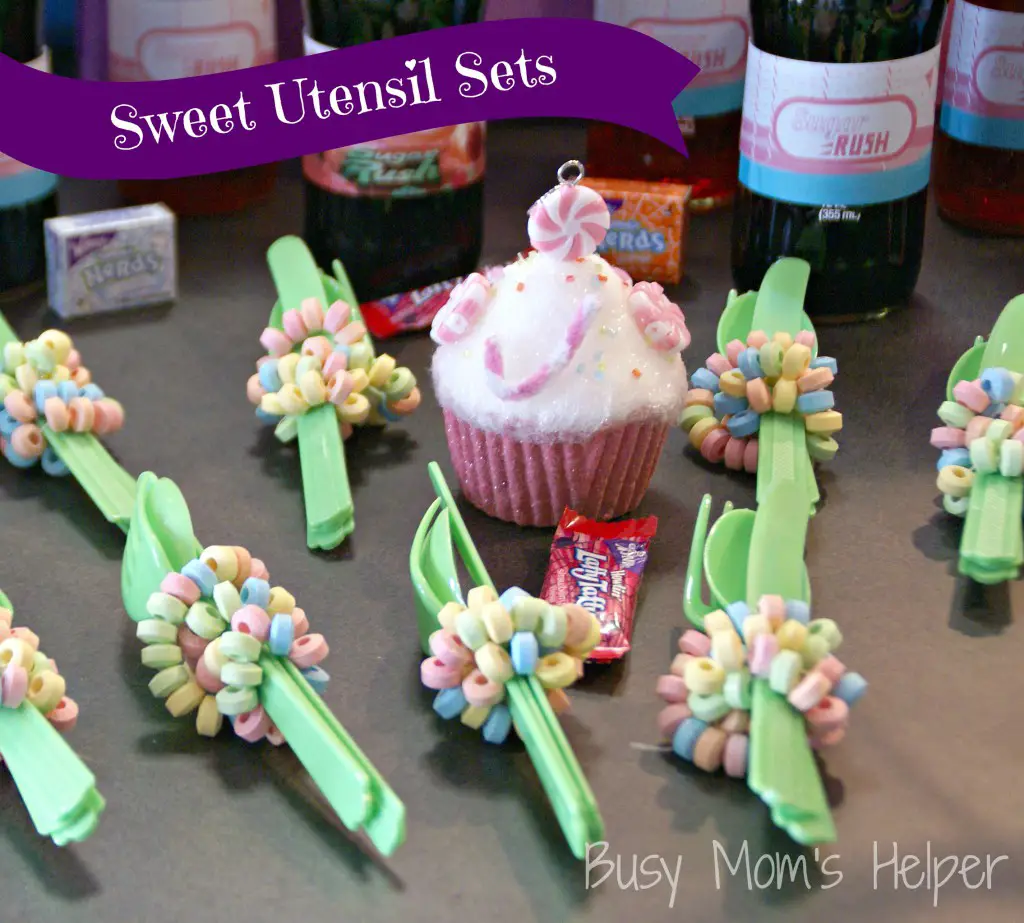 For a fun little utensil wrap, I used candy bracelets/necklaces to hold their fork/spoon/knife – you can see in the photo above. The kids thought they were so fun, and the candy jewelry definitely didn't last very long!
We did Sugar Rush Soda for the beverage. Simply buy a soda in bottles – such as IBC Rootbeer, or we did Crush Grape & Strawberry, since it matched our color scheme. Then we printed off simple labels with images or designs inspired by the movie, and tape them around the soda. I did two labels – One very simple, pink and blue, that say's Sugar Rush' then just has candy Canes and such. The other has Wreck it Ralph standing looking at the game Sugar Rush – remember after he crash lands? Ya, had to have an image of him SOMEWHERE!
Ok, I know this is one of the saddest looking cookie cakes ever – but we were trying to make it look like a kid-made, simple Hero Medal, like the one Vanellope made Ralph. So no fancy, professional decorating here -simple, yet cute.
Now, even though the cake wasn't all that pretty – it tasted AMAZING! Like eating cookie dough, but being cooked. Love it! So I thought I should share the recipe for any other cookie-dough-lovers out there! Please note: This makes a BIG cookie! Like a large pizza kind of big!
Ingredients
16 tbsp. (2 sticks) Butter, melted
1 cup Granulated Sugar
1/2 cup Brown Sugar, packed
2 tsp. Vanilla Extract
1 tsp. Salt
2 Large Eggs
2 1/2 cups All-Purpose Flour
1 tsp. Baking Powder
2 cups Chocolate Chips
Frosting for decorating – as desired
Directions
Preheat your oven to 350 Degrees F. If you have a pizza baking sheet, use that (circular works best, obviously), otherwise do your best with a normal baking sheet. Spray it or PREFERABLY – line with parchment paper.
Mix all of the ingredients (except frosting) together until VERY WELL COMBINED. Using a mixer helps save the arm muscles, but it does work out fine.
Pour the batter onto your baking sheet and shape into a large circle, about 3/4 of an inch thick.
Bake for 35-45 minutes, or until a toothpick inserted comes out clean and edges are slightly browned.
Allow to cool completely. Decorate as desired – have fun!
Check out the entire Sugar Rush Party Series
This content may contain affiliate links. We earn a commission at no extra cost to you if you make a purchase. We may earn money, free services or complementary products from the companies mentioned in this post. All opinions are ours alone…
The following two tabs change content below.
Latest posts by Kelly Dedeaux (see all)