With the new addition of Pandora – The World of Avatar at the Animal Kingdom, with a few other changes in the other parks, we decided it was time to make some Updated Walt Disney World Ride Lists! These free printables feature favorite characters from each of the 4 main Disney World parks and we listed height requirements to make it convenient. These ride checklists will be perfect for your next trip to Orlando!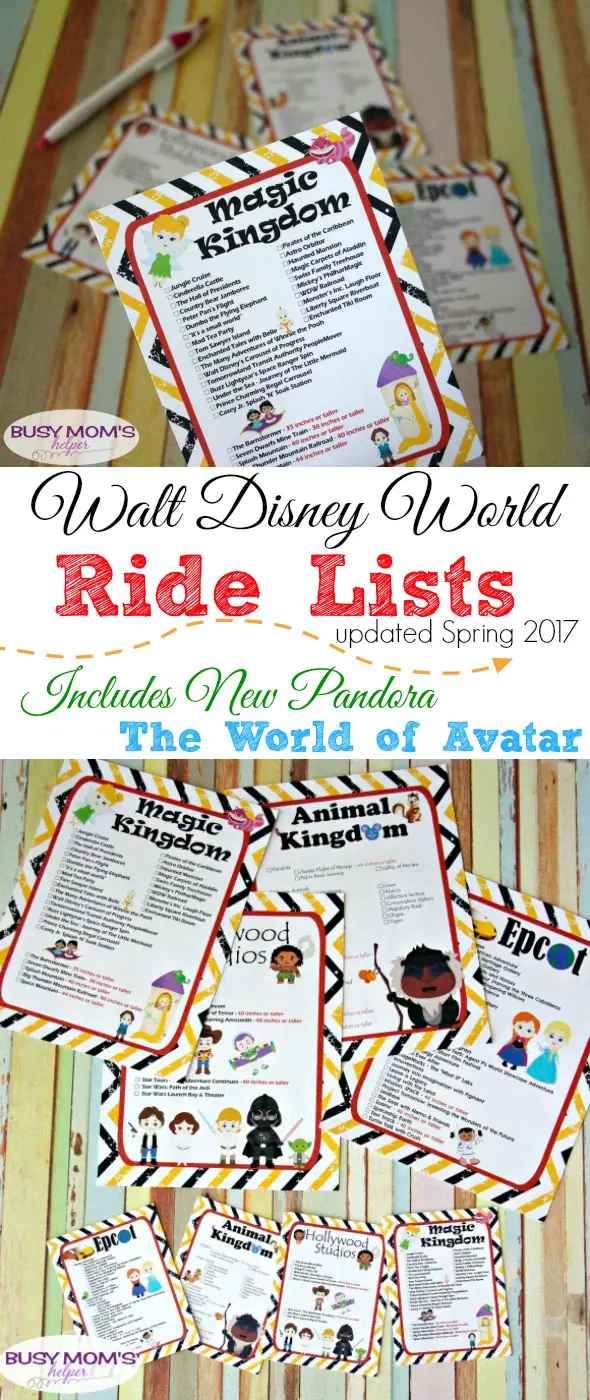 Contains affiliate links that help support this blog. See our disclosure.
Ya'll loved our last Disney World Ride Lists, but many have asked about the new rides at Animal Kingdom once Pandora opens later in May. Now that Disney has announced the ride names – and height requirement for one of them – we were thrilled to whip up these fun new printables.
Great prices on your magical vacation, check HERE. Use Promo Code: BMHDisney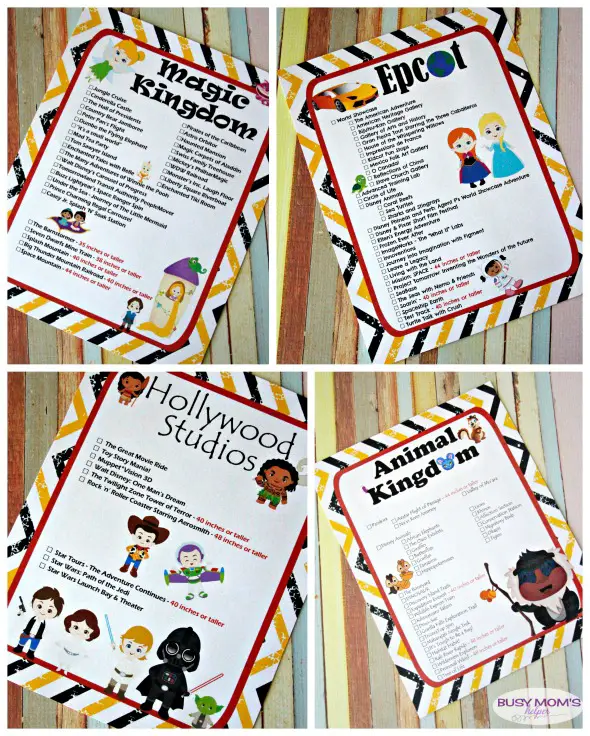 We have a page for each of the 4 main Disney theme parks, sized at 8.5×11 – I highly recommend printing onto cardstock, and of course they look tons better in color! Click the links to download these free printable Disney World Ride Lists!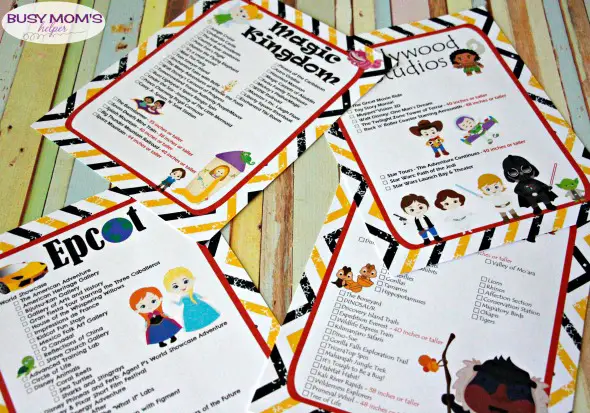 Since sometimes it's a pain to carry around a full sheet of paper on your Disney trip, we also put all 4 onto one 8.5×11 sheet, making them compact and much easier to take with you. Here's the link to download and print that one:
Some of the characters are the same as our original ride lists, but we added a few changes – like Moana & Maui at Hollywood Studios, Rafiki at Animal Kingdom (as well as a Mickey-shaped Na'vi face for Pandora!), and Lumiere at Magic Kingdom.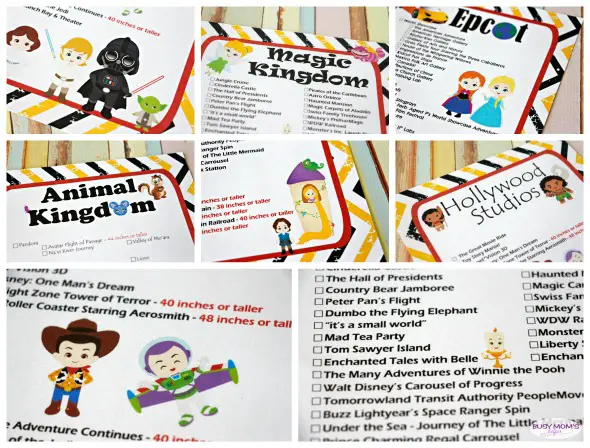 There's a little checkbox next to each thing, and if the attraction has a height requirement, that's listed out to the side in red so it stands out.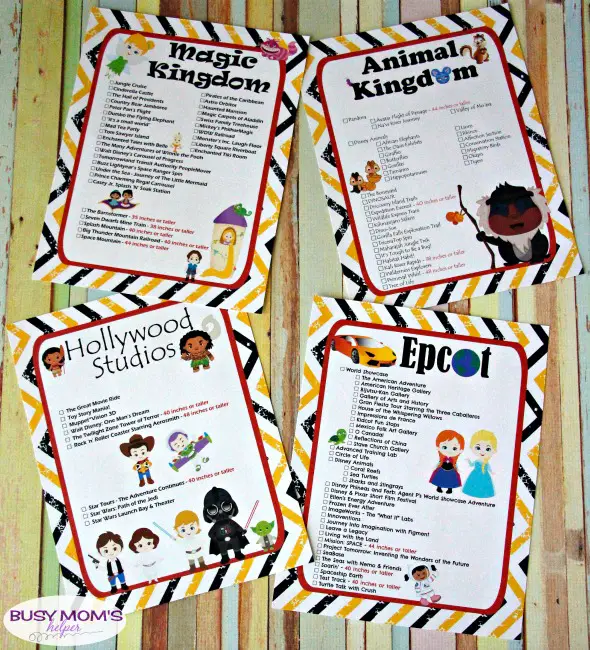 You can not only have an easy guide to which rides there area, but check them off to see what you have left to complete! You can even highlight ones that are your 'absolutely cannot miss this', so you can tell at a glance what your priorities are for that park.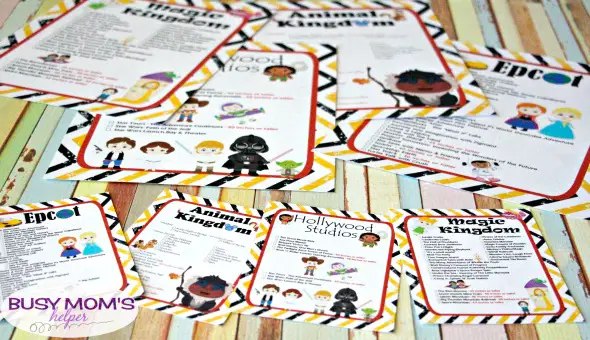 Don't forget to check here for great prices for your next vacation.
Use Promo Code: BMHDisney
*Keep in mind that Pandora doesn't open until late May. We are not responsible for any ride availability, hours, refurbishment schedule, closings or height requirement changes. Check the Disney website for the most up-to-date information for your trip dates.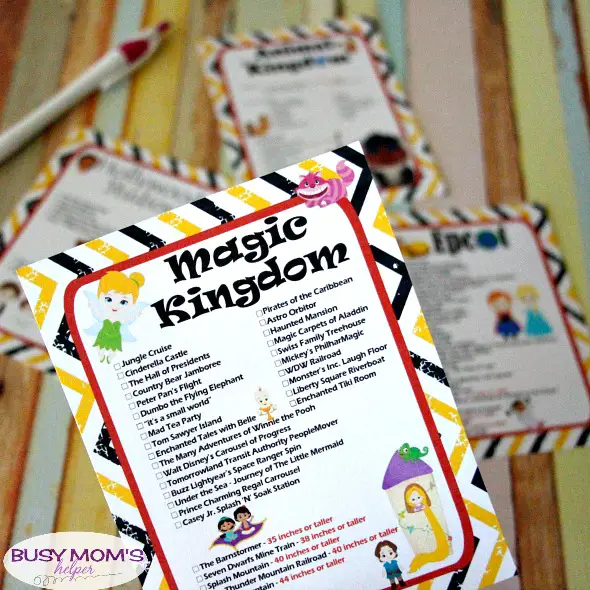 Exclusive Free Printables & Discounts!
Subscribe to get our latest content by email, as well as free printables, discounts on our products and more fun!
The following two tabs change content below.
Danielle is the crazy momma of 4 behind Busy Mom's Helper, where she shares all her adventues. Married to her best friend & fellow nerd. Totally addicted to Dr. Pepper and chocolate. Staying home with the kiddos keeps her busy, but she loves squeezing in time to create through the ups & downs of life . Now, if she could just figure out how to eat a candy bar without having to share, life would be even more fabulous! Be sure to join the fun at BusyMomsHelper.com