Love Strawberries?  Well I do too but I never seem to get any, well maybe five but that's it and I have a pretty good sized patch.  With the bugs, mold, large dog who tramples them, birds, and the constant weeds I never seemed to get any good strawberries.   Vertical Strawberries will help with all these complications.  With a little time, a little money, you can have beautifully hanging strawberries that are easy to get, weed, and grow so let's get our gardening gloves and get going.
Ok so these Vertical Strawberries did cost me a little bit of money but they're totally worth it!  After just a few weeks I've gotten some beautiful strawberries and they're not buried, smashed, or not even there.  Now that it is towards the end of the season I have gotten several of the 1 pound containers from the store filled with my own personal strawberries!  The planters themselves also look really nice too which is always a bonus.  I made three rows of ten foot gutters and there's four gutters on each so I have a total of 12 gutters of strawberries but do what you have space for.  If you need you can also cut the gutters to a shorter length.  I didn't put any caps on the end of the gutters but now I am wishing I did because the water runs out and takes some dirt with it.
Supplies (for each row)
2 – 4"x4"x8' wood posts
4 – 2"x4"x10' wood slats
4 – 10' rain gutters (I used vinyl round rain gutters)
1" thick elbow or L brackets
1" long wood screws
Dirt
Strawberries (I used mine I already had)
Screw driver
Pencil
2 bags of instant concrete mix
Boiled linseed oil
Directions:
Paint your wood with boiled linseed oil, this helps protect it from all the harsh weather.  Prep the area, level your area the best you can and clear out any plants.  Dig two holes about 2 feet down for the posts.  Make sure you watch for sprinkler lines!  I completely snapped one of mine and so we had to spend an extra two hours repairing it.
On the 4×4 wood posts make a mark 2 feet up on the post; this 2 foot section will be in the ground.  Sometimes the post won't go the whole 2 feet down because after leveling mine I had one that was only about a foot and a half.  It still will work but it is better to have them level. Mark on the 4×4 posts where your gutters will go, we put our first one about 15 inches up and there was about 15 inches between each L bracket.
Screw in the L brackets on your marked posts. Lay your posts down and put in your wood slats screwing them into the L brackets.
Now get some help and carefully pick up each post and place them in the holes. Each hole needs one bag of concrete, lift a post slightly up to make them level and level each way. Get a leveler and make sure that your posts are level each way before the concrete sets.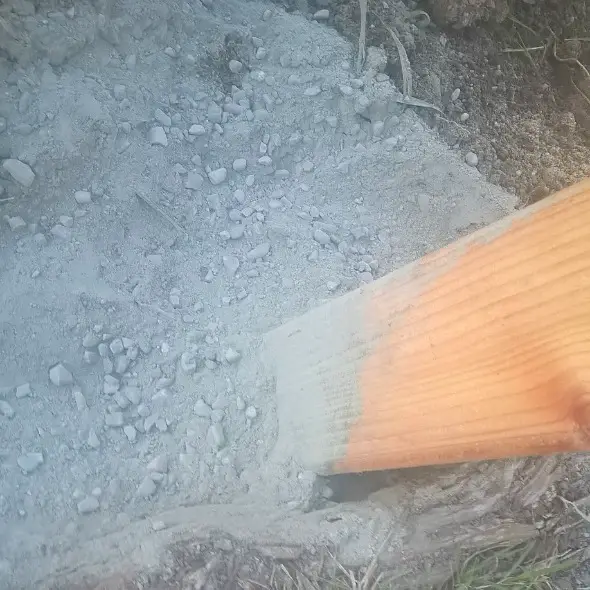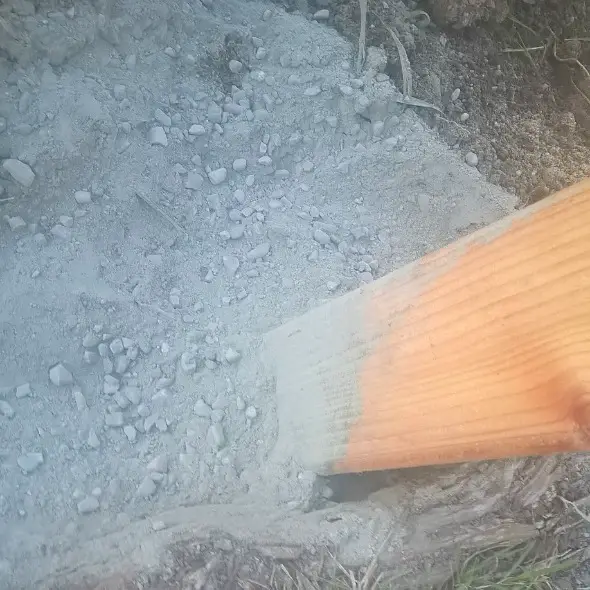 Soak the concrete: get a hose and soak the concrete and let it settle then soak it again. Check and make sure posts are still level before concrete sets.  It is best to let this sit overnight just so it is settled and not going to get pulled down when you're putting in the gutters.
Grab your rain gutters and place them along the slats and screw them through the bottom into the wood slats about 3-4 times. On the sides of the gutters screw a few holes so there's some drainage holes, don't put a lot only 3 should be just fine.
Place your strawberries in and spread apart, then fill in with dirt.
Water! I never worried about watering my strawberries because the 2 times a week my sprinklers came on was enough but with these Vertical Strawberries in rain gutters I water them every other day especially when it is hot outside.
I really hope this all made sense and your Vertical Strawberries turn out great for you!  I also will be putting in some block under the Vertical Strawberries or something that looks a little nicer but that will be a next years project for now so if you have any fun ideas I would love to hear them.
This content may contain affiliate links. We earn a commission at no extra cost to you if you make a purchase. We may earn money, free services or complementary products from the companies mentioned in this post. All opinions are ours alone…
The following two tabs change content below.
Latest posts by Nikki Cole (see all)