Bassinet Vs Cradle – Which Is The Best Choice?
If you are a new parent, there are so many questions when it comes to the best sleeping arrangement for your baby.
There are so many different options to consider when it comes to what your baby should be sleeping in, and this can cause a lot of anxiety for parents who do not know what will be the best option for them.
Because of this, we have put this guide together to give you all the information you need on which will be better for you, a bassinet, or a cradle.
So if you are looking for any more information, or do not know how to choose between these options, keep reading!
Bassinet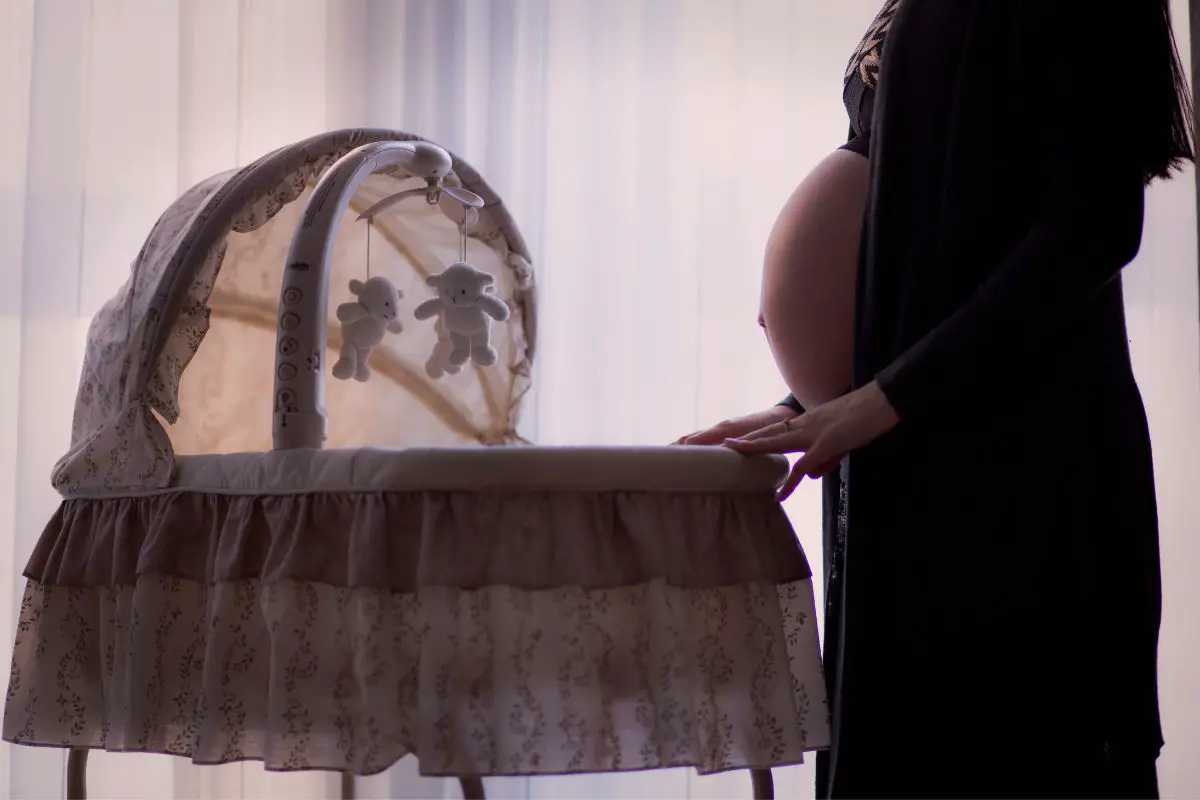 You can sometimes hear people call a bassinet a cosleeper, and these devices are both portable and small. They use a variety of useful features to make it simple for your baby to sleep.
They are often designed to attach to the side of an adult bed so you can have the baby close when you are sleeping. Furthermore, they also come with a stand, as well as wheels and a handle too.
No matter how they are configured, they are a great option for keeping your baby close and easy to move around.
Pros Of Using A Bassinet
One of the best things about a bassinet is how light and small they are, this makes them a very portable option for you to go for.
On top of this a bassinet is also likely to be quite affordable, while some are expensive, they are generally a cheaper option.
On top of this, they have some of the most mobile friendly options, making this a great choice if this is something you prioritize.
They also tend to be quite versatile, so if you need a sleeping option for any occasion, this is a good choice. Bassinets are also great if you want the baby to be accessible when you are sleeping too!
Cons Of Using A Bassinet
The main drawback of a bassinet compared to the other options is that babies will tend to outgrow a bassinet quite quickly while other options are better for longer than this.
You can generally not put a baby in a bassinet if they are over 40 pounds as this can be unsafe.
Sometimes having a bassinet on the floor has been seen as a stepping hazard. Since they can not be used for as long, this is why they tend to cost less.
Extra Bassinet Information
Bassinets do not have the same standardized size or strength that other sleeping options have, so you will need to judge when the baby should stop using a bassinet, and this is usually at around 25 to 30 pounds, or if the baby is strong and active too.
Generally speaking, they are a good option if the baby is less than 6 months old. They are the best option for newborns, however.
You will want the mattress to be comfortable but firm, and for blankets to be thin and breathable.
Cradle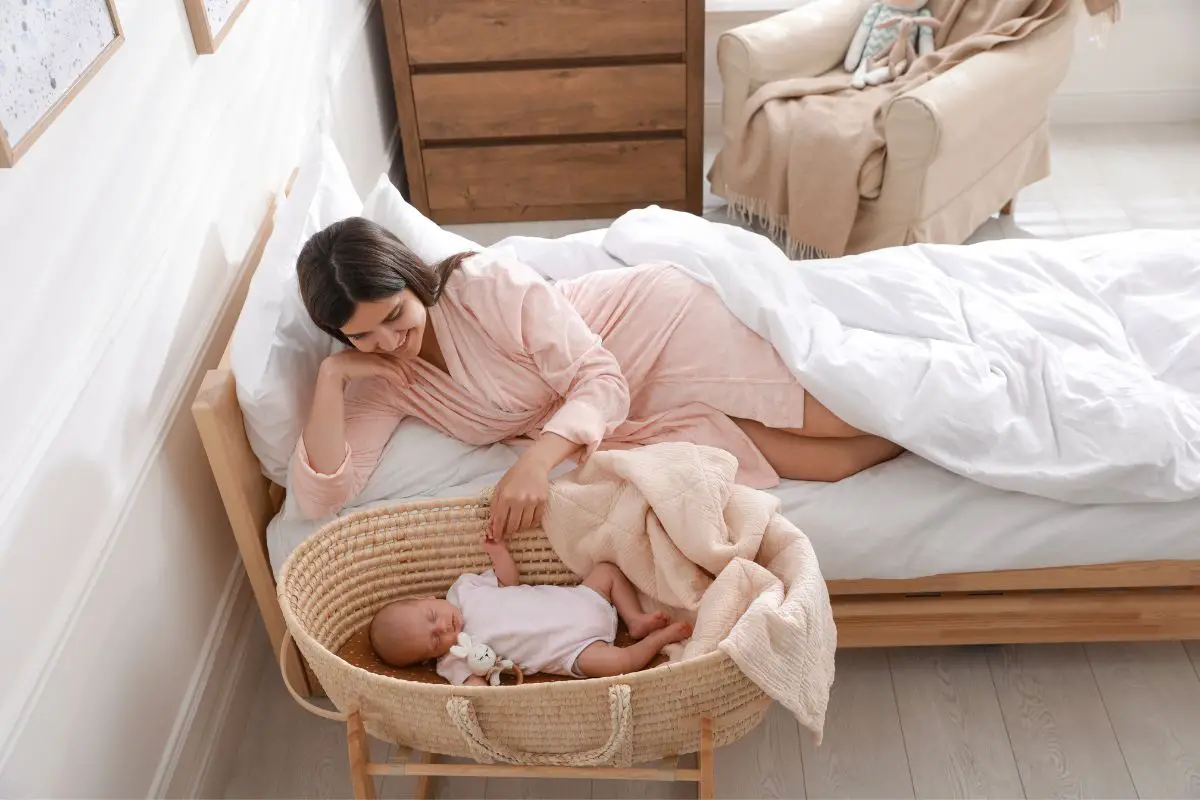 In the traditional sense, a cradle is a smaller piece of furniture that is semi-portable and used for a baby to sleep in.
They have legs in a rocker style and they will hang from a frame almost like you would in a hammock.
However, modern cradles tend to be a little different being called a play yard or a playpen. They have a variety of different uses and they are usually intended for newborns to sleep in.
You can find cradles that have extras like a changing table, and the higher walls that make them good for growing babies.
Pros Of Using A Cradle
We love cradles for how they are portable and versatile, with them usually being foldable, they are super easy to take on the go. Their portability also makes them a simple choice for cleaning as well.
These pieces also tend to be quite cheap, so you do not have to worry about the price either.
Cons Of Using A Cradle
There are not too many big drawbacks to a cradle, but the main concerns are that they are not the best option for long term sleeping, and also there is a chance that some babies can pinch their fingers in the hinges, however this is not a very common occurrence.
Extra Cradle Information
Generally speaking, a cradle is often used as a device to transition from a bassinet or a similar sleeping device for infants into a larger sleeping option.
This is why cradles are usually used for children who are between the ages of 1 and 2. You again do not want a child to be using one when they are over 40 pounds, however, they are a better option for an active baby than a bassinet.
Bassinets can be safe for newborns, but you will want to make sure that safety sleeping considerations have been adhered to, this means the surface should be firm, and the sheets should be sized properly and tight.
Make sure to avoid using excess blankets, toys, or pillows. One drawback of larger cradles is that they can sometimes move out of reach.
Frequently Asked Questions
What About Cribs?
A crib is similar to a standard cradle, however, they do not swing or rock. They are instead a little larger, and much stronger.
They can be moved but they are nowhere near as portable. Cribs are a common option as well, but they have different features than a bassinet or a cradle.
Summary – Which Is Better?
We believe that you should start your baby off with a bassinet and then move onto a cradle, however, if you just pick one or the other that is fine as well.
Bassinets are not meant to be used for much longer than 6 months and that should be kept in mind when choosing one, and while cradles are better for above 1 year, they are safe for newborns, but you want to keep the safety considerations in mind.
Look for other helpful patenting information check our our post "Why won't my baby nap – Sleep Tips"
This content may contain affiliate links. We earn a commission at no extra cost to you if you make a purchase. We may earn money, free services or complementary products from the companies mentioned in this post. All opinions are ours alone…
The following two tabs change content below.
Michelle Jacobs
Michelle is a young mom and crafts fanatic. In her free time she loves to write about her latest creations, and how other moms can entertain their children with some colored paper and a pair of scissors!
Latest posts by Michelle Jacobs (see all)