Chocolate and Salted Caramel Whoopie Pies
Can I just tell you that it's been a must-have-chocolate-or-someone-may-die type week? Well, month, but this week has been especially challenging! Cue these Chocolate and Salted Caramel Whoopie Pies!
After getting a horrible cold after SNAP! Conference, followed by the flu, then a headache that's now lasted a week…let's just say I'm a bit behind with my to-do list. So between trying to catch up, pushing through this headache, and then playing an AMAZING birthday party for Green Lantern tomorrow (post coming in a couple weeks!), I feel like I might explode. Oh, and did I mention I'm trying to limit my Dr. Pepper intake? Dealing with THAT may kill me faster than anything else!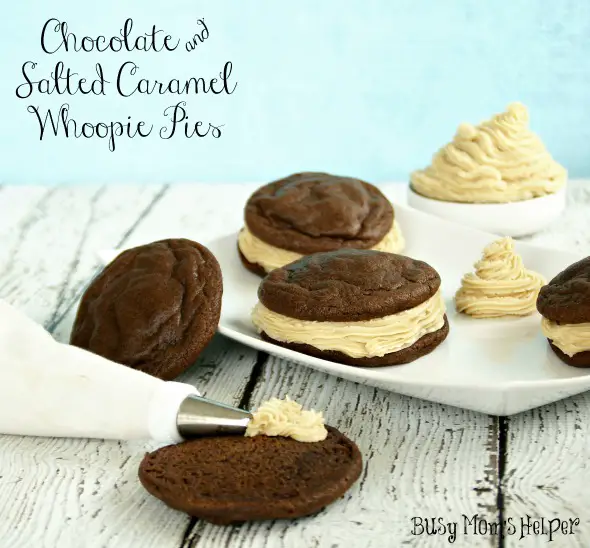 So when I get uber stressed, I tend to turn to chocolate (and Dr. Pepper, but guess that's not an option right now). I wanted something new, something really flavorful. I thought about the normal cake-mix cookies with cream cheese frosting in the middle….they've been my favorite for years, but they didn't sound quite perfect this week. Suddenly, I had a craving for chocolate AND caramel….and that was that, I HAD to try these Chocolate and Salted Caramel Whoopie Pies!
They turned out amazing! The cookies are super soft and chewy, and the frosting was just the right amount of caramel flavor. Oh…and EASY, which is what I really need right now!
Ingredients – Cookies
1 1/2 sticks Butter
1/4 cup Sugar
3/4 cup Brown Sugar
2 Eggs
2 tsp. Vanilla
1 box (3.7ish oz) INSTANT Chocolate Pudding Mix
1/4 cup Unsweetened Baking Cocoa
2 cups All-purpose Flour
1 tsp. Baking Soda
Pinch of Salt
Directions – Cookies
Preheat oven to 350 Degrees F.
Cream the Butter, Sugar, Brown Sugar, Eggs and Vanilla together.
Mix in the Pudding Mix and Cocoa.
Add the Flour, Baking Soda and Salt.
Scoop 1/4 cup of dough, roll into a ball, and place on greased baking sheet. Continue for rest of cookie dough. Bake for 10 minutes. DO NOT ALLOW TO OVERCOOK!
Ingredients – Frosting
1 stick Butter
1/3 cup Heavy Whipping Cream
1 cup Brown Sugar
1 tsp. Salt
2-3 cups Powdered Sugar, to desired consistency
Directions – Frosting
In a small pot, melt the Butter over medium heat.
Once melted, add the Brown Sugar and Heavy Cream. Heat, stirring frequently, until the sugar is fully dissolved. Stir in the salt.
Allow the mixture to lightly boil for 2 minutes, then remove from heat and cool completely.
Stir in the Powdered Sugar a bit at a time until you reach your desired consistency. I used about 2 3/4 cups to reach a nice, firm consistency.
This content may contain affiliate links. We earn a commission at no extra cost to you if you make a purchase. We may earn money, free services or complementary products from the companies mentioned in this post. All opinions are ours alone…
The following two tabs change content below.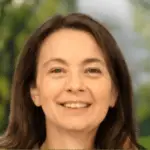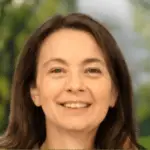 Latest posts by Kelly Dedeaux (see all)