Copy-Cat Tuscan Garlic Chicken
Who else is a total pasta-lover here? My family LOVES pasta, and we try to fit it into our menu at least once or twice a week. I think one of the great things about it is how flexible you can be with it…such a variety of flavors, ingredients, and make it as simple or complex as you'd like. Plus, it tastes amazing, right?! This Copy-Cat Tuscan Garlic Chicken is no exception, and you can make it up fast with no hassle, too!
Seriously, this is one of my favorite dishes (among many) from Olive Garden, but I just can't eat out all the time. Between the time, finding a sitter (who wants to drag 4 little kiddos to dinner), plus the cost…ya, just not happening much. So I was thrilled to get a matching Tuscan Garlic Chicken at my own home! Now I can enjoy it any time I get a craving for it!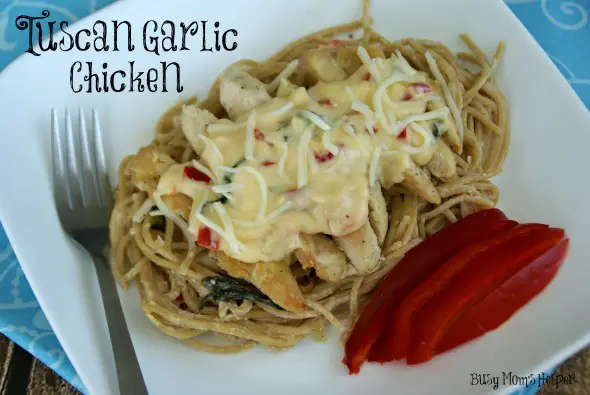 Ingredients
3/4 cups All-purpose Flour plus 1 tbsp.
1/2 tbsp. Salt
1 tsp. Pepper
1/2 tsp. Basil
1/2 tsp. Oregano
4 Chicken Breasts, Boneless and Skinless
5 tbsp. Olive Oil, divided
1 tbsp. Garlic, minced
1 Red Bell Pepper, chopped
1/2 cup Chicken Broth
1/2 cup Spinach, fresh
1/2 cup Heavy Cream
2 tsp. Cornstarch
1 cup Milk (I used skim, and it worked great)
1 cup Parmesan Cheese, grated
1 lb. Fettuccine (or similar pasta)
Directions
Preheat the oven to 350 Degrees F. Spray or line a baking sheet and set aside.
In a shallow bowl/plate, mix the flour, salt, pepper, basil and oregano. Coat each chicken breast until both sides are well covered.
Heat 3 tbsp. olive oil in a large skillet over medium heat. Once the oil is hot, CAREFULLY put the chicken in the pan and cook each side for 2-3 minutes, or until golden brown. Take caution not to push the chicken around in the skillet or a lot of the coating will fall off.
Carefully place the chicken breasts into the prepared baking sheet and bake for 15 minutes, or until the chicken is cooked completely through. Remove from the oven when done, and tent with foil until ready to serve.
WHILE THE CHICKEN IS COOKING: cook the pasta according to the box directions. Grab another large skillet (or wipe out the one you used for the chicken) and heat a new 2 tbsp olive oil over medium heat.
When the oil in the skillet is hot, saute the garlic and bell pepper for 2-3 minutes.
Add 1 tbsp. Flour and stir constantly for 60 seconds. Add the chicken broth and bring to a low simmer, stirring constantly until slightly thickened, about 3-4 minutes.
Mix the cornstarch and cream into the skillet mixture, then add the spinach and milk. Cook on a low simmer, stirring occasionally, until the spinach starts to wilt and the sauce begins to thicken, about 3-4 minutes. Stir in the Parmesan cheese and remove from heat.
After the pasta is done, drain and return to the pot. Add half the sauce to the pasta and lightly stir until coated.
To plate, put some pasta coated in sauce onto the plate, top with a chicken breast, and add some of the remaining sauce on top. Serve, ENJOY!
Check out some of my other favorite pasta dishes!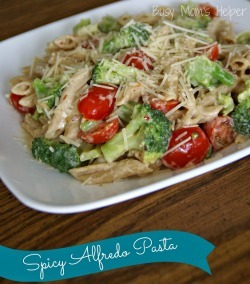 Garlic Pesto Chicken with Penne in a Tomato Cream Sauce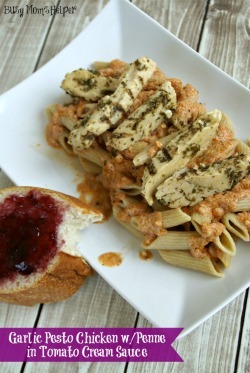 This content may contain affiliate links. We earn a commission at no extra cost to you if you make a purchase. We may earn money, free services or complementary products from the companies mentioned in this post. All opinions are ours alone…
The following two tabs change content below.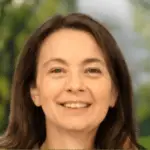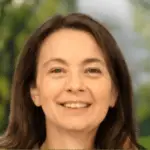 Latest posts by Kelly Dedeaux (see all)