Cute Witchy Hat
Okay, can I just brag for a moment on how absolutely beautiful my little Wonder Woman is? Seriously, look at those bright blue eyes!!! Yup, she's adorable 😀 She's really been getting into headbands lately, but we only have plain ones. When we were at Hobby Lobby the other day, she saw a black/white striped one and thought it was so fun – I thought it was so boring. A few items in our cart later and I had a plan…turn it into a fun, colorful little Witchy Hat. Perfect!!!
Supplies
Headband
Markers (if you're decorating the band)
Foam Cone (the size you want the hat to be)
Scrap of fun Halloween fabric (that will fit over the cone completely)
Ribbon/Flowers to decorate
Piece of black construction paper
Hot Glue Gun
Directions
If you're decorating your headband, like I did for our plain black/white one, use the markers to color over as desired. I alternated purple, green and orange on the white parts.
Here's the inside – you can see the plain it was before we colored the outside.
Here's the colored version. The markers did bleed a bit, but you can't tell when she's wearing it.
Wrap your fabric so it covers the foam cone completely – use a hot glue gun along the edges and top/bottom to secure it in place.
I wrapped orange ribbon a few different times/directions around the fabric, securing it with hot glue underneath the cone and at the top.
Cut out a large circle from the black construction paper to be the 'rim' of the witchy hat.
I hot glued some black flowers to the construction paper, after CAREFULLY laying them out to where they would be AROUND the cone, not stuck underneath it.
Then I clued the cone onto the middle of the construction paper, at the edge of the flowers so they 'lined' the bottom edge of the cone.
Finally, just hot glue the bottom of the hat (construction paper) to the headband. Allow all the hot glue to dry well, then have fun wearing your Cute Witchy Hat!!!
This content may contain affiliate links. We earn a commission at no extra cost to you if you make a purchase. We may earn money, free services or complementary products from the companies mentioned in this post. All opinions are ours alone…
The following two tabs change content below.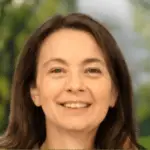 Latest posts by Kelly Dedeaux (see all)