This content may contain affiliate links. We earn a commission at no extra cost to you if you make a purchase. We may earn money, free services or complementary products from the companies mentioned in this post. All opinions are ours alone.
If y'all could see me right now, you'd be shaking your head like 'what the heck'! I'm a total wreck – crying for joy and gratitude, laughing out of sheer exhaustion, and doing a weird happy dance because my 'Unofficial' Disneyland Activity & Autograph Book is FINALLY done! No more boring lines at the parks with our fun Disney Books! These awesome Disney-themed Activity & Autograph books are perfect for any trip. Plus, now without dates on the cover so you can use them any year – Woot woot! Ride lists Updated February 2018!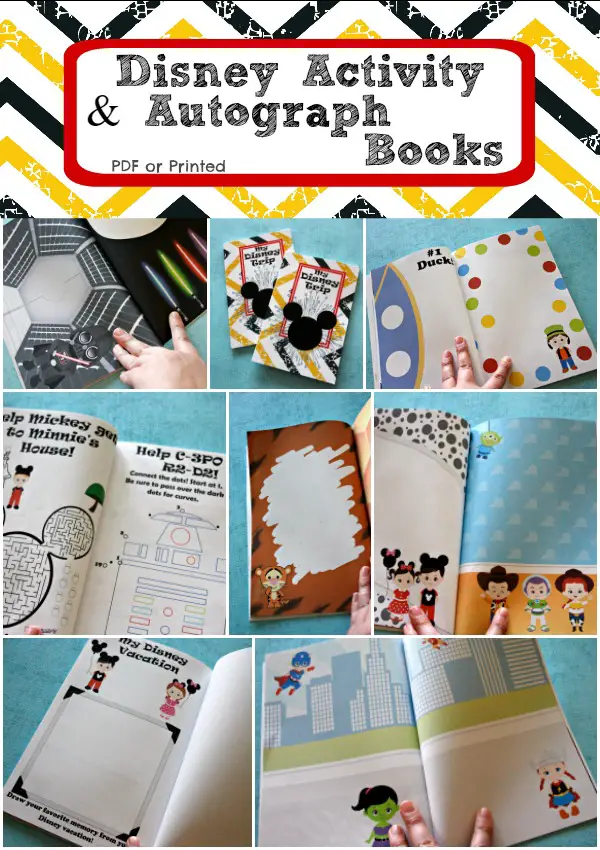 Contains purchase/affiliate links. See our disclosure for more info.
Disneyland California: Get the PDF here for only $2
Disneyland California: Get the printed book from Amazon
Disney Generic – any park/trip: Get the PDF here for only $2
Disney Generic – any park/trip: Get the printed book from Amazon
Check out our Facebook live showing of the book HERE
I've been so nervous about what everyone would think of our book – but people are LOVING it! The favorites so far are the fun Star Wars autograph pages, ride lists and new Tarzan's Treehouse creative activity. With a total of over 60 pages in the Disneyland book, more than 40 pages in the Disney generic book, there's plenty for everyone, whether young or old! Yes, us adults even enjoy them 🙂
Disney Activity Pages
To keep short attention spans happy, we included a large variety of things for them to do, such as:
Games
Mazes
Connect the Dots
Matching
Crosswords
Create your own map, super hero suit and treehouse
Coloring
Jokes
Trivia
and more!
Even THOR loved playing the games with my friend Lexi's boy!
Another great thing about the Disneyland books is that there's ride checklists, divided by the different lands in Disneyland and California Adventure, complete with height requirements for easy reference. No more shoving to the ride entrance to see the height limits! (note: ride availability may change, but we do our best to keep it updated)
The Disney Generic books don't have the ride lists or height requirements, so you're able to use them at any Disney park, trip, cruise, etc!
Disney Autograph Pages
Long gone are the days of boring, blank autograph pages – we've got more than 20 creatively designed ones to nab signatures from favorite characters! We've covered classics like Mickey & Minnie, Donald, and Goofy, princesses like Ariel, Belle and Rapunzel, and even Darth Vader and Avengers! Such a great Disney souvenir!
Donald Duck went CRAZY for his special page – it says #1 Duck, of course!
Even Minnie got in on the fun, along with Chip at Goofy's Kitchen!
We're excited to catch Darth Vader next time – got the perfect page just for him!
Disney Memories
Creating memories together is a HUGE reason to do family vacations, right? I don't know about you, but I've never been very good at writing them down before we forget many! Now you can keep track with our several pages designed exactly for that purpose – keeping the most important moments safe. You can list funny moments or things people said on the trip, favorite foods and rides, how old people were and who was with you, and even trace your child's hand print so you can remember how big – or little – they were! Updated – no longer with dates, so you can use them any year!
To make it super easy to put in your bags or carry around at the parks, we sized it at 6×9. Our kids had no problem keeping track of theirs – they refused to let us carry them since they were having so much fun!
We have two options for each book, so you can get it in whatever way works best for your family:
Disneyland California
Disney Generic – any park, trip, cruise, etc.
So turn the lines at Disneyland from boring to fantastic with our new 'Unofficial' Disneyland Activity & Autograph Book! More info available in our Store! Also see our Generic Disney Activity & Autograph Book – no ride lists, so you can use it an ANY Disney themed park or trip!
This is included in our Busy Mom Bundle, along with other fabulous printable packs!
Book your next Disney vacation with Get Away Today for the best deals – use Promo Code: BMHDisney for $10 off your vacation package!
Summer Camp Kits or Kid Activity Packs
A YEAR of Meal Plans plus Recipes – on a budget!
Other Disney fun you may like!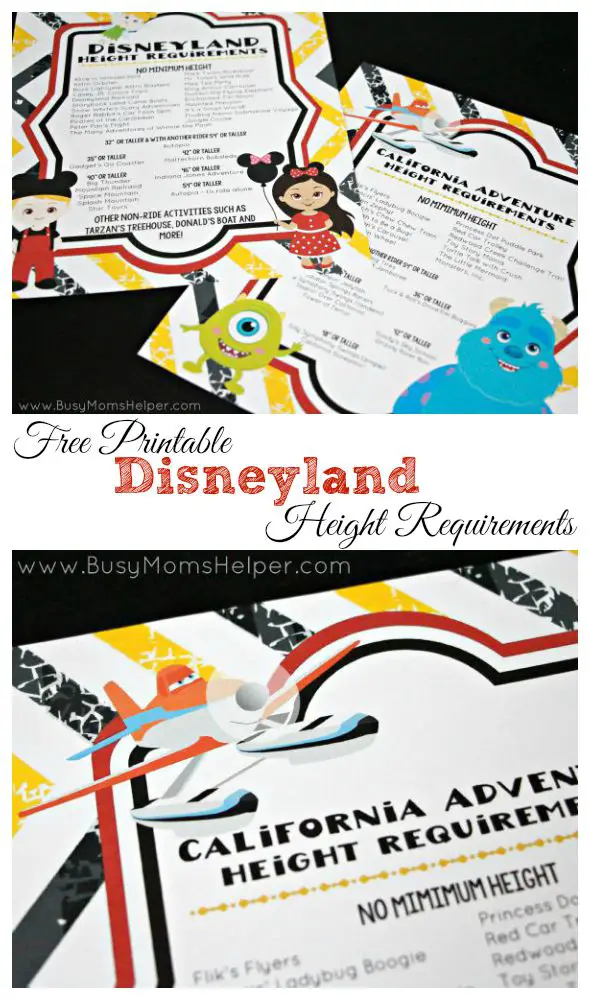 Exclusive Free Printables & Discounts!
Subscribe to get our latest content by email, as well as free printables, discounts on our products and more fun!
The following two tabs change content below.
Danielle is the crazy momma of 5 behind Busy Mom's Helper, where she shares all her adventures. Married to her best friend & fellow nerd. Totally addicted to Dr Pepper and chocolate. Staying home with the kiddos keeps her busy, but she loves squeezing in time to create through the ups & downs of life . Now, if she could just figure out how to eat a candy bar without having to share, life would be even more fabulous! Be sure to join the fun at BusyMomsHelper.com