This content may contain affiliate links. We earn a commission at no extra cost to you if you make a purchase. We may earn money, free services or complementary products from the companies mentioned in this post. All opinions are ours alone.
This shop has been compensated by Collective Bias, Inc. and its advertiser. All opinions are mine alone. #SootheYourSoreSpots #CollectiveBias
I haven't mentioned it much, but three of my children are in competitive latin ballroom dancing. It's such a fun activity for them, and keeps them more active. I've wanted to dance since I was little, but 'life' just kept getting in the way. I decided I needed to get healthy again, and what better way than starting lessons? While it's been hard, and I'm definitely just starting and with a long ways to go, it's been so fun getting more active – although my body tends to argue sometimes. Luckily I can be prepared during my dance lessons and practice – and my kids are covered during their competitions – with this fun DIY First Aid Kit for Dancers! And I couldn't do a kit without including a fun free printable checklist, now could I? 😉
I love that Target is having a special sale right now where if you buy 3 participating Johnson & Johnson products (which you'd be getting anyway for your kit), you can get an Oh Joy Bag 2017 or Red Bag 2017 for free! It's the perfect little case to take all you need in, and very portable with it's convenient size.
I made sure to nab plenty of the BENGAY® Ultra Strength Cream 2oz since it temporarily relieves all the minor aches and pains my 'getting older' muscles are experiencing with this new activity. And if you get muscle or joint pain, this is PERFECT, and is also great if you have a simple backache, arthritis, strains, bruises or even sprains! I love keeping it on-hand since it's good for so many different situations. Keep in mind  that it's for adults and children 12 years and older, and you should only use it as directed.
Hey, you can even shop online with this image – we made it SUPER easy!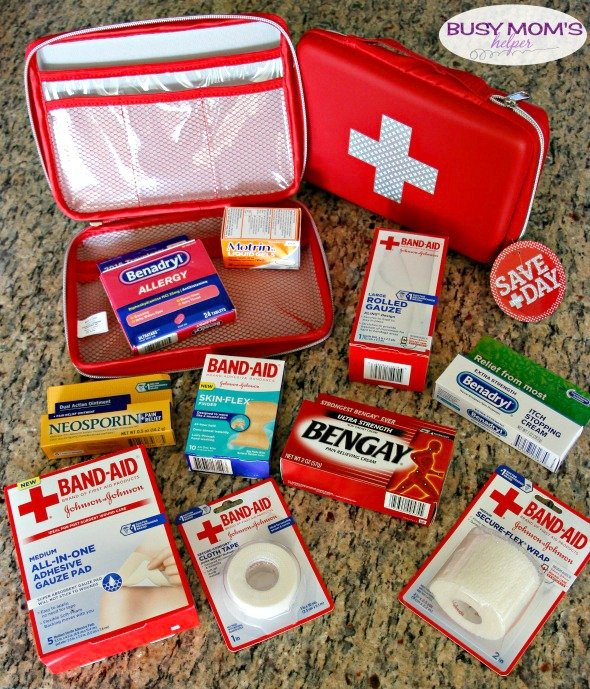 To enable screen reader support, press Ctrl+Alt+Z To learn about keyboard shortcuts, press Ctrl+slash
Okay, I'm sure you're wondering why there's no photos of ME practicing my dance – while I'm getting a little more comfortable with what I've learned, it's mostly just the basic walks and steps (like for Rhumba), so nothing exciting to photograph. I don't compete yet, so no cool outfit, either. I'm working my way there, but it'll take time – and lots of practice! I also have to learn to dance in HEELS – gasp!
I don't wear heels EVER, so that could potentially lead to all sorts of new hurts. Luckily my First Aid Kit for Dancers has everything I need for a variety of situations that may come up!
As for that fun printable – I just included some really fun (somewhat goofy, but real) things I've learned we need for dance and competitions. You may laugh at the bobby pins item, but you'd be AMAZED at how many of those we use in my girl's hair during her competition to keep every strand in place!
Learning to dance is one way I'm getting more active, doing something I'd always wanted to do, having fun and also focusing a little bit on ME, since we do tend to get caught up focusing on just the kids and/or hubby sometimes. And having great items, like BENGAY® Ultra Strength Cream, in your First Aid Kit for Dancers will help your activity stay more fun and less painful 🙂
What are YOU doing to stay more active?
©Johnson & Johnson Consumer Inc. 2017 The third party trademarks used herein are trademarks of their respective owners.
The following two tabs change content below.
Danielle is the crazy momma of 5 behind Busy Mom's Helper, where she shares all her adventures. Married to her best friend & fellow nerd. Totally addicted to Dr Pepper and chocolate. Staying home with the kiddos keeps her busy, but she loves squeezing in time to create through the ups & downs of life . Now, if she could just figure out how to eat a candy bar without having to share, life would be even more fabulous! Be sure to join the fun at BusyMomsHelper.com