DIY Pillow Loungers
I have a confession: my family likes watching movies. Well, it's more like, LOVES watching movies, especially with DIY Pillow Loungers. I know, many people say it's a waste of time, can 'damage' your kids' minds, all sorts of things. However, we make sure we don't watch things that are inappropriate, so ridiculously stupid you feel your brain cells dying, and definitely make sure it's kid-appropriate when we're watching as a family.
People can argue with us all they want, but this is what OUR FAMILY chooses to do to enjoy some time together. We do play PLENTY, but we do enjoy relaxing together laughing at a good show. We also believe it really helps our kids' imaginations. You'd be amazed (and have plenty of laughs) at how much my kids play Jake & the Neverland Pirates, Turbo, Planes or Phineas & Ferb. They love it!
And believe it or not, they actually can LEARN from shows. They notice when Dusty in Planes helps others, even when it isn't in his best interest. They know Jake & his Pirate crew always do what's right, always play fair, and are always honest. It shows when they're playing it themselves. They also get so CREATIVE, especially with shows like Phineas & Ferb. They build a lot of 'inators' from it (if you've seen the show, you'll understand the 'inators'), and are always 'I know what we're going to do today'!
So others are welcome to their opinions, ours is that our family is fine watching the TV for some family time sometimes. One fun thing we found for our movie time is these totally easy DIY Pillow Loungers. They're so comfy, versatile, and customizable! Our kids think they're 'special', and love getting them out. Here's how you can make your own!
Supplies Needed
3-5 yards Fabric (based on pillow size, how many pillows, and fabric width)
Thread
3-4 Pillows
Sewing Machine
Directions
Lay out your fabric WITH your pillows in place. Since pillows vary greatly in size and shape, I'm not giving exact measurements. Fold it over the pillows, so you can see exactly the width/length you need. Make sure your fabric is LONG enough to cover all 3-4 pillows, plus add about 1-2 inches between each pillow to allow room for sewing. Also leave about 6-8 inches along one edge on the open side, to allow for a 'pocket' to fold over the pillow. Allow room for hemming, then cut fabric.
Hem the top and bottom edges of the fabric first, and then the shorter fabric along the tall side.
Hem the longer edge on the side last. Then take that long edge, fold it down along itself (the fabric it's along) and into the 'pillow case'. Sew the edges together, so it sticks INTO the pillow case, but can be pulled out a bit.
Turn the case inside out. To make the compartments for the pillows: lay the pillow inside on the edge. Pin a line down the edge, leaving enough room to easily remove/replace the pillow, then sew right down it.
After doing all 3-4 compartments, put right side out, stuff with pillows, and LOUNGE AWAY!!!
This content may contain affiliate links. We earn a commission at no extra cost to you if you make a purchase. We may earn money, free services or complementary products from the companies mentioned in this post. All opinions are ours alone…
The following two tabs change content below.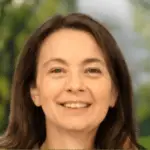 Latest posts by Kelly Dedeaux (see all)