Easter Cupcakes
Easter is here! And what makes Easter so fun?  Decorations! Easter decorations are so pretty and get me so excited for spring with all the fun colors especially after gloomy winters.   So here are some really fun and impressive Easter Cupcakes to wow guests or just to enjoy yourself!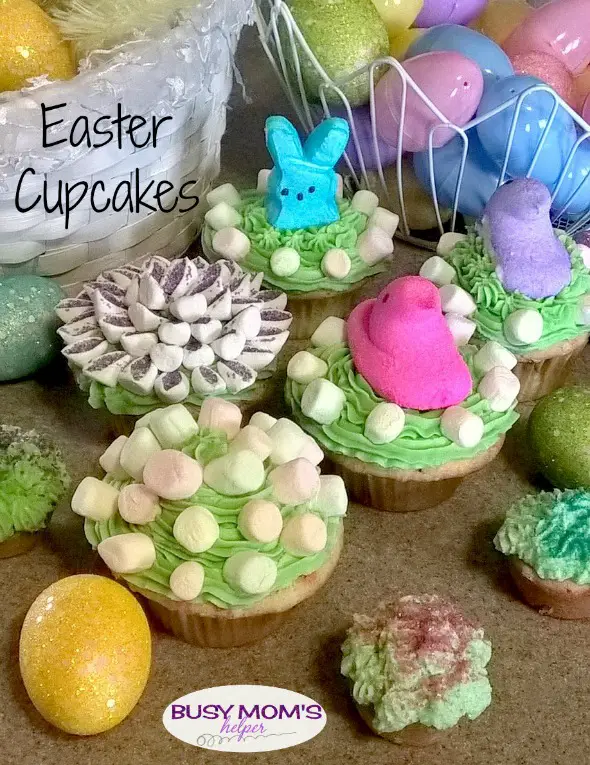 So I live where from about November to almost the end of March we have snow, freezing weather, and gloomy outdoors, so when Easter hits I get super excited to bake anything because of the bright, fun, spring colors I get to use for the Holiday.  These Easter Cupcakes turned out so cute and everyone was impressed.  The marshmallow flower was actually pretty simple which I was a little surprised about and it looks amazing!  I also did a few mini cupcakes as well just to have some bite size snacks.  And yes I did a homemade cupcake mix but any box cupcake mix works just as well.
Ingredients
Cupcakes
1 ½ cups flour
1 tsp baking powder
½ teaspoon salt
1 stick butter, melted
1 ¼ cups sugar
3 large eggs
1 TBLS vanilla extract
¾ cup buttermilk (or combine ¾ cup milk and 1 teaspoon white vinegar and let sit for 5 minutes)
½ cup sprinkles
Frosting
1 cup butter, softened (not melted but not rock hard)
¼ teaspoon salt
5 cups powdered sugar
1 TBLS vanilla
1-2 TBLS heavy whipping cream (can use milk)
Decorations
Mini marshmallows, plain
Mini marshmallows, fruit flavored
Sprinkles
Peeps
Chicks
M&m's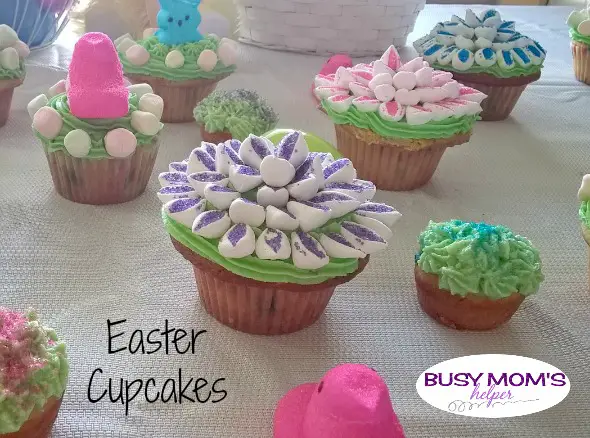 Directions
Cupcakes
Preheat oven to 350 degrees and line cupcake tins with liners.
In a separate bowl combine flour, baking powder, and salt.
Cream together melted butter and sugar in a mixer.
Add eggs and vanilla and mix until nice and creamy.
Slowly add flour mixture and buttermilk alternating between the two.
Stir in sprinkles.
Pour batter into prepared liners about 2/3 the way full.
Bake for 15 – 20 minutes or until toothpick inserted comes out clean.
Let cool completely before frosting.
Frosting
Cream butter and powdered sugar together.
Add in vanilla and salt
Slowly add in the whipping cream (or milk) until consistency is creamy and easy to spread but not runny.
Chick cupcakes
The cupcakes with the chick peeps just frost the cupcake either by doing a flower tip design with a piping tip or just frosting it normal. Place the chick in the middles and place miniature fruit flavored marshmallows around.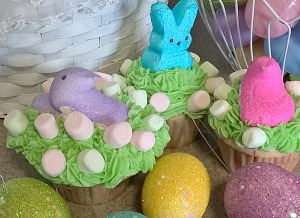 Bunny cupcakes
Bunny cupcakes leave a little space in the middle of the cupcake without frosting, place the bunny there and then I piped flowers around the base of the bunny just to stabilize it more so it wasn't falling over. Place fruit flavored marshmallows around.
Marshmallow cupcakes
Fruit marshmallow cupcakes, frost and scatter marshmallows around.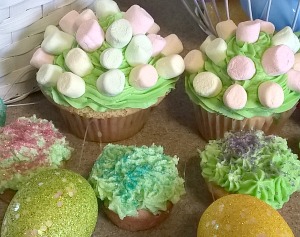 Flower cupcakes
Colored flowered cupcakes. Take your plain mini marshmallows, about 10-14, and cut them diagonally and then place in a plastic bag.  Take whatever color of sanding sugar and pour some into the bag, (you don't need a lot so start with a little and you can always add more), shake!  The sugar should stick to the sticky side and give you a pedal looking marshmallow.  Starting with a frosted cupcake on the outer edge put a ring or marshmallows sprinkle side up.  Then working from the outer edge in keep making circles until you reach the middle.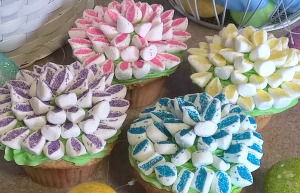 Other ideas
M&M's, sprinkles, cadberry eggs, jelly beans, or even plain frosting can look really fun, with Easter Cupcakes it's hard to not have fun colorful treats so use your imagination or wonder up and down the candy aisle at any store and I'm sure you'll see something fun.
This content may contain affiliate links. We earn a commission at no extra cost to you if you make a purchase. We may earn money, free services or complementary products from the companies mentioned in this post. All opinions are ours alone…
The following two tabs change content below.
Latest posts by Nikki Cole (see all)