Fabric Scrap Bookmarks
Recently I was cleaning my craft room and was putting my fabric scraps in a basket, thinking I might be able to find something to do with them. I have a whole lot of fabric scraps, it's crazy. For some reason I just don't get rid of them. At about the same time, I bought some fun books for my grand-kids. I was thinking that I should get them all bookmarks and then I remembered all of those fabric scraps. I put it together and came up with these Fabric Scrap Bookmarks. I think I may have gone overboard a little bit, but I love to give books as gifts, so I think I'm set for awhile. What I really love about these is that you can customize them to match the receiver's tastes so easily. Look at all the varieties I made with just my scraps!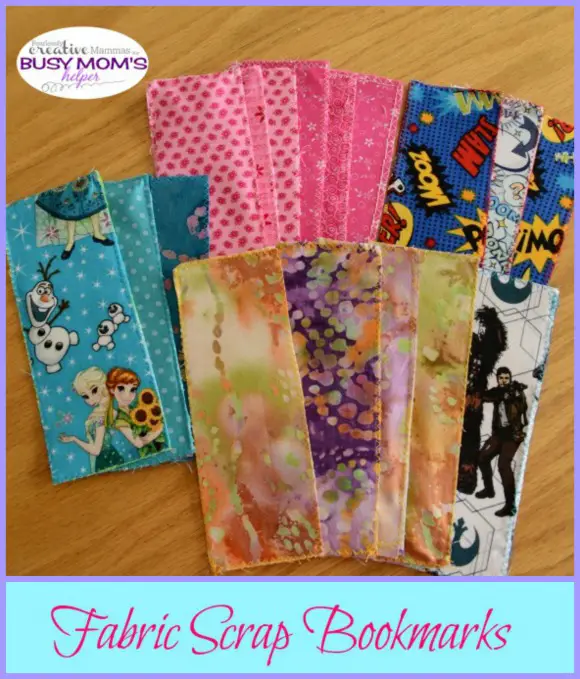 These Fabric Scrap Bookmarks are so easy to make. First you cut your fabric. For each bookmark you will need 2 pieces of coordinating fabric measuring 2 1/2 inches wide by 7 inches long. And if you want to get really creative, grab some of the best fabric for tie dye to add some extra color. For the Star Wars fabric, I made them a little wider to get the picture to completely show up.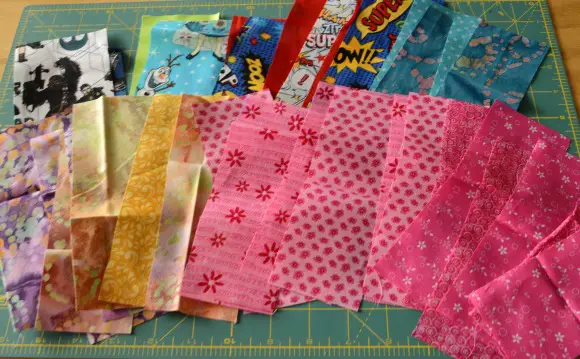 Next, you want to cut one piece of HeatnBond from Therm o web (affiliate link) Fusible Interfacings slightly smaller than the size of your fabric. Be sure to use the extra firm variety.
Fuse the HeatnBond to one piece of your fabric with a very warm iron. To apply, ensure the rough shiny side of the interfacing is against the wrong side of the fabric, set the iron on top and then press for about 20 seconds. If you don't get a good bond, repeat.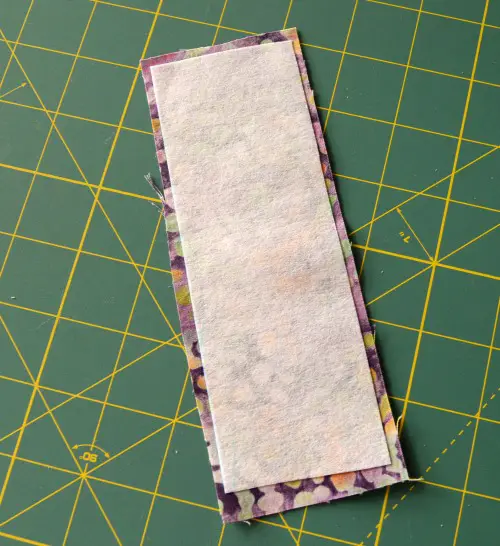 Lay your coordinating fabric on top, and line everything up. I just stacked the bookmarks until I was finished with all the interfacing. Look at my pile!
Next, you will sew, zig zag, all the way around the fabric. Stay very close to the edge so you are picking up the sides as well.
If you want to make the bookmarks a little fancier, add a little bit of lace or eyelet around the edge before you sew the bookmark.  If you select this option, use a straight stitch or you will mess up your trim.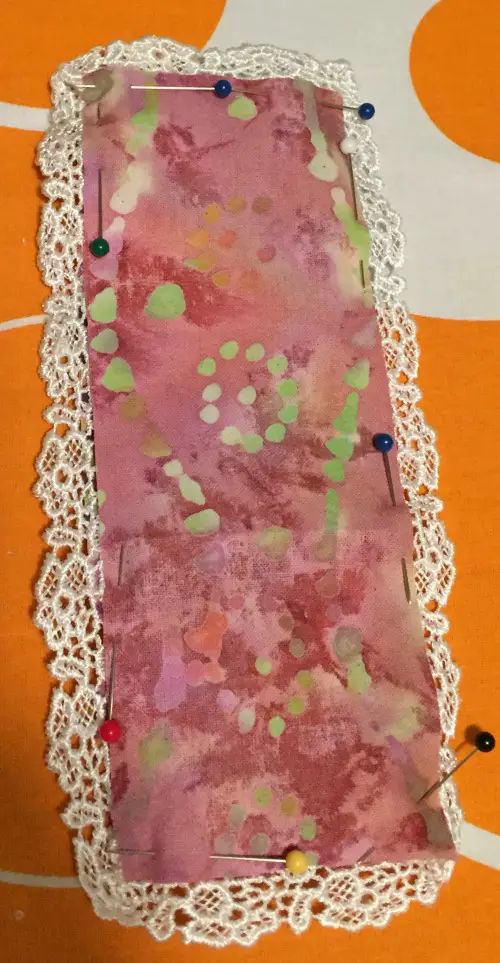 You will have to bunch up the trim in the corners to keep the corners neat. Pin them in place.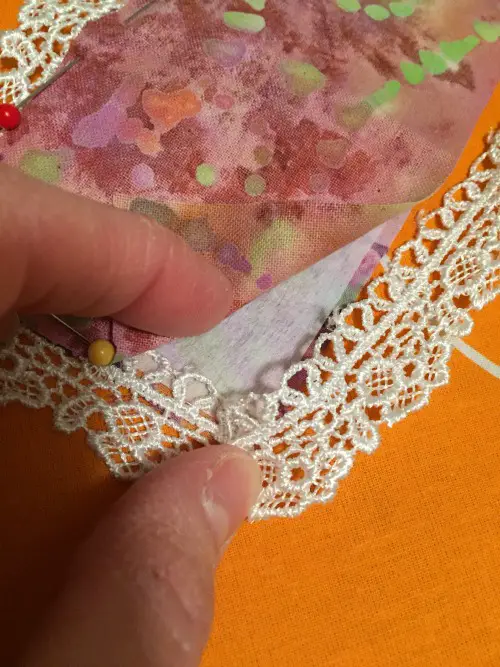 And there you have it. Super simple Fabric Scrap Bookmarks. A perfect addition the next time you give a book as a gift.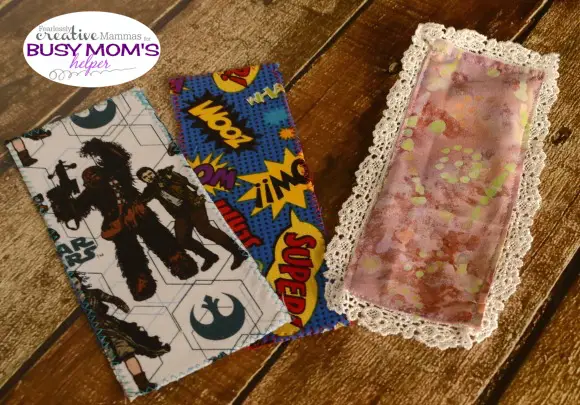 What do you with your fabric scraps? I still have a lot of them and I need some ideas. I think I'm all set on the bookmarks.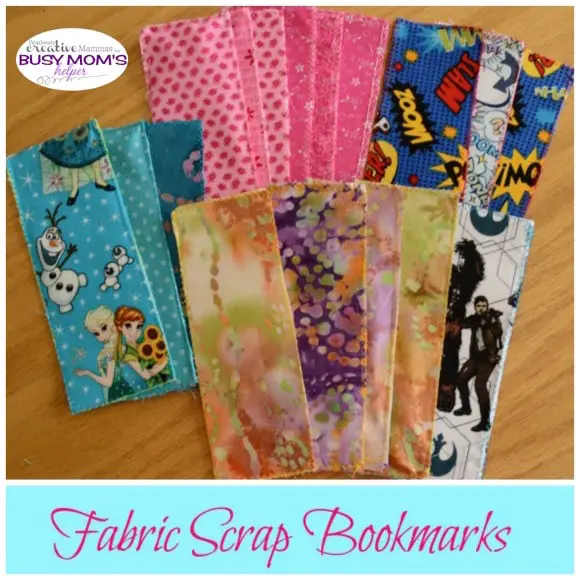 Related Posts
This content may contain affiliate links. We earn a commission at no extra cost to you if you make a purchase. We may earn money, free services or complementary products from the companies mentioned in this post. All opinions are ours alone…
The following two tabs change content below.
I live in Southeast Idaho with my wonderfully supportive husband. We have three grown kids and three beautiful grandkids. I love to spend time with my family, travel, create recipes, craft, sew, camp, hike and take photos. I've been blogging at Fearlessly Creative Mammas since April 2012, but blogging in general since February 2011 on Pebble Pirouette. My favorite place to be is the beach and although I own a home in Idaho and land in Alaska, I truly hate the cold.
Latest posts by Kathleen Clegg (see all)