Fall Gratitude Banner
First of all – it's November. Seriously!!! I still can't believe that – like I'm in shock or something. Since there's nothing I can do about it, though….moving on! I wanted to have a fun way for our family to count our many, many blessings during this month. I know you should show gratitude year-round, but I wanted to ESPECIALLY focus on it this month. I decided a fun way to do it was a
Fall Gratitude Banner
. Colorful maple leaves where we can each write one thing we're grateful for every day of November. It also helped decorate my
Backpack Center
!
First, I printed off 15 pages of this cute Maple Leaf:
Then I let my kids each have a page to color. Can you tell which leaves in the photo at the top my kids did? I did the rest. We used yellows, oranges, reds and browns to create that beautiful Fall color of leaves. After cutting them out (this was the not-so-fun part), I taped each one along the ribbon and hung it over and on the shelf of the backpack center.
Now, for each day in November, we each say one thing we're grateful for and I write it on one leaf. So thirty leaves = 30 days = 30 things to be grateful for (times 6 people, that's a lot of gratitude)!
That's a close-up of the leaves we've done so far. Like some of the things listed? Like Batman, Ketchup or M&Ms? Well, I am grateful for M&Ms too, so I shouldn't judge 😉
This content may contain affiliate links. We earn a commission at no extra cost to you if you make a purchase. We may earn money, free services or complementary products from the companies mentioned in this post. All opinions are ours alone…
The following two tabs change content below.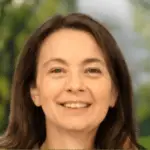 Latest posts by Kelly Dedeaux (see all)