Fun and Kid-Friendly​ Keto Snacks
There are many health benefits that living a ketogenic lifestyle brings. First of all, you will not have to worry about gaining weight anymore. However, the best thing about keto food is that it can help you prevent developing diseases such as diabetes for example. Many people make the mistake of thinking that you can't have any snacks while doing keto. This couldn't be further away from the truth! There's a lot of delicious and even kid-friendly keto snacks out there!
Now, if you're sold and would like to start your search for kid-friendly keto snacks that you and your kiddos can much over a weekend movie marathon, or add to their lunch boxes. You should know that I already did the hard work for you. Here's a run through of my favorite keto snacks that are guaranteed super easy to do.
1. Cheese Crackers
Who doesn't love cheese crackers? Your kids will go crazy for these crunchy delights and to make things even better, preparing the low-carb cheese crackers is super simple. The main ingredients are cheese, egg, cream cheese, seasoning and a pinch of salt to add flavor! Check out this recipe.
2. Pigs in a Blanket
If you are looking for a way to get your kiddos to give up chips and eat healthy snacks instead, then you can't go wrong with pigs in a blanket. These are miniature hot dogs and what's great about them is that you can prepare them for whenever you have guests around the house. If you want to make the pigs in a blanket recipe even more delicious, then you should use low-carb BBQ sauce. Check out this recipe.
3. Cinnamon Pork Rinds
Even though pork rinds might not seem like a traditional keto recipe, you still need to give them a try! Pork rinds are high in fat and protein which are necessary to help your kiddos grow big and strong. Since this recipe is a keto snack, then it shouldn't surprise you at all to find out that it has zero carbs. Yes, you read that right. You can still eat delicious snacks without carbs. Check out this recipe.
4. Pizza Chips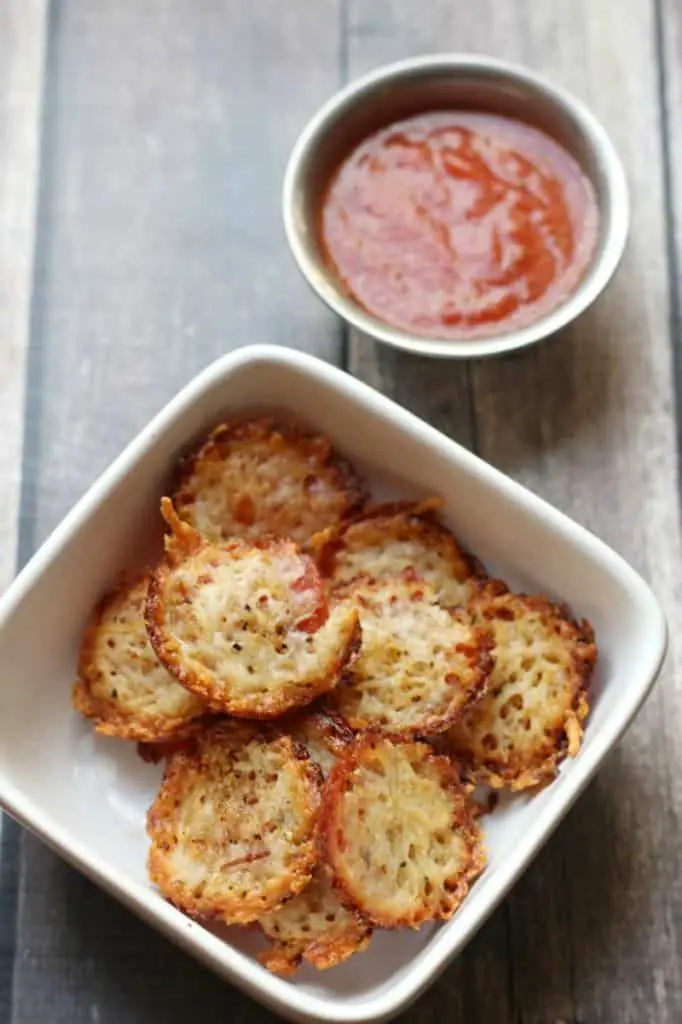 In my experience as a babysitter, I learned that kids love nothing more than to eat pizza and chips! This is why you might want to combine the two and create the low-carb pizza chips. All you need is melted cheese paired with pepperoni cheese and you can prepare an amazing snack. Get some sauce and your kids will ask for this recipe every single day! Check out this recipe.
5. Cinnamon Walnut Flax Muffins
If you are waiting for important house guests, then you may need to prepare special snacks that will blow their taste buds away. This is where the cinnamon walnut flax muffins come in and save the day. These snacks are incredibly sweet and savory. They are so good that no one will believe you when you tell them that this is a ketogenic recipe that is low in carbs. Check out this recipe.
What is a Keto Diet?
Keto stands for ketogenic and this is more of a lifestyle than a diet. Eating keto means that you are savoring very low-carb and high-fat diets that have many health benefits. Eating fewer carbohydrates than usual will increase your protein intake and thus, help you grow muscle and maintain your weight. Although, the best thing about this type of diet is that it will put your body in a metabolic state called ketosis. This state will help your body burn fat for energy. Additionally, keto diets have benefits against diabetes, cancer, epilepsy and Alzheimer's disease.
Is Keto Safe for Kids?
What many people don't know about keto is that this diet was originally developed for children. This is why keto diets are used in hospitals to help reduce seizures in kids who are suffering from epilepsy. Not just that, but keto diets are also great for children when their bodies can't use glucose efficiently in cases such as the Dravet Syndrom or the Lennox Gastaut Syndrom.
Keto diets are safe for kids and they will benefit greatly from eating fewer carbs. However, this doesn't mean that you should calculate all the macronutrients that your children are eating and instead, you should promote a diverse diet while focusing on avoiding carbs. "The best dietary guidance advises that children at a diverse diet that provides them with the right amount of all nutrients that their growing bodies need," sates Allysa Pike who is a registered Ph.D. dietician and pediatrician.
Looking for healthy dishes that will satisfy your kid's sweet tooth? Check our 24 Healthy Chocolate Smoothie Bowls.
This content may contain affiliate links. We earn a commission at no extra cost to you if you make a purchase. We may earn money, free services or complementary products from the companies mentioned in this post. All opinions are ours alone…
The following two tabs change content below.
Ang Paris is a crafting and cooking mama who is addicted to Pinterest and chocolate! Ang lives with her husband and 2 children in New Hampshire. After more than a decade multi-tasking in the workplace, she's now a full time mom, writer, and blogger who tweets up a storm!
Latest posts by Angela Paris (see all)