Healthy Low-Fat Quiche You and Your Children Will Love
Healthy dietary habits and healthy foods are pretty popular today. That's great. With the obesity epidemic taking over the world, healthy eating patterns are more important now than ever before.
Diets have evolved a lot too. There are tasty healthy alternatives to any dish you can think of such as gluten-free alternatives. We have one such for you here. It's a spinach and feta quiche with a sweet potato crust instead of the classic with white flour that provides much more benefits than the original recipe.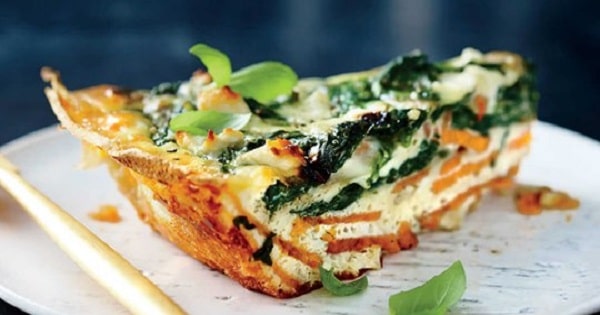 Sweet potatoes are rich in fiber, protein, and a variety of vitamins and minerals. They are great for our overall health, but especially for our immune system, eyes, and brain function. The light quiche we have for you below is made with spinach and low-fat milk which add to its nutritional value.
Before you make the quiche, you'll need to make your own vegan feta cheese:
Ingredients
1 ½ cup almonds (raw)
¼ cup olive oil
¼ cup yeast
1/3 cup olive oil
1/3 cup and 4 teaspoons water
2 garlic cloves
Salt to taste
Preparation
Leave the almonds to soak in hot water for 2 hours, then skin them and blend them with 1 ½ cups of water. Now blend everything together until you get a smooth paste. Let the cheese solidify in the fridge for a couple of hours before you use it.
Spinach-Feta Quiche
Ingredients
½ cup onions
½ cup milk
2 sweet potatoes
1 bag baby spinach
4 eggs
2 egg whites
¼ teaspoon salt
¼ teaspoon red pepper
¼ teaspoon black pepper
1/3 cup feta cheese (crumbled)
Preparation
Preheat your oven to 350F and coat a bigger pie place with cooking spray. Peel the sweet potatoes, cut them to slices (about 1/8 inch), and bake them for about 20 minutes. Place the pan on a wire rack in the end.
It's time for the filling. Saute the onions first (2-3 minutes), then do the same with the spinach. Mix the eggs, egg whites, salt and pepper, and low-fat milk in a bowl, then add the mix on the crust. Bake for 30 minutes, then allow the quiche to rest for 5-10 minutes.
You can store the quiche in the fridge for 2-3 days. Bon appetite!
This content may contain affiliate links. We earn a commission at no extra cost to you if you make a purchase. We may earn money, free services or complementary products from the companies mentioned in this post. All opinions are ours alone…
The following two tabs change content below.
Ang Paris is a crafting and cooking mama who is addicted to Pinterest and chocolate! Ang lives with her husband and 2 children in New Hampshire. After more than a decade multi-tasking in the workplace, she's now a full time mom, writer, and blogger who tweets up a storm!
Latest posts by Angela Paris (see all)