Holiday Window Décor
Christmas season is here!  I don't know about any of you but the holidays are my favorite time of year, the decorations, food, giving, receiving, and just the whole feeling of Christmas is amazing.  So my house is not very big and does not have a lot of places for decorations but I love tons of decorations so I found this exciting way to dress up my windows for fairly cheap and quick way to add the spirit of Christmas to my house.  Holiday Window Décor is easy and it doesn't take up any needed space.
Christmas Bulbs
This one takes a little bit of thought because you don't want to overcrowd one area or have them all one height.  I also used three different sizes of bulbs, 15 big bulbs and then I bought a box of 20 that had a really small one and a kind of medium size bulb.
Supplies
Christmas bulbs 15 large 6 medium 6 small
Icicles 8-10
Fishing line
Tension rod
Scissors
Directions
If you already have a tension rod or a curtain like I did then skip to step two, if not go ahead and put in your tension rod and to make it look more festive you can wrap garland around it.
Start with the big bulbs and hang them different heights and space them out a little bit. Tie a knot to the bulb hook, measure if you like or just guess, then tie it to the tension rod.
After the large bulbs are hung move on to the medium and small ones putting them between spaces of the large bulbs tying them the same way.
Last add in the icicles in any empty spaces.
This window décor is mainly done by sight the key is to making them look good even spaces and filled in enough without overcrowding your window.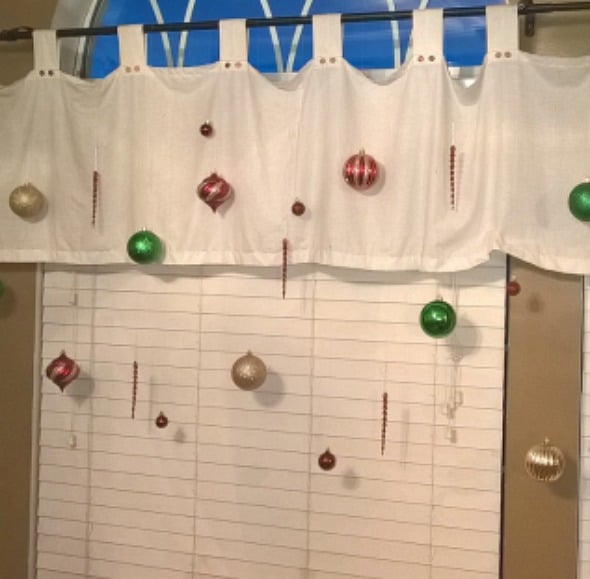 Candy Canes!
Supplies
Candy Canes
Ribbon
Garland
Tension rod
Hot glue gun
Directions
If you already have a tension rod skip this step, if not then put the tension rod in. I bought a twist one from Walmart. Now it took me a minutes to figure it out but it just twists out and you twist it till slightly bigger than the space then you can push it in slightly to slide it into place.
Wrap garland around the tension rod. You can use thick garland, thin, decorated garland or whatever fits your style.
Measure and cut the ribbon into strips of about 10 inches long or longer/shorter.
Fold one end of the ribbon over your finger then hot glue it together to make a loop for the candy cane.
Tie the other end of the ribbon to the tension rod.
Place candy canes through the loops.
I used 12 candy canes per window and I think it was great if anything I would take out two of them.
Customize your windows with different candy canes, ribbon, alternating short then long pieces or however you like, it's your house make it look amazing to you!
This content may contain affiliate links. We earn a commission at no extra cost to you if you make a purchase. We may earn money, free services or complementary products from the companies mentioned in this post. All opinions are ours alone…
The following two tabs change content below.
Latest posts by Nikki Cole (see all)