Minion Party with Free Printables
This shop has been compensated by Collective Bias, Inc. and its advertiser. All opinions are mine alone. #MinionsMovieNight #CollectiveBias
Do we have any other minion-lovers out there? I'm pretty sure we do – those little yellow guys are ADORABLE! We've got a bunch of minion-wanna-be's in our house, especially our twins! This is why they were thrilled when I told them I was putting together a fun Minion Party with Free Printables for their 6th birthday this month. From making banana bread (because minions LOVE bananas!), to creating our own costumes, to Pin the Pocket on Bob – we had a blast! Plus, it was super easy to put together and stay within our budget.

Minion Party
First of all, I'm sharing all of the printables I designed for this party for YOU to easily use for your own, whether it's a birthday or just a fantastic movie night enjoying the new Minions movie Blu-ray/DVD combo pack hitting stores December 8th! We were so sad we never made it to the theater to see it, due to moving and all that craziness, so we've been counting down until we could run grab it from one of these stores!
First of all, you start a party or fabulous movie night with invitations! Download them HERE.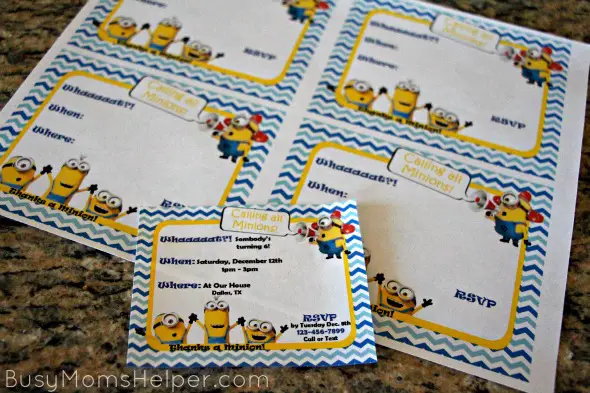 You've invited your guests, so now better get the decor figured out! I didn't want to spend a fortune or tons of time putting this party together, so my ideas all utilize some tricks. I use a cheap, yellow rectangular plastic tablecloth for the backdrop, then twisted blue and yellow crepe paper rolls together for a border. I then added this Free Printable Happy Birthday Banner – it has 4 pages you can download: Page 1, Page 2, Page 3 and Page 4.
Of course, some people will want to put a name in the banner, as well – so here's sheets covering the entire alphabet! Click on each to print them off – there's 4 banner triangles on each 8.5×11 pdf:
!ABC          DEFG          HIJK          LMNO          PPQR          STUV          WXYZ          Minions Sheet
I then included some dangly decor, plus those fun pom-pom circles – but instead of doing the full circle and hanging them, I simply opened them halfway and attached them flat on the backdrop. Much easier, and still as decorative! Add some balloons – and you can print off our Goggle Sheets to cut out and tape to them!
We had minion goggles on each chair, as well as a yellow 'hard hat' – you can find these really cheap at all sorts of locations. I also had aprons, just because of the baking part.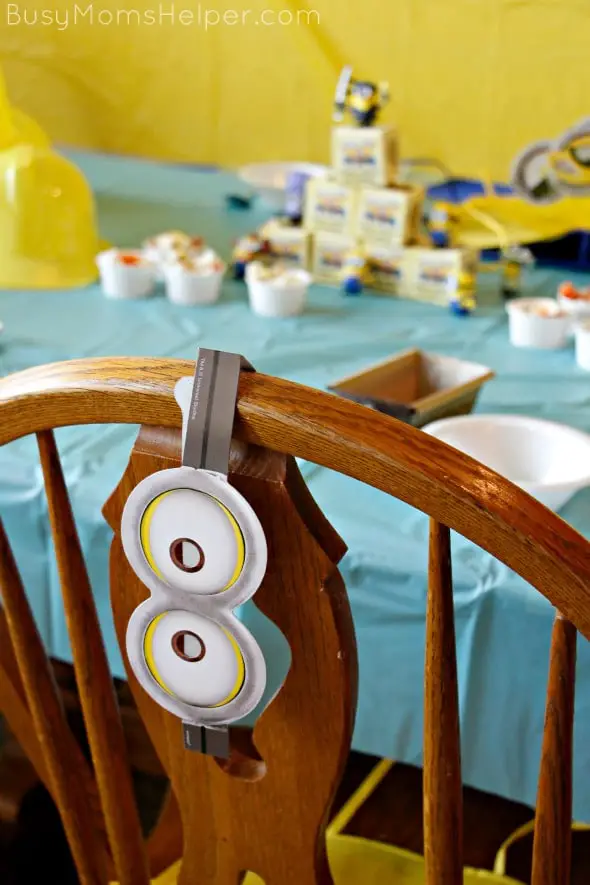 Which leads us to….Banana Bread! Nothing gets us in a better mood to watch the Minions movie than a yummy, moist banana recipe! To make it easier for a party, we already had the bowls, mixing spoons AND individual baking loaves (you can buy these many places, also – they're about 4″x2″x2.5″ in size) at the chairs. I also set aside all of the ingredients and measuring spoons.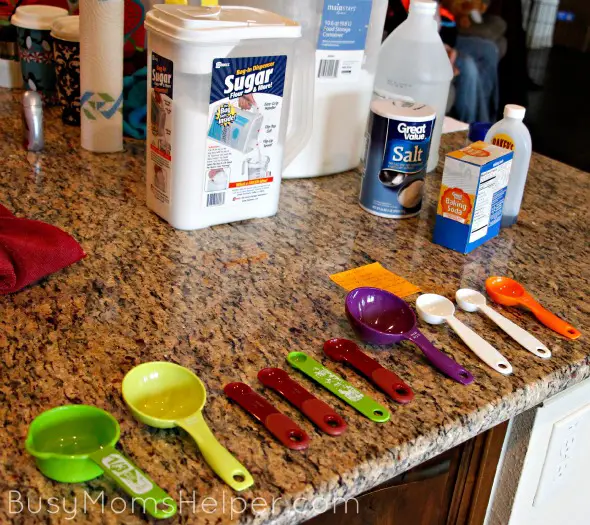 I'm giving you the recipe for two INDIVIDUAL loaves in this small pans – woot woot! These are the perfect size for each child to take home as a party favor – or to enjoy warm during your movie night. If you want a regular bread loaf size, just double or triple the recipe (most of my pans would be triple, but check your size first).
Minion Party banana Bread Ingredients – for 2 small, individual loaves
2/3 cup All-purpose Flour
1/4 cup Sugar
1/4 tsp. Baking Soda
1/2 tsp. Cinnamon
1/4 tsp. Salt
1/2 cup Mashed Banana
1 tbsp. Milk
1/2 tbsp. Vinegar
1 Egg
2 tbsp. Butter, melted
1 tsp. Vanilla
Sprinkle of Chocolate Chips (if desired)
Directions
Preheat oven to 350 Degrees F.
Mix all of the ingredients carefully in a bowl until smooth. Pour into the 2 prepared baking loaf pans.
Bake on a baking sheet (in case it spills over if filled too high) about 25-35 minutes, or until cooked through.
Serve warm or send home for them to enjoy!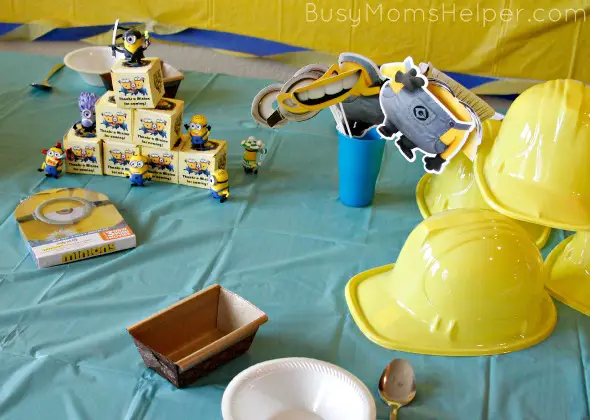 For games, we assembled our own minions and picked out a fun costume for them – since those little guys are always dressing up, like in Illumination Entertainment's Minions movie! We also had Minion Bingo.
We also played Pin the Pocket on Bob – you can cut out your own 'Bob' (or Kevin, or Stuart, whoever you'd like) from yellow poster board, then cover with blue overall cut-outs! You can download a sheet of Pockets HERE.
We also took a photo op in front of our backdrop with some minion pieces such as goggles, smiles, even their different hair tops or overalls. We had little figurines, stickers and stamps for party favors – and they fit perfectly in our Minion Thank You Boxes! You can Download it HERE – it prints on an 8.5×11 page with a single box shape on each.
To assemble the Minion Party boxes:
Cut out along the outside SOLID lines.
Fold along the dotted lines.
Tape the two sides inside of the box, making it a square shape.
Fill it with fun goodies, close and enjoy!
Along with the typical cake, we also gave the kiddos Minion Snack Mix! Basically we tossed popped popcorn with banana pudding mix, then included those candy eyes and minion shapes (found at many stores), as well as Gummie bits that we made!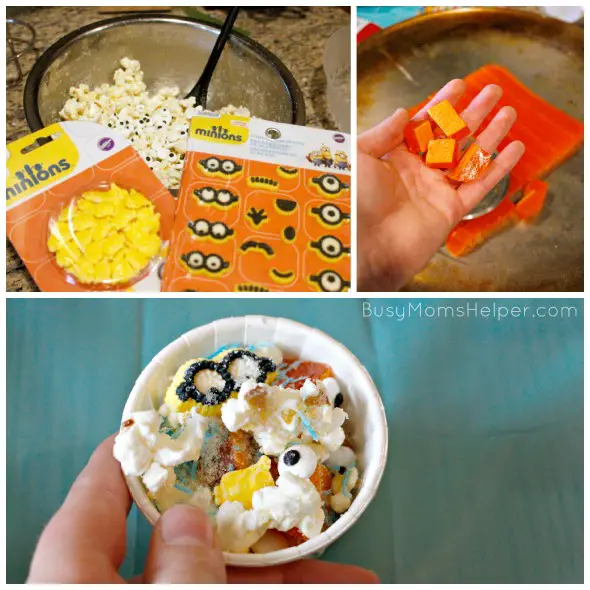 Ingredients
2 packs Flavored Gelatin Mix
6 packets (2.5 oz. size) Unflavored Gelatin
2/3 cup Water
To make the gummies:
In a medium saucepan, mix flavored gelatin  and unflavored gelatin with the 2ater and let it sit 5 minutes (with no heat).
Turn the stove to medium heat and stir constantly until it's all melted and smooth – about 2-4 minutes is all.
Pour into a greased 8×8 baking dish, and let sit out about 2 hours.
Peel edges from sides of pan and place gummy sheet on a cutting surface. Cut into bite-sized chunks.
Enjoy in the Minion Snack Mix, as a good trail mix, or alone!
And what party/movie night would be complete without Minions © 2015 Universal Studios. All rights reserved. This kept us laughing for the remainder of the afternoon!
Here's more recipe ideas for a Minions movie night party! Which is your favorite?
This content may contain affiliate links. We earn a commission at no extra cost to you if you make a purchase. We may earn money, free services or complementary products from the companies mentioned in this post. All opinions are ours alone…
The following two tabs change content below.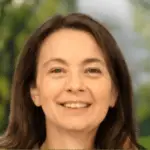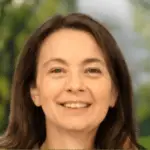 Latest posts by Kelly Dedeaux (see all)