Peanut Butter Banana Bread
Happy Thanksgiving, all of you wonderful readers! I hope your holiday is full of family, friends, love and kindness!!! I'm grateful for each and every one of you, and the opportunity you give me to stay at home with my Kiddos! I love spending time with them, and getting to share our creations, such as today's Peanut Butter Banana Bread!
My family loves bananas. Well, I just like them, but as far as my Kiddos go it's LOVE. So we rarely have them last long enough to make banana bread. It does happen every once in a blue moon, though, and when it does I like putting little spins on the good ol' recipe. This time, it was actually my fault we still had bananas – they were hiding behind some clean dishes needing to be put away. Ya, my bad!
This tweak (not twerk) added another favorite of my family: peanut butter. The resulting Peanut Butter Banana Bread was a huge hit, not just with our fam but also with Hubby's co-workers!
Ingredients
2 cups All-Purpose Flour
2 tsp. Baking Powder
1/2 tsp. Salt
1 cup Peanut Butter, Creamy
4 Medium Bananas, smushed
1/2 cup Granulated Sugar
1/2 cup Brown Sugar
1/3 cup Heavy Cream
1/4 cup Vegetable Oil
2 Large Eggs
4 tsp. Vanilla Extract
1/2 – 1 cup Chocolate Chips
Directions
Preheat oven to 350 Degrees F. Spray or line a bread loaf pan and set aside.
In a large mixing bowl, combine all of the dry ingredients.
In a medium mixing bowl, combine all of the wet ingredients (EXCEPT THE PEANUT BUTTER) until mixed well. Pour into the dry ingredients. Stir everything until it's well combined.
Pour HALF the mixture into the bread pan. Put some dollops of peanut butter (about 1/2 cup) over the mixture, then use a knife to swirl around. Fill with remaining mixture, then do the same dollops and swirl with the remaining peanut butter.
Bake about 75 minutes, or until a toothpick inserted comes out clean (except possibly some peanut butter). Remove and allow to cool. Enjoy!
Look at that swirly goodness!!!
And isn't that top just beautiful?
This content may contain affiliate links. We earn a commission at no extra cost to you if you make a purchase. We may earn money, free services or complementary products from the companies mentioned in this post. All opinions are ours alone…
The following two tabs change content below.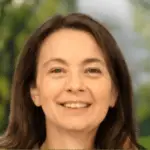 Latest posts by Kelly Dedeaux (see all)