Pennant Banner
Are you a lover of sports or even just a good party? I love setting up decorations for whatever the thing is I'm celebrating. Since it's football season, I thought it would be fun to make a Pennant Banner in honor of my favorite team, the Pittsburg Steelers. Now, if you aren't a Steelers fan, don't leave because you can use these same instructions for another team or even a theme birthday party.
You may be wondering why I am a Steelers fan, since I live in Southeast Idaho. Well, let me tell you, it all started way back in 1979, during Super Bowl XIII. Yes, I know I am seriously dating myself. That's okay. I've earned every one of my years. in 1979 we lived in Hawaii and my parents decided to have a big Super Bowl party. The teams playing were the Steelers and the Dallas Cowboys and my younger brother decided he was going to root for the Cowboys. Well, I couldn't really root for the Cowboys, so I picked the Steelers. It stuck with me and all of these years later, I am still a fan. My brother is a fickle man though and he says if he likes any team at all, it's probably the Denver Broncos now. So now you know why I like the Steelers. I have been to their stadium once, but alas, they weren't there. So sad.
To make a banner this exact size, you will need:
1 piece of stiff card board measuring 6 inches by 9 inches
1/2 yard of the main fabric
1/2 a yard of border fabric
1/2 yard of medium weight fuseable interfacing
matching thread
pins
First, make your pattern with the card board, as shown in the picture above. If you want bigger pennants, then use a bigger piece of card board and buy more fabric.
Trace the card board on your fabric. You will need 12 pieces of fabric. If you have a patterned fabric, be sure you get at least 6 pieces that are upside right. I used the same fabric for the back and front, but you could use a different fabric for the back if you want.
Now trace 6 pieces of the interface. If you do it just right, you will be using the negative space for part of them, thus not wasting the interface.
Next, cut your fabric binding. If you don't want to make your own binding, you can buy it ready made at the fabric store. I cut 12 pieces of 9 1/2 inches by 2 inch for the sides of the pennants and then one that is 6 feet by 2 inches for the top binding.
Now you need to adhere the interfacing to the front side of each pennant piece, as shown below. If you don't know how to adhere fusible interface, you can read this post for instructions. Do this for all 6 pennants.
Next, make your binding. The instructions are the same for the short pieces and the long pieces.
Fold the pieces in half long ways and iron the seam in.
Fold both sides in towards the center and iron.
At the end that will be the bottom binding, fold fabric in a quarter inch and iron.
Fold in the ends at an angle, to form a point and iron.
Iron the whole piece again.
Attach your side bindings to your pennant. Be sure when you do this, you get the pennant all the way into the center so you catch all of the fabric when you sew it. Also, be sure to cover one point with the other so it is covered completely.
If there is any binding over the edge of the pennant, cut it flush with the pennant fabric.  Then sew the side binding in place.
Each one takes about 2 minutes to attach. I did 6 of them.
Next, attach the pennants to the top binding, spacing them evenly apart. For my spacing, I left 5 inches between pennants. Sew it all in place.
Now your pennant banner is done. I really love it! It isn't difficult to make, but the whole cutting out and ironing part takes a little bit of time.
I used two different kinds of Steelers cotton fabric for my pennant. I think my husband wants a Seahawks banner too.
Are you a football fan? I have to admit that I started making this before the Steelers won this past weekend. I was a little worried that they wouldn't make it into the playoffs. I'm so glad they did. What kind of banner would you make?
Check out these other amazing banners!
Reversible Valentines Day/St Patricks Day Banner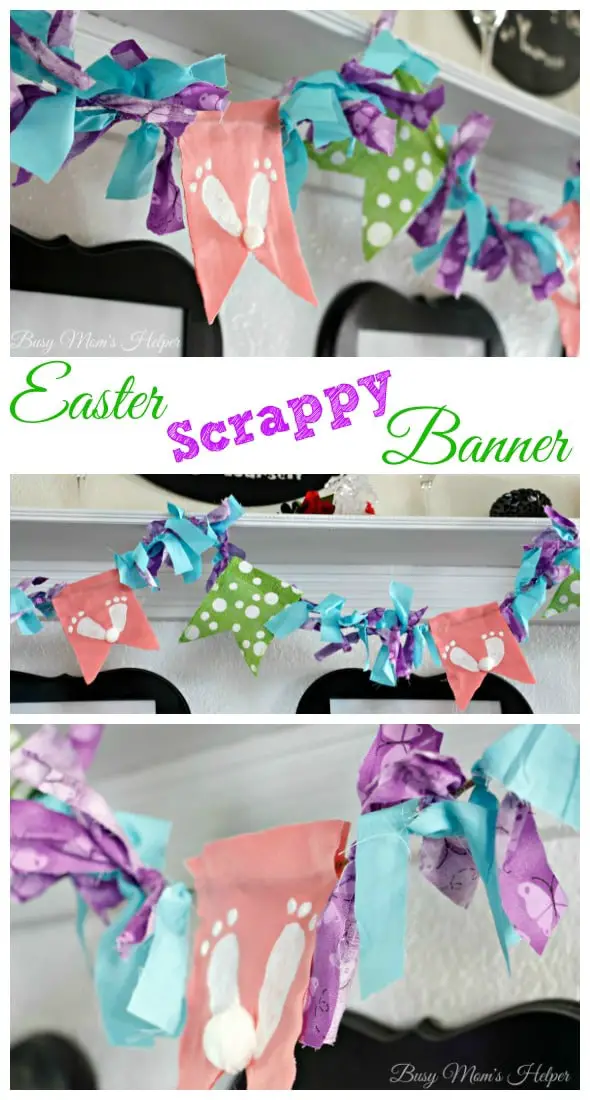 Printable Minion Birthday Party Banner
This content may contain affiliate links. We earn a commission at no extra cost to you if you make a purchase. We may earn money, free services or complementary products from the companies mentioned in this post. All opinions are ours alone…
The following two tabs change content below.
I live in Southeast Idaho with my wonderfully supportive husband. We have three grown kids and three beautiful grandkids. I love to spend time with my family, travel, create recipes, craft, sew, camp, hike and take photos. I've been blogging at Fearlessly Creative Mammas since April 2012, but blogging in general since February 2011 on Pebble Pirouette. My favorite place to be is the beach and although I own a home in Idaho and land in Alaska, I truly hate the cold.
Latest posts by Kathleen Clegg (see all)