Pirate Bedroom Makeover
You know those moments when you're so relieved, it's like you can hear angels singing? Ya, that's what I heard when I FINALLY finished my Pirate Bedroom Makeover for my three boys!
Even though it just took a chunk of our 'free time' (who really has free time, anyway, right?) for the past 2 months, it was some HEAVY work at times. When I did my girl's Frozen Inspired Bedroom, it took awhile and some decent work, but a big chunk of this was MANUAL LABOR. So although it was a lot of fun, I'm totally feeling relieved right now!
Since there were SO MANY ideas I wanted to put into this room, be prepared for a LOT of pictures! They're awesome, though, so just enjoy right along with me!
First up is the Treehouse Bunk Bed….yup, this was a major part of the HEAVY work I was talking about! We took a generic bunk bed and made it super fun for the boys. Like their own pirate-y clubhouse!
If you have young boys close in age, like my twins and youngest, and they share a fun bedroom…you'll understand that there WILL be fights over which bed each one gets. And it'll change all the time as to which they want! So we plan on having them all switch every couple weeks, and will hopefully avoid all that drama.
Here's the 3rd bed: plain wood bed turned into awesome Pirate ship, complete with a mast & sail!
The boys especially love having the spyglass on the end of the ship…have to watch out for Captain Hook, after all!
Our puppy was so curious as to the going-ons in here, she managed to photo bomb a couple times! Curious little puppy!
The ship wheel on the wall was just about $14 on Amazon, and it's just simple plastic and hangs easily for a bit of decoration.
Remember the Pirate Growth Chart I did quite awhile back…….
It's finally in a permanent location, and looks rather nice against the Pirate Direction Sign! Also appearing in our decor tour today is this AMAZING Pirate Direction Sign….and guess what, it's not wood! Yes, another tutorial on this coming soon!
A Pirate Bedroom wouldn't be complete without some dueling swords, of course!
Although my youngest would LOVE to play with this map all day, just like Cubby on Jake & the Neverland Pirates, I think it's safest decorating above their dresser (plus, he has about a dozen more!).
Our Chore Rewards Treasure Chest has a perfect spot in this room! Now to get it filled with more gold doubloons…
Many of the banners, and even some of the decor, I was able to reuse from Green Lantern's 3rd birthday party last month. Not to sound repetitive, but posts for his Pirate Party coming to the blog soon! HAHAHA…ya, we're a pirate-y bunch lately!
Maybe instead of 'take a break' when my kids misbehave too much, I should make them 'Walk the Plank'! But then they'll probably misbehave even more so they CAN do that.
For some fun, we moved the boys into another room while we did this entire Pirate Bedroom Makeover. Meaning they didn't see ANY OF IT the entire time, until we did a grand reveal for them. This was their reactions….
Sorry for the blurry photo there…but he was all excited and bouncing up and down!
Yes, the dog even climbed the stairs to the top bunk of the Treehouse to join all the excitement! The boys were STOKED for their new room, and have begged to play in there ever since.
Don't forget to keep checking back for tutorials for the Treehouse Bunk Bed, Pirate Ship Bed, and Pirate Direction Sign! 
This content may contain affiliate links. We earn a commission at no extra cost to you if you make a purchase. We may earn money, free services or complementary products from the companies mentioned in this post. All opinions are ours alone…
The following two tabs change content below.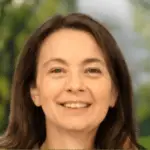 Latest posts by Kelly Dedeaux (see all)