Considering a Pool Fence for Safety?
One of the biggest things we wanted to take care of as soon as we moved into our new house was to install a pool fence. Once we chose which house we would be buying, knowing it had a pool (I admit it, it was a huge selling point for our family!), we took to the internet to find which option would be the best for us. I was surprised at how many different companies and types are available! We finally found the one that would work best for our family, and today I'm telling you all about our experience in case you're also considering a pool fence for safety.
Just a note – we did NOT receive any compensation, discounts, anything at all in exchange for this post. Protect-A-Child doesn't even know I'm writing this!
First of all, you need to decide what your main reason for having a pool fence is. For looks? To just keep out neighbor kids who may find their way into your yard? Large pets? Or do you have children that you want to keep safe from the potential dangers of a pool? Ours was the kids and pets, but I will say that I also wanted something that looked good, as well. Nobody wants an eyesore around their fabulous pool, right?
Some of the fences we looked at were more flimsy – if pushed hard enough by a large kid or animal, it could knock over and/or break. That definitely wasn't what we wanted! We also found some that would work amazing – for a few years – but then would wear out or become too old to be sturdy. Finally we found one that would LAST a long while (they offer a limited lifetime warranty) and was extremely durable – Protect-A-Child!
The poles they use are semi-bendable, making them extremely unlikely to snap. When looking at them myself, the fabulous Greg (who was showing us the system) even had me TRY to put all my weight on it – but it moved just slightly. He even tried with his weight, and just a little give. Not enough to bend it over much, but just enough give to make it durable. My kids – and even my big, heavy dogs – aren't going to be knocking these over or breaking them!
They're inserted into holes in the cement (they drill the holes for you), and latched into place. You CAN remove them by giving the pole a certain twist and pulling it out. Not something a child could do themselves, but adults can if you're in the mood to remove the fence – such as a pool party! For when you do want the poles out, they give you little caps to cover the cement holes – so water or other junk doesn't get in there.
Each panel is about 3′ wide (can be cut shorter if the size demands, such as with our steps), and they're connected at the top by a secure fastener that takes two strong hands to unhook.
Again, not something a kid can do. The mesh is sturdy, and doesn't give when our heavy dogs lean or brush against it.
It comes in several colors, but I preferred the black option – Greg said most people like that one best, too. You can choose 3.5 foot or 4 foot. We originally were going to get the taller one just for extra safety, but after reading more and experience first-hand how secure and sturdy it was, we stuck with the 3.5 foot option. It looks much better, anyway! And don't worry if you have steps or angles – they cut them to fit 🙂
The gate automatically closes and latches. To open, you pull up the handle and pull the gate open. There is a key lock as well, so you can really make it safe as needed.
They'll come out and do a demo for you – really fast and simple. You get to see the poles, latches, netting, everything. They measure the area and discuss your options, then give you a no-obligation quote. After our demo, we talked a bit and decided to go with Protect-A-Child, so we gave Greg a call and scheduled out installation date. I was so impressed with the techs that came and did our installation, as well. Very professional, and much faster than I expected!
They measured everything out, making sure to check where/how we wanted the fence line. Then they go to work drilling the holes, measuring/cutting/sizing the panels, and getting it all put in. After they were done, they made sure I knew how everything worked – the gate, taking out/putting in the poles, unhooking the top latches, etc. They gave me the warranty papers and the invoice, I paid, and that was it!
Greg called later to make sure everything went well, and to let me know to call if anything needs adjusting (the gate may settle after a bit, then they come and adjust it really quick for you as needed). It was a super easy process, and more affordable than I expected! For our fence, we paid $16 per foot, plus the gate was $325 and then it was $25 for the lock-in feature (a no brainer, in my opinion). For our 102-feet of fencing, our total after tax was $2145.51. That's INSTALLED, so no extra or hidden fees.
We LOVE our fence – not only does it look great, but we don't have to worry about the dogs or the kids accidentally getting into the pool or some other potential danger like that. That piece of mind really makes me one happy mama!
This content may contain affiliate links. We earn a commission at no extra cost to you if you make a purchase. We may earn money, free services or complementary products from the companies mentioned in this post. All opinions are ours alone…
The following two tabs change content below.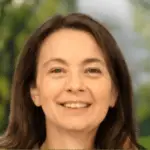 Latest posts by Kelly Dedeaux (see all)