Most Helpful Printables for Families EVER!
GUYS – after doing this site for over 5 years now, and all the feedback, questions and thoughts from fellow busy parents everywhere, I decided to do something that will truly be 'Busy Mom's Helper'. Ready for it? It's a complete set of printables that are designed with one purpose in mind: helping busy families! You can nab the entire set, or pick the individual one(s) that you want most. If you're ready to dive in and check out the Most Helpful Printables for Families EVER, then here we go! (oh, and if you get the whole set, you also get our 2 most popular pdf books as a FREE bonus!)

Nab this ENTIRE set – including the bonus items – for just $5.99 HERE (or see below for smaller sets just $1 each!)
Because one of the whole points of this printable set is organization, I'm going to list out all the amazing pages that are included under their basic 'topics' below, so you can search for the ones you're most eager to see (or the ones that would help you the most). We have practically everything in our 5 sets: Money & Financial, Kitchen & Meal Planning, Scheduling & Time Management, Security/Personal & Home Management, even some fun-but-helpful pages for Trip Planning!
Debt Tracker
Emergency Fund

tracker for balances, as well as fun chart tracker

Family Budget
Goals

track your progress and balances
Our Favorite Meals

list out family favorites for easier menu planning

Food Inventory

pantry, fridge & freezer – keep a running list!

Shopping List

broken down to store sections: aisles, dairy, meat/deli, produce, frozen & misc.

Weekly Meal Plan

blank to fill in breakfast, lunch and dinner as desired

Menu

pretty, styled listing to display your menu for the week
Appointments

such as doctors, dentist, etc.

Birthdays

list each by month for the year

Blank Monthly Calendar
Goal Tracker
Full page for plenty of notes
Pet Information

food, medicines, vet contacts, etc.

School Information

start/end times, bus schedules, checking weather, etc.

Tasks in Minutes

got a few minutes to be productive – here's some ideas in 2 minutes or less or 5 minutes or less
blank and prefilled with some ideas

Weekly Tasks

3 different layout/week options (Sun-Sat, Mon-Sun or dates at top and AM/PM/EVE on side)

8 different front cover designs/styles & 4 matching back covers
Babysitter's Helper

from contact info to schedules

Chore Charts for Kids
Emergency Contact List
Family Emergency Plan

including extra sheet to draw out escape plan

Home Inventory

keep record of your possessions per room – could come in handy for insurance someday

Utilities & Services

know who to contact for what

Kids Clothing Tracker
Maintenance & Repairs

keep record of common items, such as replacing filters

Family Medical

information for each family  member

Medicine

sheet for tracking what's in your cabinet (and when it expires) as well as tracking dosages

Passwords

in case your secure digital record gets lost, keep a paper one (in a secure place)

Projects to Complete

supplies, steps, and progress

Upon My Death

for those left behind to know where important things are – list for accounts such as banking or investments (blank and prefilled), as well as items such as address book and will (blank and prefilled) – be sure to keep in a very secure location, but where trusted ones know where to find it!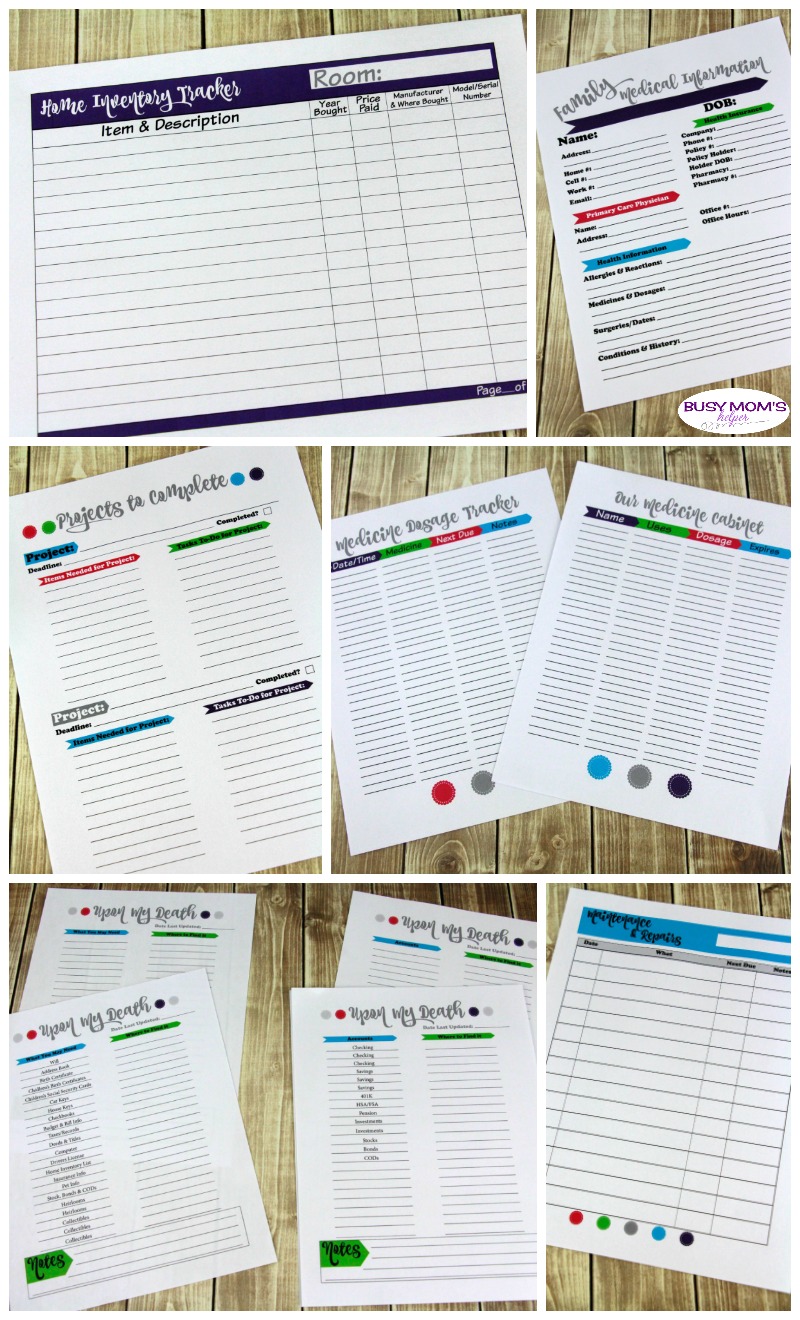 Note: there is a colorful general trip set as well as a Disney-themed set of each of the below (unless stated otherwise)!
Trip Budget
Packing List

essentials, clothing, toiletries, etc.

Trip Prep

to-do's 6-9 months prior, 1-2 weeks prior, etc.
blank (plus a prefilled one for Disney)

Safety Tips

before leaving, while away & once returned home (colored only, no Disney-themed on this one)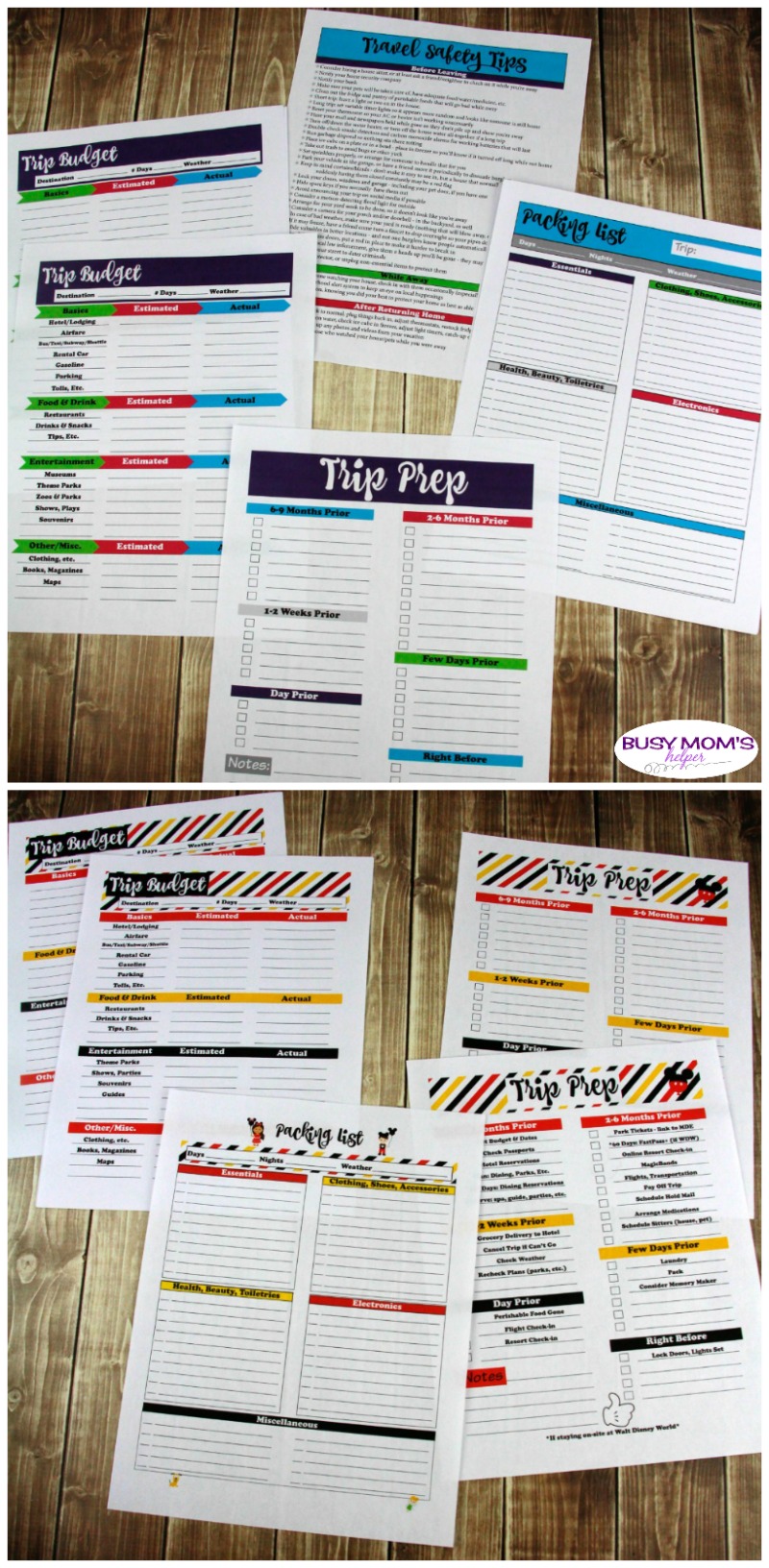 As you probably noticed, several of the printables have both a BLANK and a PREFILLED option – we wanted to be the most help to the most people, so included the prefilled for those that really like having the most common things already there for them. However, we know many will vary in what they'd put, so made sure a blank form was still included. Like we said at the beginning of this post, we've been collecting input, ideas, and requests for a LONG time to see what type of printables would really be the most helpful for busy families – we tried to include as much as possible, and any that seemed to be requested by enough people to be seen as a common need.
 Get the Whole Pack & Bonus Items!
Did you see the two BONUS items, too?! We're including our super popular 'Unofficial' Disney Autograph & Activity Book (our most popular printable EVER) as well as our extremely helpful (and probably our second most time-consuming project we've ever done) 52 Weeks of Meal Plans! That's a whole year of breakfast, lunch & dinner planned out – including the budget-friendly recipes. I told you I wanted this pack to be as helpful as possible for fellow busy parents, so felt that it wouldn't be complete without these two great resources! And since we sell those two items individually for $2 each, this is a killer value. I want this to help as many as possible (though I do still have to support my family, of course, otherwise I could list it for FREE) so here's the deal…..
Nab this ENTIRE set – including the bonus items – for just $5.99 HERE!!!
Yup, we're crazy – take advantage of it 😉
Even if just SOME of these would make your life a bit easier, that all seems worth it – don't you agree? I mean, parenting is crazy enough, so even the slightest bit of help can be a huge blessing! Whether you use ten of these sheets or ALL of them, I just hope they bring a little more 'calm', organization, time and relief to your family's busy lives!
This content may contain affiliate links. We earn a commission at no extra cost to you if you make a purchase. We may earn money, free services or complementary products from the companies mentioned in this post. All opinions are ours alone…
The following two tabs change content below.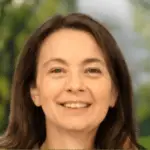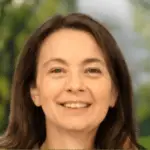 Latest posts by Kelly Dedeaux (see all)