Salmon with Avocado and Orange Salsa
Hubby loves fish. Like, he gets all giddy when he has an opportunity to eat it. I, on the other hand, can't stand it. Now don't be all like 'well, maybe you'd like this if you tried it, or this'. I've tried MANY types of seafood. I'm all for trying new foods (I've even tried alligator, frog legs and escargot before). And to be quite honest, I WISH I liked seafood because of the healthy Omega 3s and healthy fats. Alas, it's just not in me to like it. Instead, it's gag it and hope I don't have to spit it out.
So this post is compliments of Hubby, who says this recipe for Salmon with Avocado & Orange Salsa was absolutely WONDERFUL and such a 'perfect flavor combination'!
Ingredients
1 small Lime
2 medium Oranges, separated, diced
1 Jalapeno Chili, diced
1/4 cup Red Onion, diced
1 large Avocado
2 tbsp. Olive Oil
1 tsp. Salt
1 tsp. Pepper
2 tsp. Chili Powder
Directions
Preheat oven to 375 Degrees F.
Juice the lime. Put 2 tbsp. of the juice in a bowl for the salsa. Add 1 tbsp. juice from the Oranges, and 2 tbsp. Olive Oil and mix well. Baste the Salmon, then use the rest to coat the baking pan. Place salmon in the pan.
In a medium bowl, mix the diced Red Onions and Jalapeno Chili. This will be the salsa bowl.
Cut the Avocado in half. Take one half and dice it, then put the diced pieces into the salsa bowl. Smash the remaining half and spread over top of the Salmon.
Sprinkle a bit of the Salt, Pepper and Chili Powder over the Salmon. If any remains, add it to the salsa.
Bake for about 20 minutes, or until Salmon is firm and cooked completely.
Remove and garnish with Salsa as desired.
This content may contain affiliate links. We earn a commission at no extra cost to you if you make a purchase. We may earn money, free services or complementary products from the companies mentioned in this post. All opinions are ours alone…
The following two tabs change content below.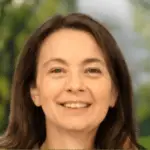 Latest posts by Kelly Dedeaux (see all)