Swiffer Fanatic Fun!
I received an expense-paid trip to NYC for this Swiffer Fanatic adventure – all opinions are mine alone. #SwifferFanatic
Have you ever had a cake decorating contest at the Cake Boss bakery? Or danced with some NYC Rockettes? We did with our awesome immersion experience with Swiffer in NYC – and I'm sharing all the Swiffer Fanatic Fun with you!
I was so thrilled when Swiffer asked me to continue another year working together! Since I've used Swiffer as long as I can remember – especially growing up with my mom's in-home daycare – it's only natural that I'd want to share about this product that I truly love and use all the time. Last year I shared about our fun trip to P&G headquarters in Cincinnati. I didn't think they could beat that fun – but they sure did! Check out our little dance number with 2 adorable Rockettes!

These gals sure were patient with us as they taught us some of their moves – and our green Swiffer Fanatic shirts make for the perfect costumes!
I wish I could describe the fantastically delicious smell inside the Cake Boss bakery – Carlo's Bakery – because it was wonderful! Just know that the tour was super fun, then we even got our own cakes to do a little decorating contest – Swiffer themed, of course! And don't we look awesome in our little hair nets?!
My cake was tulips with the stems as little Swiffer Wetjet Mops – you can tell, right? 😉
I've shared before that Swiffer is wonderful for pet messes, so it was only natural we'd make a visit to Foster Dogs NYC. Lots of cute pups were there, as well as some playful kittens! The big fluffy dog in the picture below was so sweet – she greeted everyone and her tail was just wagging the whole time. I really would've brought her home with me if it wasn't for the plane! Visit Foster Dogs NYC to see how you can help, or see if you can find your new best friend!
What's an immersion event without learning the newest and greatest features of the products?! We found out that one of the biggest complaints about Swiffer Wetjet was the streaks left on wood – well guess what? Not anymore! Adjustments to the pad now spread the liquid more evenly, as well as absorbs even more, so no streaks…just check it out!
Another fantastic field trip was to Good Housekeeping, where we got a private tour of all they do there. And did you know what it means when a product has a 'Good Housekeeping Promise'? It's basically a 2-year warranty FROM GOOD HOUSEKEEPING that the product is good – if not, you can content THEM instead of the company (if the company doesn't have one, or something) and they'll take care of it. That's how confident they are in the products they test!
And check out that view from their building – I could get use to that at work everyday 😀
Swiffer always makes sure to feed us well, and this trip was no exception – dinner was delicious and family-style at Galli Italian Restaurant. A bit noisy, but that's partly because we were all having a blast chatting! My two good friends Sarah (Ugly Duckling House) and Michelle (Our Three Peas) were there this year, too, so it was great getting to chill with them again!
As we were walking home, the light from the Freedom Tower was beautifully lit up, so I had to nab a picture.
Stay tuned this coming year for more posts about my favorite cleaning help – Swiffer!
This content may contain affiliate links. We earn a commission at no extra cost to you if you make a purchase. We may earn money, free services or complementary products from the companies mentioned in this post. All opinions are ours alone…
The following two tabs change content below.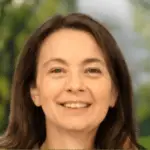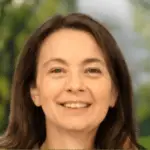 Latest posts by Kelly Dedeaux (see all)