Need an after school snack?  Having a movie night? Want to add some pizazz to your snack time? I've got your back friend!  Try this taco popcorn!  This is a family favorite.  Everyone loves tacos right? And, everyone loves popcorn.  So why not combine the two?  Give it a try, you'll love it!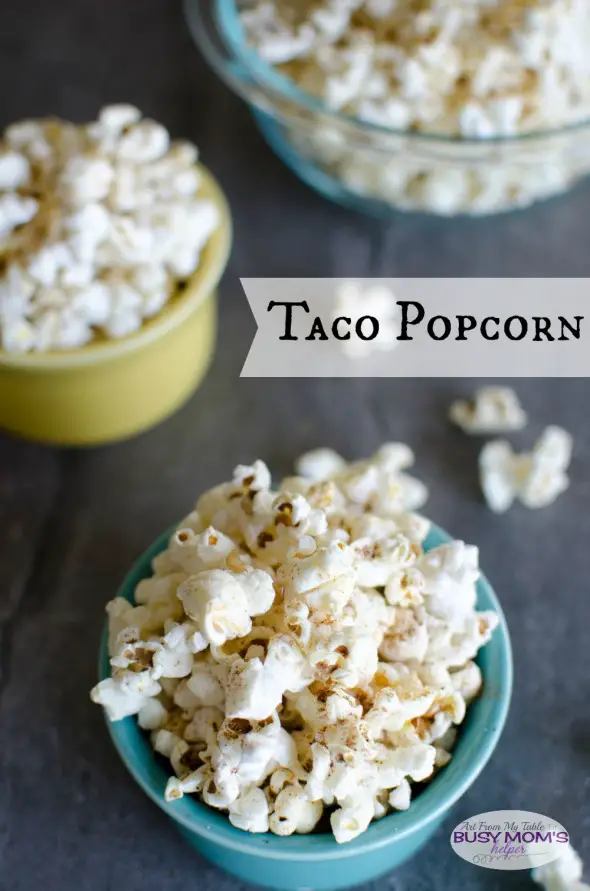 This post may contain affiliate links that support blogs at no extra cost to you. See our Disclosure.
Taco Popcorn
Besides just tasting great, taco popcorn is super easy to make.  It takes hardly any ingredients, and it's just a winner, trust me.  If you're used to microwave popcorn, I'm just going to challenge you today friend, make this on the stove top. It takes about the same amount of time, and it tastes so good!
At our house, we are Whirley Pop lovers.  But, you don't need a Whirley Pop to make this.  A big heavy bottom pan is just fine.  Also, I'm going to share with you a homemade taco seasoning to make this.  You probably have these ingredients in your house already.  But, just know, if you want to use store bought taco seasoning, go right ahead.
What you need~
popcorn kernels
coconut oil
chili powder
cumin
garlic powder
smoked paprika
oregano
onion powder
salt
pepper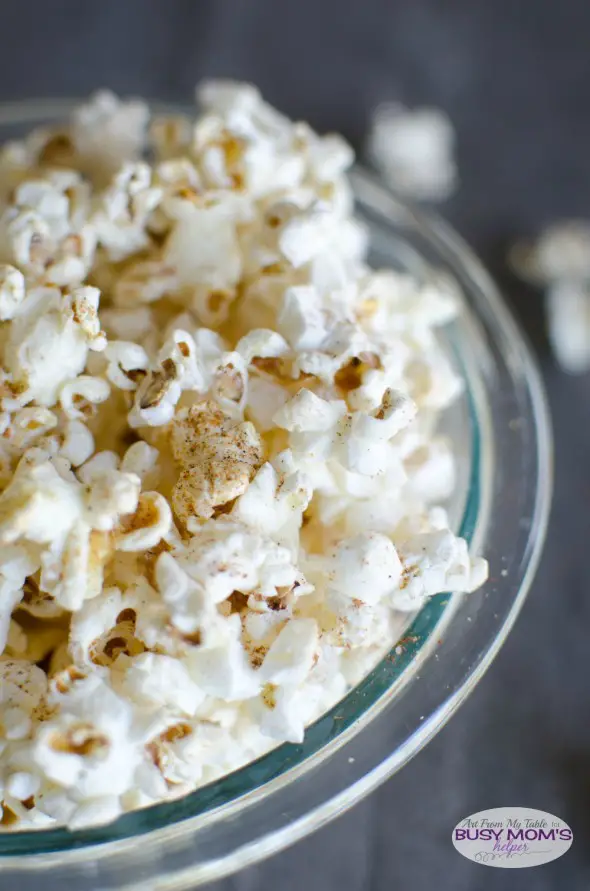 What to do~
Combine spices and stir well.
Place oil, popcorn kernels and salt in a covered pan over medium heat,
Gently shake the pan every so often.  After a few minutes, it will begin to pop
Continue to shake periodically.  When there are 2-3 seconds in between pops, take it off the heat.
Empty half the popcorn into a bowl and sprinkle with the taco seasoning, empty the rest and sprinkle on more, gently toss.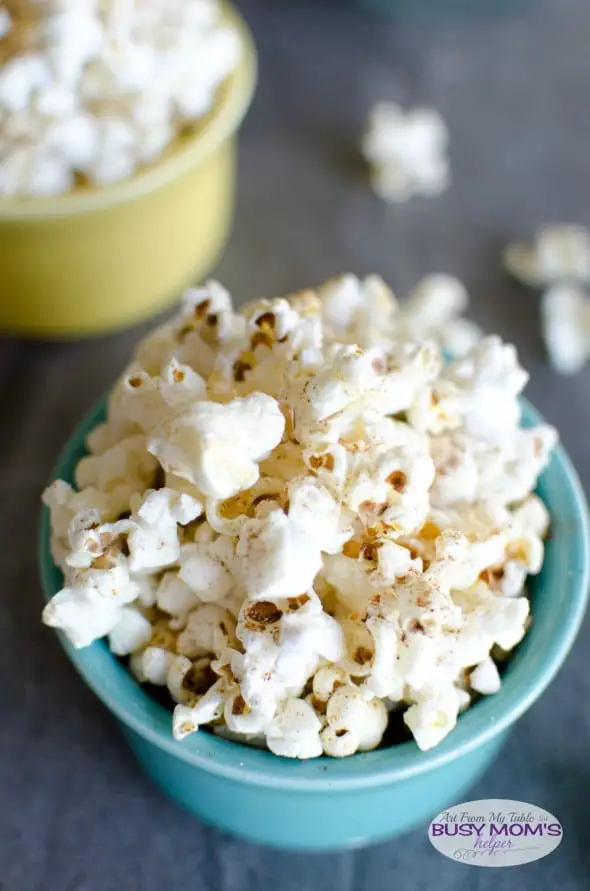 Notes~
If you're using a Whirley Pop, you don't need to shake the pan, and I'm sure you already know this.  Just put the first few ingredients in, and start turning.
I love to use coconut oil, but canola or vegetable oil is good too.
The oil should cover the bottom of the pan and almost cover the kernels.  If you are used to using the Whirley Pop, then I'm sure you already know how much oil to use. Mine is at the point where it only takes a teaspoon.
You will have more than enough taco seasoning.  It really depends on how much seasoning you like. I used about 2-3 teaspoons total.
If you like heat, add some cayenne pepper to the spice mixture.  I've got little ones, so we don't do too spicy.
If you like butter drizzled on your popcorn, then by all means, add it!
You can use regular paprika if you don't have smoked paprika, but the smoked adds a nice smokey flavor.
A little thing we discovered for the salt we include with the popcorn– if you have a coffee grinder or spice grinder, run some of it through there.  It will make it like a fine powder, and we discovered it distributes really well that way.  Totally not necessary, but a great tip if you want to try it!
Enjoy your taco popcorn!!  Do you have a favorite way to make popcorn?  I'd love to hear from you!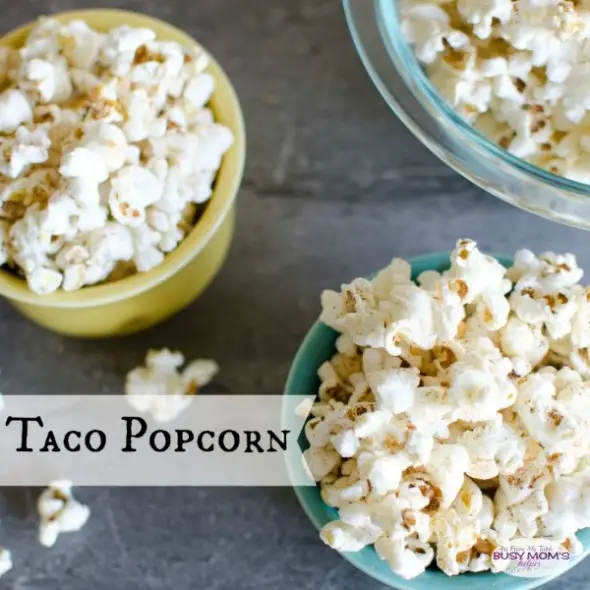 Print Recipe
Taco Popcorn
Ingredients
1

tsp

chili powder

1/2

tsp

cumin

1/2

tsp

garlic powder

1/2

tsp

smoked paprika

1/4

tsp

oregano

1/4

tsp

onion powder

1/2

plus 1/8 tsp salt

divided

1/8

tsp

pepper

coconut oil

see notes

1/2

cup

popcorn kernels
Instructions
Combine chili powder, cumin, garlic powder, smoked paprika, oregano, onion powder, 1/8 tsp salt and pepper, stir and set aside.

Place oil, 1/2 tsp salt, and popcorn kernels in a Whirley Pop or heavy bottom pan.

Over medium heat, periodically shake the pan until all kernels are popped.

Pour half of the popcorn in a bowl, sprinkle 1 tsp taco seasoning over top. Pour the other half of the popcorn in the bowl and add another teaspoon of seasoning, gently toss.

Add more seasoning if desired.
Looking for more fabulous snacks?  Check these out: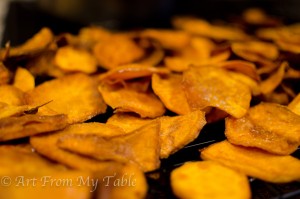 Sweet Potato Chips
Baked Black Bean Dip