Teacher Gift: Class Birthday Chart
Happy Thursday ya'all! I'm so excited to share a fun Teacher Gift: Class Birthday Chart with you today as part of a Craft Lightning Teacher Appreciation week!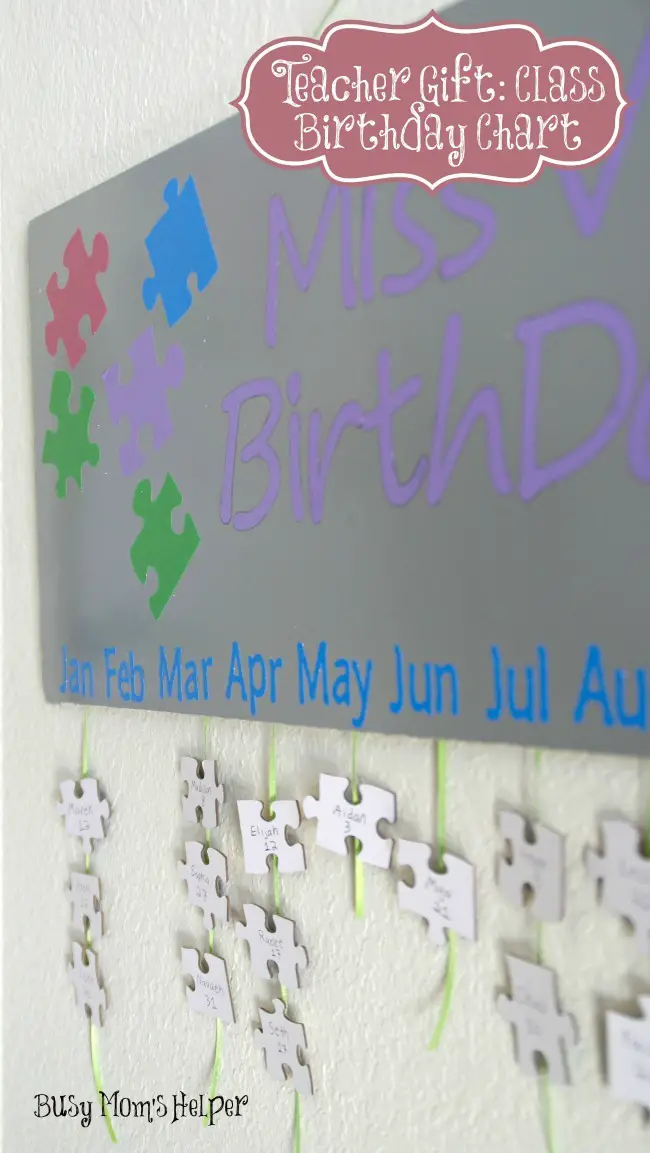 Learn more about the Craft Lightning week at the bottom, with LOTS more Teacher Gift ideas! First off, here's how you can do this quick and oh-so-cute Class Birthday Chart. I chose to do mine in a puzzle theme, because that's how Wonder Woman's teacher has her classroom set up….she loves puzzles!
Supplies
Board (wood or foam board – I used a foam board sized 28″ x 10″)
Spray paint – for board
Letter Stickers – for words/months
Shape/design stickers – such as my puzzle pieces
Ribbon
Shapes/pieces – for the names/dates (I used blank puzzle pieces)
Glue and/or Tape
Pen – for writing names (I used a permanent marker with a fine tip)
Directions
Spray paint your board (1 minute). Allow to dry completely
Measure to the middle of the board, then move out from there to put your month stickers on. Then add any words/titles/designs you'd like to the rest of the board. (6-9 minutes)
Write the names and day of the birthdays on the pieces you chose. (2-3 minutes)
Glue or tape ribbon strips behind the board, under which month they go to. (1-2 minutes)
Glue or tape the pieces to the ribbon in which month they go to. (1-2 minutes)
Glue or tape a ribbon behind the board at the top, to hang. (1 minute)
Notes: For the pieces, I just wrote each child's first name and the date their birthday falls on. For example, 'Rob's' birthday is March 3rd. So on a piece I write 'Rob' then put a '3' under his name on the piece. That piece then goes onto the ribbon hanging under Mar (March).
See how easy this Class Birthday Chart is? Quick, fun and you can customize it to match the teacher's classroom! We're so excited to give it to Wonder Woman's teacher soon! Yes, this is just like my previous Birthday Calendar DIY I made for my family. So fun!
Check this out…..
What a super cute Free Printable Happy Birthday Bookmark from Bombshell Bling! I'm sure any teacher would appreciate these cute bookmarks, where they can fill in special 'gifts' for their students throughout the year on their birthdays. Go get your free printables at Bombshell Bling now!
For the Craft Lightning week, each day a group of fabulous bloggers shares a fun and QUICK teacher gift. They all take 15 minutes or less (excludes drying/inactive time), just like the Class Birthday Chart and Happy Birthday Bookmarks! Go check out the other fabulous ideas!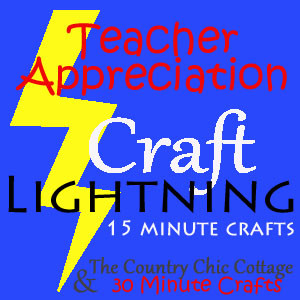 This content may contain affiliate links. We earn a commission at no extra cost to you if you make a purchase. We may earn money, free services or complementary products from the companies mentioned in this post. All opinions are ours alone…
The following two tabs change content below.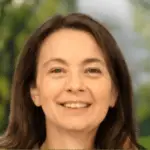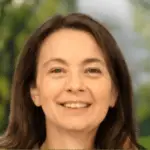 Latest posts by Kelly Dedeaux (see all)