The Absolute Best Homemade Chicken Noodle Soup
It's safe to say that everyone loves chicken noodle soup. It's tasty, great when you're down with the flu, and highly nutritious. Homemade chicken noodle soup is full of vitamins and minerals that can jumpstart your whole body and give any disease a run for its money. The same, however, cannot be said about store-bought chicken soup – it's best to stay away from it.
Even if you are a beginner, the soup is extremely easy to prepare. The only problem is that there are too many recipes and each one claims it's the 'ultimate'. Well, worry no more. We have the absolute best chicken noodle soup recipe that 'hides' a few secret ingredients that make it all the better.
Chicken Noodle Soup
Ingredients
2 pounds bone-in chicken thighs
1 tablespoon canola oil
10 cups chicken broth
3 cups egg noodles
1 garlic clove (minced)
4 celery ribs
1 onion (chopped)
A bit of fresh thyme
A bit of fresh parsley
1 tablespoon lemon juice
2 bay leaves
Salt and pepper to taste
Preparation
Season the chicken thighs with pepper and salt, then cook it in a pot with canola oil for about 3-4 minutes per side. Save a few tablespoons from the drippings if you want for future soups.
Next, chop the onions if you haven't already and cook for around 5 minutes. Add the garlic, stir well, then add the broth and bring everything to a boil. This is the base for the soup. Add any other veggies you have (or like to add) and the cooked chicken, then simmer on low heat for 20-30 minutes.
Remove the chicken from the pot after about half an hour, add noodles, and cook for 20 more minutes. Shred the meat and throw the bones away, then add parsley and thyme to it. Put it back in the top, add the bay leaves, check the seasoning and that's it. Save some of the veggie scraps for a delicious pot of chicken noodle soup next time. Bon appetite!
Source: www.healthyfoodhouse.com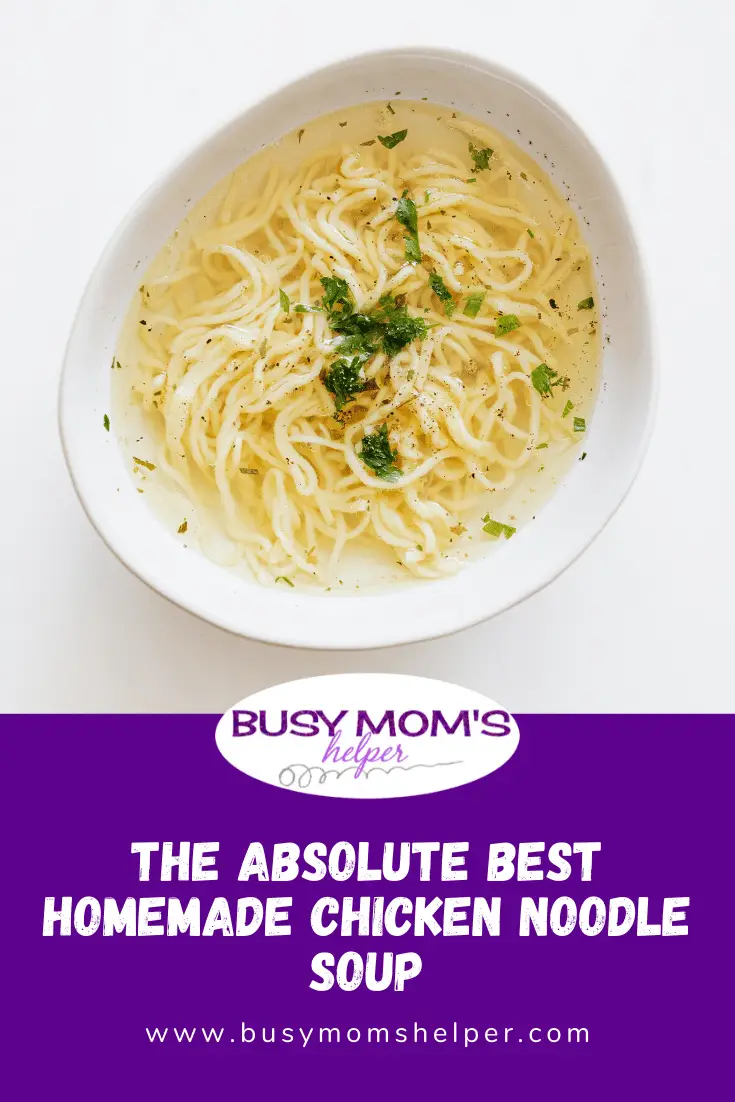 This content may contain affiliate links. We earn a commission at no extra cost to you if you make a purchase. We may earn money, free services or complementary products from the companies mentioned in this post. All opinions are ours alone…
The following two tabs change content below.
Ang Paris is a crafting and cooking mama who is addicted to Pinterest and chocolate! Ang lives with her husband and 2 children in New Hampshire. After more than a decade multi-tasking in the workplace, she's now a full time mom, writer, and blogger who tweets up a storm!
Latest posts by Angela Paris (see all)