Ceiling Fan Update
---
Do you have ceiling fans in your house? When you're watching those home improvement shows, they always say that you should take down your ceiling fans because they are "so last year". Well, we have five of them in our house, all upstairs, and I'm not taking them down. Today I'm here to show you how you can do your own Ceiling Fan Update, with minimal heartache.
Where we live, most people don't have air conditioners, including us. There isn't really a need. We have a free standing air conditioner and it was only one about two days this summer. However, the fans are a must to keep the air moving. When we moved back into our house, I decided they needed an update. Actually, my good friend Lisa, who happens to be an interior designer, told me they needed an update. So, I did what she said and they looks so much better.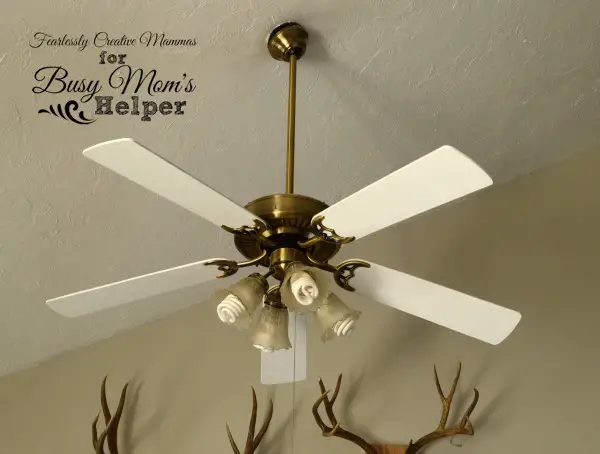 The photo below is the before picture of one of the fans. They are just partial board with something like vinyl over them for each blade. Nothing fancy. Before I go on, I should tell you that I am a pretty clean person, but apparently the tops of the blades hadn't been cleaned since before we moved out of the house, over three years ago. The ceilings are super high and who sees the top anyway?
I took all of the blades off of the fans and was horrified by what I found on the top of the blades. I should say that the house was vacant for about 5 months before we moved back in also.
A tip here, so that you don't lose anything, get yourself a little bowl for all of the screws or you will be crying when it comes time to put it all back together. Then rinse everything really well to get the gunk off.
See that little tiny piece of green paper? Funny story about that paper. When our kids were growing up, every year for New Years Eve, we would cut a whole bunch of paper into little squares for confetti and then at midnight, we would throw it all up in the air. We also just let it stay on the floor so the kids could play with it the next day. That little piece of paper is from one of those occasions. It has to be at least 6 years old by now.  It made me smile when I saw it and I'm pretty sure I still have it in a baggie in the drawer.
After you wash everything really well, let it dry for a day to make sure everything is completely dry. No water at all.  Then, you paint them. I used white ceiling paint on mine. The idea, according to Lisa, is for the blades to blend into the ceiling when they are on. It really works too. Amazing.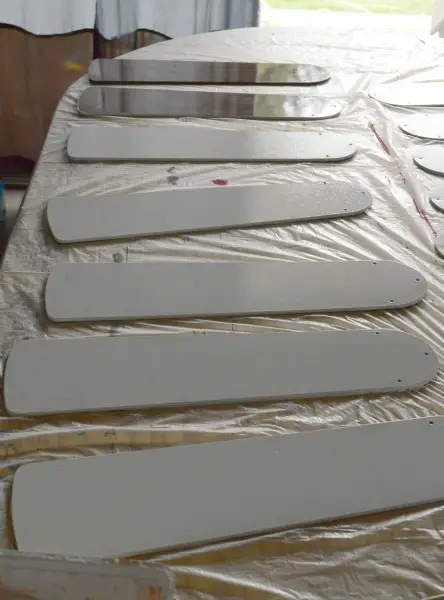 Finally, put them all back together. As I said, I have five ceiling fans, so it was a lot of painting for me. I also had my husband take the blades off the fans in the living room and my son put them back on because the ceiling is so high and I'm not a fan of ladders. I did the rest though.
Don't they look better and more fresh? I'm so glad I did them, not only to update them, but also to get all of that nasty gunk off of them. So gross.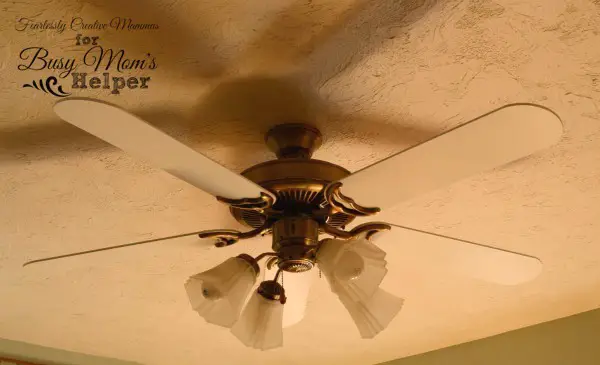 I hope you learned something from this post and got an idea for your ceiling fans. I'm learning that you can paint just about anything, which is nice to change the look of something for not too much money.  Come on over to Fearlessly Creative Mammas and see what else we paint. It's a lot for sure!
This content may contain affiliate links. We earn a commission at no extra cost to you if you make a purchase. We may earn money, free services or complementary products from the companies mentioned in this post. All opinions are ours alone…
The following two tabs change content below.
I live in Southeast Idaho with my wonderfully supportive husband. We have three grown kids and three beautiful grandkids. I love to spend time with my family, travel, create recipes, craft, sew, camp, hike and take photos. I've been blogging at Fearlessly Creative Mammas since April 2012, but blogging in general since February 2011 on Pebble Pirouette. My favorite place to be is the beach and although I own a home in Idaho and land in Alaska, I truly hate the cold.
Latest posts by Kathleen Clegg (see all)