Peanut Butter Cheerios
EPIC fail! Ever get those recipes where you are so excited to try them and they turn out awful? Well that's what happened to me when I was working on one of my posts for this month. I was so excited to share Homemade Tootsie Rolls with you but let me warn you, don't try them! They were a huge mess, time consuming, and then when I finally got it to work out they tasted disgusting! My advice? Stick to store bought tootsie rolls. So instead of leading you astray to be frustrated and let down here is a simple, quick, and amazing tasting Peanut Butter Cheerio Snack!
Peanut Butter Cheerios
Peanut Butter Cheerio Snack is a simple yet great tasting snack for anyone. It's quick to make and very hard to mess up. These are so good you will find yourself eating the whole batch like me! Which I have done several times which is sad to admit but they're amazing!
You can also put these in a sheet pan (make sure to put down parchment paper first), press them flat, and serve up as a cereal bar.  Nothing against the big brands, but my kids get bored of the same old cereal bar flavors.  Just make a few small tweaks and give you family a tasty alternative with these Cheerios peanut butter bars.
Peanut Butter Cheerios Ingredients:
1 cup sugar
1 cup corn syrup
1 cup creamy peanut butter
1 tsp vanilla
5 cups cheerios (can use honey nut cheerios but whichever work)
Peanut Butter Cheerios Directions:
Gather all ingredients.
Measure out cheerios into a large bowl and set aside.
In a small sauce pan combine sugar and corn syrup and put on high stirring constantly.
Bring to a boil and boil for 1 minute then remove from heat.
Add in the peanut butter and vanilla and stir until creamy.
Pour onto cheerios and stir until evenly coated.
Spray a pan with cooking spray and drop cheerios by the spoonful onto it.
Let cool. I usually stick mine in the fridge but they can just be left out and once cooled placed in an airtight container.  These taste great at room temperature.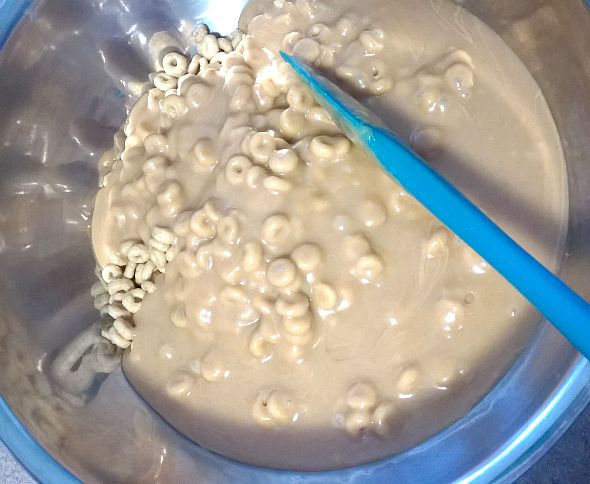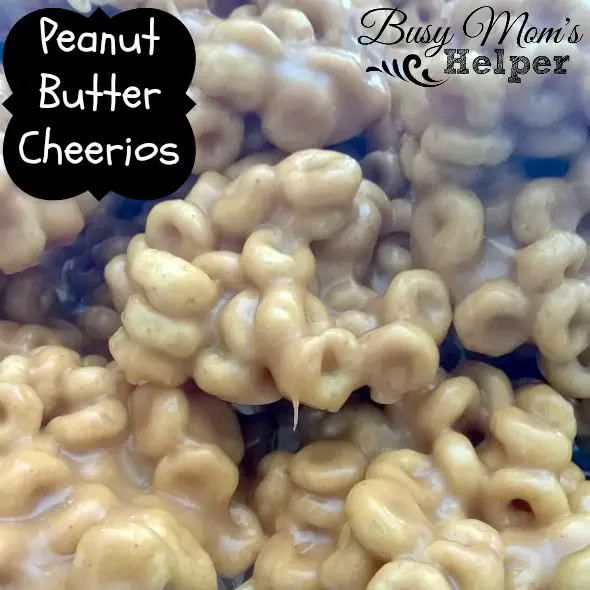 Tips To Add Variety
Mix in rice krispies for added crunch and flavor.
Getting bored of just peanut butter flavor?  Drizzle some melted chocolate (I prefer milk chocolate) on top to add depth to every tasty bite.  Or, sprinkle your favorite mini chocolate chips like I did on this recipe.
Don't want to eat right away but are afraid of your treats melting?  Freeze the cereal bars version mentioned above and enjoy a tasty treat later in the day.
Some other yummy snacks to try…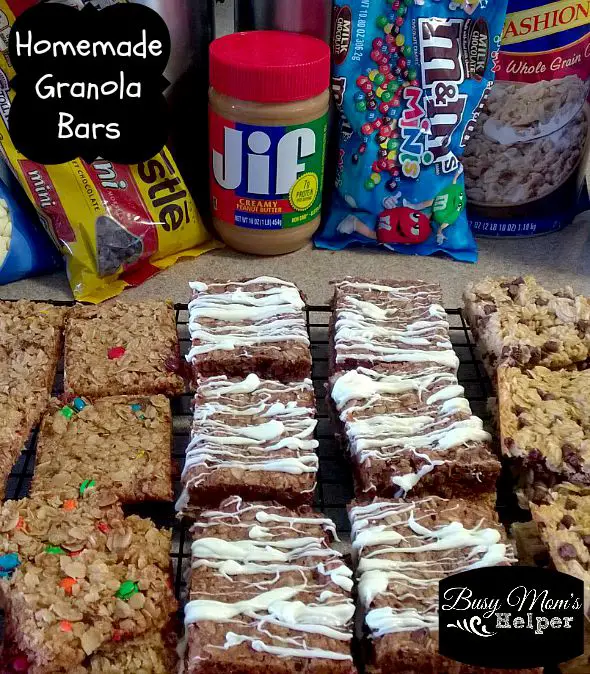 FAQ
Was peanut butter Cheerios discontinued?
We're sorry to disappoint, but Peanut Butter Cheerios were discontinued and are no longer available.
Are peanut butter Cheerios healthy?
You get 20% of your daily recommended Iron, Thiamin, Vitamin B6, Folate, Vitamin B12 and Zinc. Given that this cereal has chocolate and peanut butter in it, the 9 grams of sugar actually seems a little bit lower than a lot of other "healthy†cereals out there.
Is eating Cheerios everyday good for you?
Cheerios is clinically proven to lower cholesterol. A clinical study showed that eating two 1.5 cup servings daily of Cheerios cereal reduced bad cholesterol when eaten as part of a diet low in saturated fat and cholesterol.