Chocolate Peanut Butter Cheesecake
Please tell me I'm not the only one that went a little overboard making desserts for Thanksgiving! I was told to bring a couple – and ended up bringing FIVE. Yup, went a little nuts and Hubby and I stayed up way later than we should've the night before baking. It was a fun evening, though, and everyone loved the tastiness that came out of it, including this Chocolate Peanut Butter Cheesecake!
We wanted a large variety, so along with our famous Pumpkin Dessert recipe, we had some fruity things – and this was our chocolate winner! I knew I was in the mood for a perfect mix of chocolate and peanut butter, then the cream cheese just completed the combo.
Ingredients – Crust
2 cups Graham Cracker Crumbs
6 tbsp. Butter, melted
2 tbsp. Brown Sugar
4 tbsp. Toffee Bits
Ingredients – Filling
2 cups Whipped Topping
12 oz. Cream Cheese, softened
2 cups Creamy Peanut Butter
2 cups Powdered Sugar
1 cup Toffee Bits
4 tsp. Vanilla Extract
1 tsp. Cinnamon
1/2 tsp. Salt
Ingredients – Chocolate Topping
1 1/2 cups Chocolate Chips
3/4 cup Peanut Butter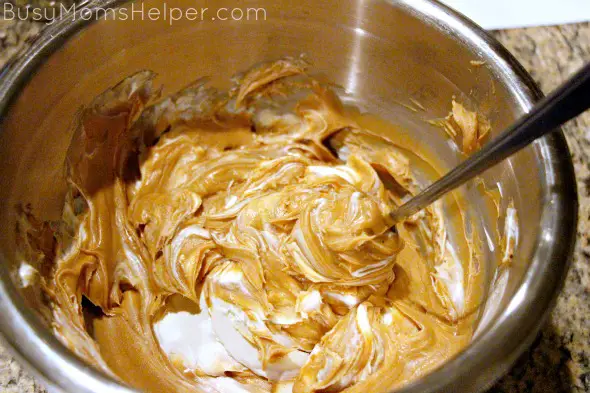 Directions
Preheat oven to 350 Degrees F. Spray or line a 9×13 baking dish, set aside. It works best to line with foil, so you can lift it out for cutting, but that's just my preference.
Combine the crust ingredients until well-mixed, then press on the bottom of the prepared baking dish. Bake about 7 minutes. Remove and set aside to cool – you can turn off the oven.
For the filling, cream the peanut butter and cream cheese until smooth. Add the rest of the filling ingredients, then spread over the cooled crust. Freeze for 1 hour.
Chocolate Layer: in a microwave-safe bowl, heat the chocolate chips and peanut butter at 50% power in 30 second intervals, stirring after each, until it's melted and smooth. Spread over the filling layer and refrigerate about 2 hours, or until hardened.
If desired: heat some peanut butter and drizzle over top the dessert, along with some chocolate chips for a pretty garnish. Store in the fridge.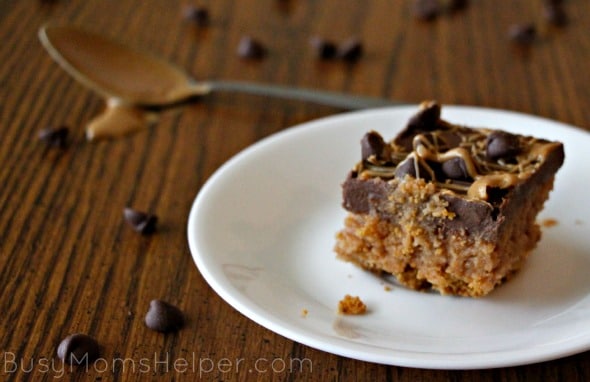 This content may contain affiliate links. We earn a commission at no extra cost to you if you make a purchase. We may earn money, free services or complementary products from the companies mentioned in this post. All opinions are ours alone…
The following two tabs change content below.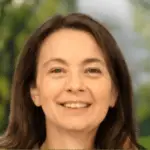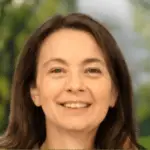 Latest posts by Kelly Dedeaux (see all)