Kid-Friendly Christmas Cake Topper
Merry Christmas, Mamas!  Today I'm sharing a Kid-Friendly Christmas Cake-Topper that you and your kiddos can enjoy making, just in time for the special day!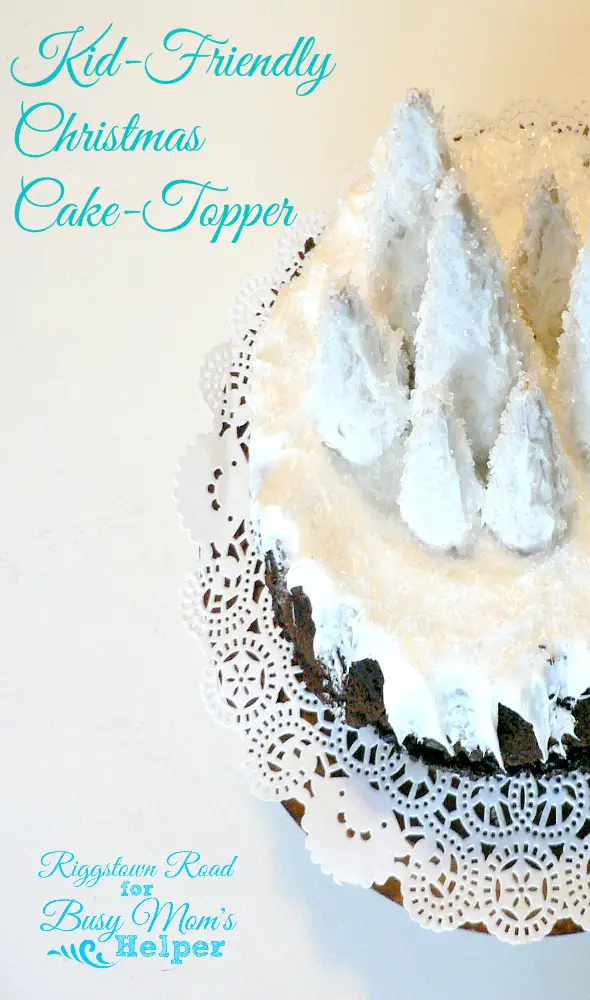 I'm Lynn, from Riggstown Road, and if your life is anything like mine, you have some enthusiastic little helpers when it comes to baking Christmas goodies.  So it's nice when the things we're making are easy for little hands.  (Side-note: At this point, my helpers are becoming better at this stuff than I am.  And I am totally ok with that.) 😉  This cake-topper is easy enough for your preschoolers to participate in, fun enough for your older kids to enjoy, and special enough for all of them to feel proud of.
All you need are 3 simple ingredients to create a winter wonderland of trees on top of your favorite cake.
INGREDIENTS
1 box ice cream SUGAR CONES
1 container fluffy WHITE ICING
1 container sparkling white sugar SPRINKLES
DIRECTIONS
Prepare your cake with white icing.
Carefully cut some of the cones to different sizes for different sized trees.  (I used a tomato slicing knife.)
Let kids spread icing on the cones, covering completely.
Help kids gently place the "trees" in the "snow" on top of the cake.
Kids can sprinkle the sugar crystals all over the trees and the top of the cake to create "ice" crystals.
Now stand back and admire the prettiness!
Cute enough for company, and trust me, this is waaay easier than decorating cookies!
As you can see, we weren't too concerned with the rest of our (delicious) cake, but I loved it in all its messy glory.  I called it a snow-covered mountain, but the girls were a little unsure about that.  They seemed more impressed with their trees.  I think sprinkling the sugar was the part that was the most fun for them.  It was the, ahem, icing on the cake. 😉
I hope your kids enjoy it, too.
This content may contain affiliate links. We earn a commission at no extra cost to you if you make a purchase. We may earn money, free services or complementary products from the companies mentioned in this post. All opinions are ours alone…
The following two tabs change content below.
Hey there! I'm Lynn - homeschooling mom and happy wife, loving my simple country life. Come visit me at Riggstown Road!
Latest posts by Lynn Driver (see all)