15 Tips for a Healthy Active Life
With the new year comes new goals for a lot of people. Some people call them resolutions, but for me, resolutions are things people stop doing and goals are things people tend to work towards. Each year I set goals for myself for the coming year. Sometimes I make them, sometimes I decide they aren't really things I want to pursue and sometimes they get carried on to the next year. Being healthy and active is something that has become more and more important to me as I have gotten older. As I am considering my goals for the next year, I thought I would bring you 15 Tips for a Healthy Active Life. Some of my tips might seem really basic to you, but hopefully they will all help someone. I think we all want to live healthy lives and being active is a huge step toward that goal.
Let your children or grand children see you exercise. Children learn the very best by following our lead and example. Also, provide ways for them to join in. For example, I have these tiny weights that my grand children use when they see me exercising. They are only 2 pounds and perfect for their tiny hands.
Have fun ways to exercise with the young ones or just on your own. Try the Just Dance games for video game consoles or CIZE from Beach Body is loads of fun too. Even my husband had fun with that and he hates to dance.
3.  Find some time to exercise together as a family in some community events. There are so many  walk-a ton type of events and the Color Runs are so much fun. Don't worry about the colors. They come right off. Lots of people dress up for them and you can take little kids too, so you are participating with your whole family. (Yes, I realize we are missing one in our family picture. She had to work.)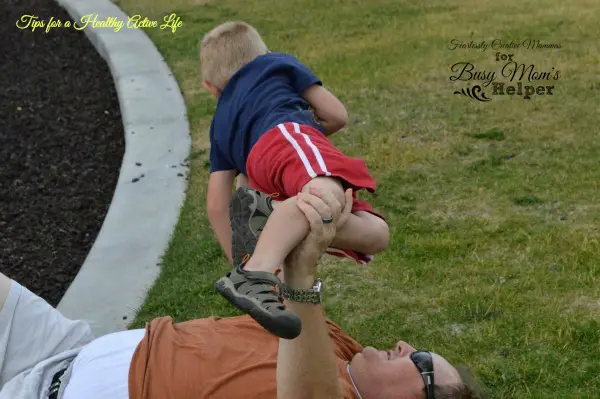 4. Exercise 'with' your kids. By this I mean use them as your exercise equipment. Not only will you get a workout, but they will have so much fun. My grandson laughed and laughed while my husband 'bench pressed' him. You can also lay them across your shins as your laying on your back, bend your legs and pump them up and down. They love that too.
5. Get regular checkups and if you think you need a second opinion, get one. I have a friend who thought there was something wrong and her doctor insisted there was not. Turns out, she was right and not her doctor. Unfortunately, it took her about 6 months to get a second opinion. Turns out she had breast cancer and by that time she had to get a double mastectomy. Don't let your age be a factor either. She was only 35 at the time. Thankfully, she has beat it since then, but it was a very long, hard road that didn't have to be so intensive.
6. Drink your water! I can't stress this enough. You should be drinking at least half of your body weight in ounces every single day. In the summer and when you're exercising, even more. I always carry my water with me when I go out too. That way I don't have to buy expensive bottled water and I'm not tempted to buy sugary drinks.
Don't like water? Get an infuser and add some lemon and fresh mint (my favorite) or sliced strawberries, cucumber or orange to flavor your water with no calories. You don't have to buy a fancy infusion bottle either. I got this infusion lid for a wide mouth mason jar for about $5.00 at Walmart. It was in the same area as the Mason jars.
7. If you know you're going to be away from your house for a long time, carry a healthy snack with you. You don't want to become so hungry that you stop and have an unhealthy snack somewhere. Things you can easily carry are raw nuts, raisins, cheese sticks if you have a little refrigerator bag, carrot and celery sticks, grapes, dried fruit or apples. There are so many other snacks you can carry, specific to your tastes.
8. Grow your own foods. If you grow your own foods, you will know exactly what goes into the food, as in pesticides and fertilizers. If you have a very large yard, you can grow what you like for a lot less money than buying them. If you have a small yard or no yard at all, try Container Gardening. You can get instructions for easy DIY Container Gardening Grow Box on my blog. If you grow a lot of food, you can preserve it for use in the winter months. I love green beans, peas, tomatoes and corn. It's really wonderful when I have things either I have grown or my friends have grown all year long.
9. Plan your meals and make a menu. You can have a rotation if you like and then you only have to plan say, a month's worth of meals. If we have a meal plan, we are less likely to order out or stop at a drive thru. Be sure you're eating a variety of fruits and veggies every day so you don't get bored. Also, try new things on occasion. I only recently found out that I like parsnips. Who knew?!
10. Try to eat less processed foods in your diet. I know that convenience foods are how a lot of people survive busy schedules, but they aren't good for you to eat on a regular basis. To get around this, you can make meals ahead of time, making several freezer meals to have for busy days, make up mixes for things like cream soups or salad dressings, double the meals you make and freeze the extra portion for another meal and use your slow cooker a lot. My sister uses her slow cooker 5-6 times a week. You can get the recipe to my cream soup base on this post. It also happens to be a really tasty slow cooker meal.
11. When you go on vacation, work exercise into your days. Plan active vacations. For example, when we lived in China and visited the city of Xi'an, we got to ride bikes on the 1000+ year old city wall. We got a little exercise, saw some really neat things and had a lot of fun!  When we go a beach vacation, we snorkel most days. If we go to the mountains or camping, we hike a lot. I am not the most in shape person in the world, far from it, but these are all things we do to keep more active and enhance our trips.
12. Get enough sleep. It is so important to both your physical and mental health. Your body can't work the way it is meant to work without enough rest. Your brain needs the rest too. Women generally require more sleep than men, although I'm not sure they get it. My husband sleeps about 7 hours a night and my body really wants about 9 hours of sleep a night, although I rarely get it.
13. Read something to improve yourself every day, even if for only 10 minutes. If you feel like you can't take 10 minutes, listen to a book on CD or using Audible. What are you interested in learning? For me, this year I'm planning on improving my photography. I have a couple of books I'm going to read and I also need to get something for my camera because my eyes aren't what they used to be. What will you work on?
14. Find a hobby and plan some time in to do it. What I mean by that is, take some time for yourself to work on things you enjoy. It can be anything you're interested in, sewing, cooking, crafting, gardening, photography, archery, running, hiking, whatever comes to mind. Me time is a great way to recharge yourself. Help your kids find something they are interested in and show them to importance of focusing on themselves a little bit too. My grandson loves to run and he is very fast. I'm hoping he will keep it up.
15. Have some great friends, in addition to your significant other. I have a few friends that I have known since I was a teenager and others I have met along the way. I don't get to see most of them often, but we can always pick up where we left off. Sometimes, you just need a friend. They are good for your well being and your soul too.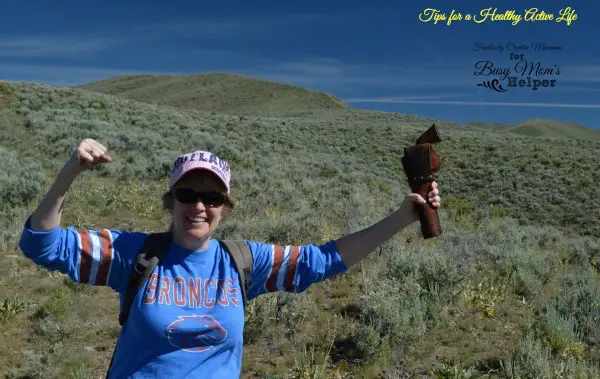 Whatever you choose to do to ensure you have a healthy active life, have fun with it, celebrate when you reach your goals and always have goals in sight.  What are some of your favorite ways to stay healthy and active?
Come on over and visit me at Fearlessly Creative Mammas when you have a minute. I love sharing great recipes, fun crafts and great DIYs. I'd love to have you!
This content may contain affiliate links. We earn a commission at no extra cost to you if you make a purchase. We may earn money, free services or complementary products from the companies mentioned in this post. All opinions are ours alone…
The following two tabs change content below.
I live in Southeast Idaho with my wonderfully supportive husband. We have three grown kids and three beautiful grandkids. I love to spend time with my family, travel, create recipes, craft, sew, camp, hike and take photos. I've been blogging at Fearlessly Creative Mammas since April 2012, but blogging in general since February 2011 on Pebble Pirouette. My favorite place to be is the beach and although I own a home in Idaho and land in Alaska, I truly hate the cold.
Latest posts by Kathleen Clegg (see all)