Chocolate Pumpkin Mini Pies
Anyone who knows me knows that I absolutely LOVE the holidays. From the family feasts and gatherings, to getting gifts for my loved ones, to all the beautiful lights and fun music – it's all fabulous and puts me in such great spirits! Another reason I enjoy them so much is all the delicious food (I can imagine practically all of you nodding in agreement here). While trying new recipes before deciding what to take to Thanksgiving dinner this year, I tried this Chocolate Pumpkin Mini Pies. Oh. My. Goodness! These turned out so tasty and full of great pumpkin (and chocolate) flavor – they're sure to be a big hit with the whole gathering at your next holiday get-together!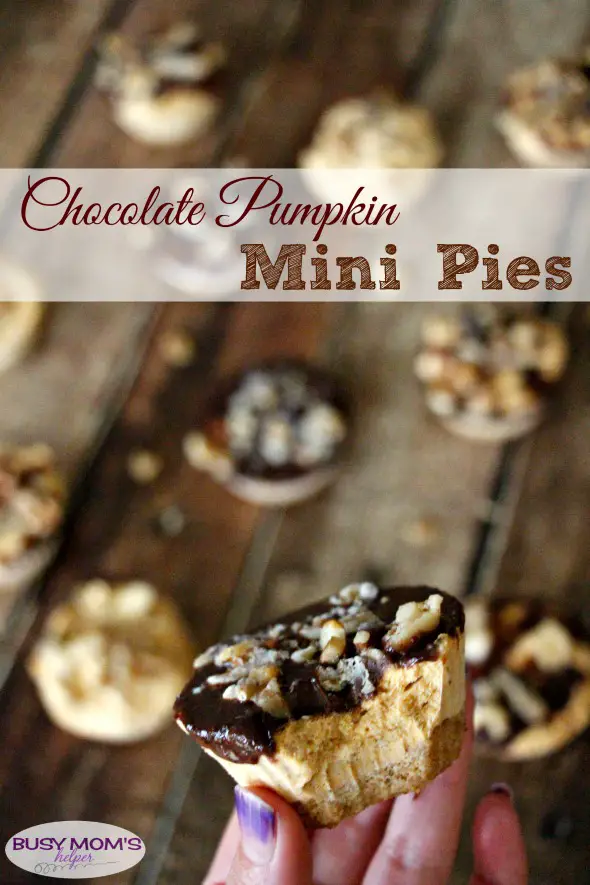 One important thing to know about these is that they're a FROZEN dessert recipe – but they thaw quickly to become a super creamy, amazing treat in every bite. Since you need to put them in the freezer at least 5 hours total, be sure to plan ahead so it fits into your serving schedule 🙂
Another perk of these chocolate pumpkin mini pies is that they're smaller (thus the MINI), being made in muffin tins – and you can adjust the size really easy, depending on how you want to serve it! This makes no cutting slices necessary, just take out each muffin cup and pass it out – particularly convenient for serving the kiddos their dessert!
Ingredients
Crust
5 Graham Cracker Sheets
3 tbsp. Butter, melted
1 tbsp. Brown Sugar
Dash of Ground Cinnamon
Pumpkin Pie Filling
1 cup Heavy Whipping Cream
8 oz. Cream Cheese, softened
1 cup Pumpkin Puree
1 cup Powdered Sugar
2 tsp. Vanilla
1 tsp. Ground Cinnamon
1/2-1 tsp. Pumpkin Pie Spice
1/4 tsp. Salt
Chocolate Drizzle
4 oz. Semisweet Chocolate Chips or Chunks
1/2 cup Pumpkin Pie Spice Coffee Creamer
Topping Options: nuts, chocolate chips, etc.
Directions
Preheat oven to 350 Degrees F. Spray or line a 12-cup muffin tin, set aside.
In a blender, blend the 3 crust ingredients until well-ground. Divide into the 12 muffins cups, then press down so it's flat. Bake for 5-7 minutes, or until starting to turn golden brown. Set aside to cool.
Whip the cream cheese and pumpkin puree until smooth. Mix in the powdered sugar, vanilla, cinnamon, pumpkin pie spice and salt until well-mixed and creamy. Set aside.
Whip the heavy cream until firm peaks form. Gently fold into the pumpkin filling mix until combined. Scoop into 12 muffin cups over cooled crust. Smooth tops. Place in freezer for about 1 hour.
Put the semisweet chocolate and coffee creamer into a microwave-safe bowl and heat at 50% power, stirring at 30 second intervals until fully melted and smooth. Remove and allow to partially cool, stirring occasionally so it doesn't get too firm. Spread or drizzle over pumpkin filled cups. Sprinkle tops with nuts or chocolate chips, as desired. Place back in freezer at least 4 hours, or overnight.
Be sure to serve these almost immediately after removing from the freezer, as they'll start to soften very quickly and then can be a bit messy (especially with kids!). These were an absolute HIT with the whole crew – from my pumpkin-obsessed hubby who isn't too fond of chocolate, to my kids who love almost any type of dessert. It's like the best of all worlds!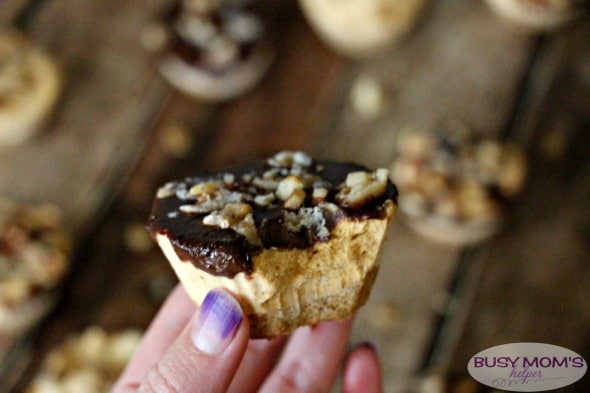 This content may contain affiliate links. We earn a commission at no extra cost to you if you make a purchase. We may earn money, free services or complementary products from the companies mentioned in this post. All opinions are ours alone…
The following two tabs change content below.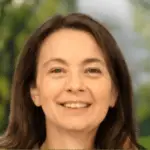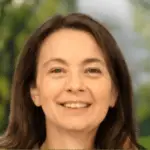 Latest posts by Kelly Dedeaux (see all)