DIY Christmas Countdown
We love doing holiday countdowns in our house, and I'll admit we do have a decent few. I love that we can not only make it a fun activity for the kids – and it helps avoid being asked 'how many days until Christmas' since they can just check one of the countdown calendars – but that it also works as cute, festive decor for the home, too! This fun DIY Christmas Countdown is super simple & quick to make, and looks AMAZING for the holidays!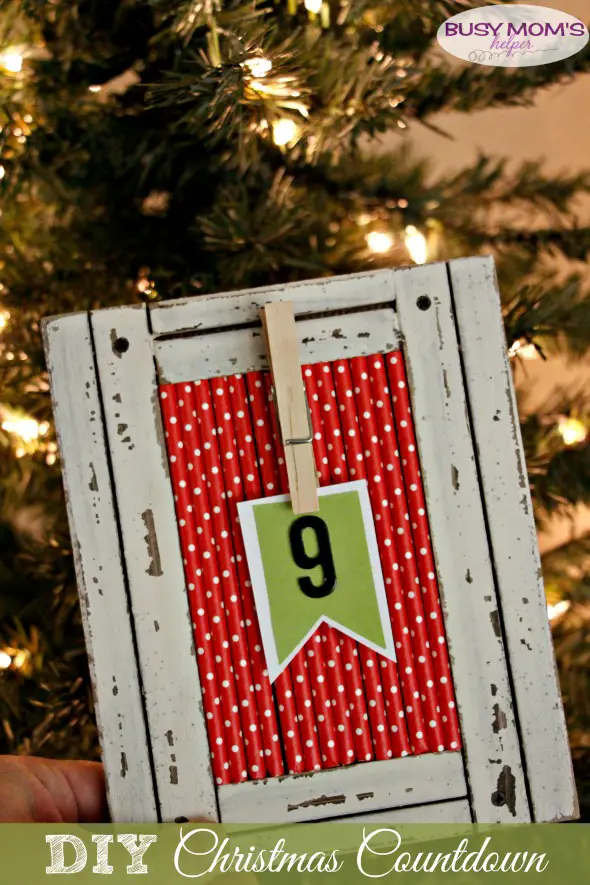 It's also great because it can use just a handful of items, and takes less than 10 minutes to put together. You can certainly mix up the colors and designs, making it into something other than a Christmas countdown, if you'd like! Remember our Disney Countdown that's similar? Just like that, you can switch up the straw colors and designs, as well as the papers or frames, and add little accents as you see fit to really make this your own.
Supplies
Frame of choice – paint if desired
Paper Straws (I used red/white polka dot)
Paper Scraps (I did white & green)
Clothespin
Number Stickers or Pen/Marker
Hot Glue/Gun
Scissors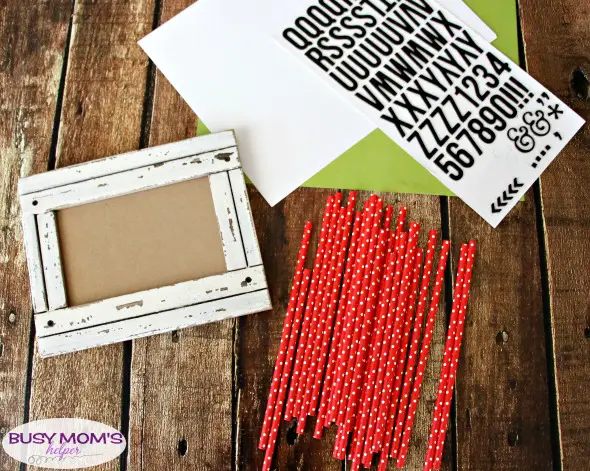 Directions
Cut your paper straws so they fit snuggly inside the frame. You CAN glue them into place, but then you can't switch them out – I prefer just making them fit tight so I can remove them later to reuse the frame if desired.
Cut out your paper pieces – I like doing a little 'banner' type shape, with one color larger than the other to act as a border. Glue the smaller piece onto the larger one. Add your numbers, either with a sticker or write it neatly. The amount of numbers you'll need will depend on the holiday – for our Christmas countdown I did up to 24 little banner pieces.
Hot glue the clothespin onto the frame – if you want to reuse it, careful to just glue onto the straws, not the frame or you won't be able to take it off.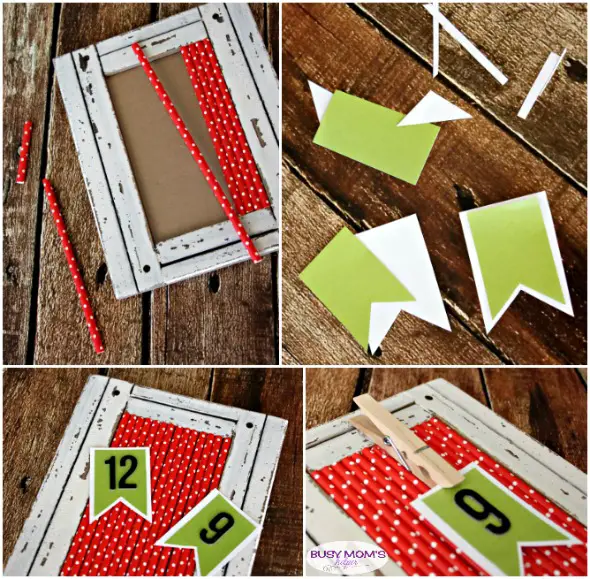 That's it! Then start at 24 (or 23 or 25, depending on how you do your numbers and if you plan to go to Christmas or Christmas Eve), and each day switch it with the lower number. It's great how much excitement it brings kids to do a Christmas countdown – probably helps them be more patient until the holiday, too!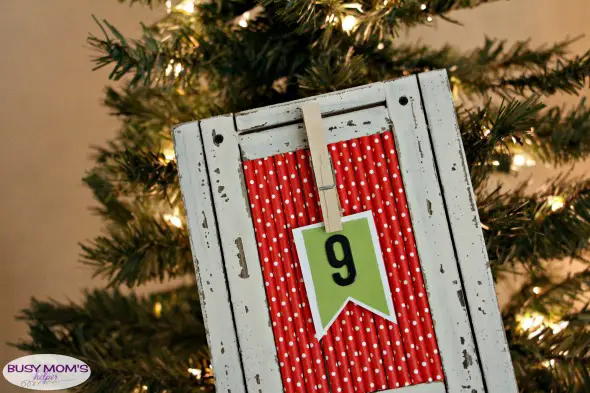 If you want to do a larger frame, you can fit 2 clothespins and just do single digit numbers (like a 2 and a 3 to make 23), but I wanted this particular one to be smaller so I just stuck with the one number set. This does mean making more banner pieces, but I was ok with that for mine.
You could get a cute Santa hat of Elf shoes sticker or decal to put on the corners of your countdown if you want, or keep it more simple like this one. It's up to you – it's YOUR Christmas countdown, after all!
What's YOUR favorite thing about the Christmas season?
This content may contain affiliate links. We earn a commission at no extra cost to you if you make a purchase. We may earn money, free services or complementary products from the companies mentioned in this post. All opinions are ours alone…
The following two tabs change content below.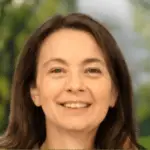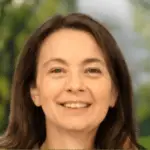 Latest posts by Kelly Dedeaux (see all)