Halloween Lighting Fun
This post is sponsored by Philips Hue via Momtrends Media.  The opinions are mine and are not indicative of the opinions of Philips Hue or Momtrends Media.
Growing up, my family always loved Halloween, and the entire neighborhood made it extra special and exciting. Us kids really looked forward to the candy, food, costumes and friends! Now with my kids, I try to make it just as much fun – and this year, we're going way beyond the 'normal' with some Halloween Lighting Fun! Whether you're throwing a monster bash, want to greet trick-or-treaters in a frightfully delightful way, or just want to add more witch's magic to your kids' holiday, this is sure to be a hit for the whole family.
One of my favorite parts of the Halloween season is all the COLORS – from the colorful treats and decor, to the costumes and makeup. This year, we're taking 'colorful' to a whole new level thanks to the Philips Hue Go. Y'all know how much we love our Philips Hue smart lighting system, but I have to say that this piece just screams (or glows) FUN! Using the Hue app on your smartphone or tablet, you can personalize the light to match any theme or atmosphere you want. To make it even more convenient, you can control your Hue lighting with just your voice using Amazon Alexa, Google Assistant or Siri with Apple HomeKit.
One you have the Philips Hue White and Color Ambiance starter kit, just add a Philips Hue Go to your system. The Hue Go is great because it's portable lighting. One option is to plug it into a power outlet and shine it on your walls to paint them with colored or white light. We're going with the more flexible option for our Halloween lighting fun this year, though! The rechargeable internal battery can last up to 3 hours, and even when it's in portable mode, you can STILL control it with your smart device. So if you're busy handing candy to the newest monsters and heroes to knock on your door, you can still play with the countless color options.
For us, we wanted to make a super colorful, exciting witch cauldron with smoke – cue the dry ice! Now, keep in mind that the Philips Hue Go is not waterproof. You need to use caution and common sense – make sure the light isn't touching (or even too close) to the water or dry ice. We made sure we had a DEEP bucket, put the water and dry ice at the bottom, then set our light on something else several inches above those (but still hidden at the top of the bucket). It was incredible how cool the smoke looked with the various colors as it flowed out of the bucket and over our Halloween table spread!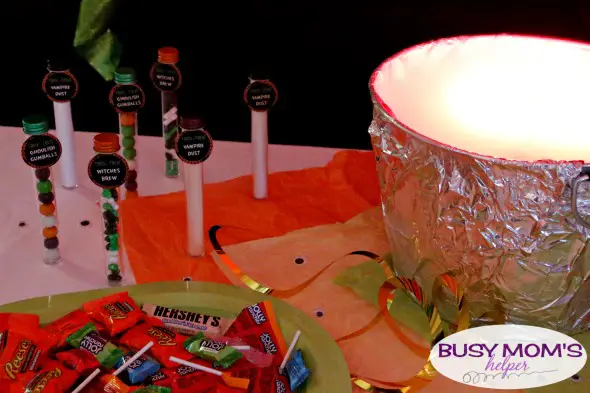 The kids love making 'spooky' (okay, so they're too adorable to be very scary, but they tried) and silly faces behind the light, and to pretend they're casting 'spells' over the cauldron – I mean, bucket! We kept switching up the colors from a favorite pumpkin-like orange, to an eerie witch-green tone. There's even pre-set light scenes in the app such as Blood Moon or Blue Lagoon. Have a special backdrop or photo? The Hue app can extract the colors from your image and apply it to your lights, making your Halloween atmosphere complete perfection.
Make the ultimate trick-or-treat stop or create haunted house effects with Hue's special Halloween lighting formulas. You can recreate a lightning effect – or make it appear like a mischievous ghost is switching the color and brightness of your lights! The third-party app Hue Haunted House can add flashes and flickering to your colored lights for more Halloween fun, as well as combine haunting sounds and lighting effects to make anyone jump – enter the creepy ghost sounds or eerie piano music! Another option for a thrilling sound and light show is to download the Hue Sync app (available for Windows 10 PCs or macOS computers) to sync your Hue lights to the beat of your chosen Halloween-related music tracks. I think a set of Thriller is a definite must-do!
We're all counting down the days until Halloween this year, and are so excited to show off our fun lighting with friends and visitors! Thanks to Philips Hue smart lighting, anyone can turn their everyday lighting into an extraordinary experience. Halloween is the perfect time to play with light and color and create an amazing ambiance, but it doesn't have to end there – use it any day of the year! Once you nab the start kit, it's simple to add more of Hue's products like the Go to REALLY turn your house into the spookiest (or most thrilling) in the neighborhood!
What's YOUR favorite Halloween color?
This content may contain affiliate links. We earn a commission at no extra cost to you if you make a purchase. We may earn money, free services or complementary products from the companies mentioned in this post. All opinions are ours alone…
The following two tabs change content below.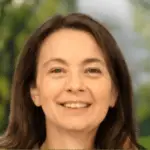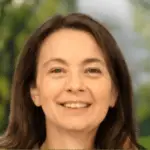 Latest posts by Kelly Dedeaux (see all)