How To Use A Cricut? 
So, you have a project looming that requires you to cut some sort of material. Of course, some materials are harder and a craft knife or scissors just won't do the job properly. This is where a cricut can come in handy. 
They seem like complicated contraptions, but the good news is that once you know the ins and outs of a cricut, it is quite a simple machine to use.
I sat down with an experienced cricut expert to find out how to use a cricut safely and correctly. Combined with my twenty years or so of personal experience using cricut machines, I am going to be showing you the ropes right here, right now. Read on to begin your journey towards cricut mastery!
What Is A Cricut?
A cricut is a cutting machine that can cut many types of materials. Mainly used for craft projects, a cricut can cut materials, such as vinyl and paper, and with certain types of blades, a cricut can even manage to cut leather, cork, fabrics, and balsa wood.
There's no doubt that a cricut machine is a useful tool for any crafter. But, it's safe to say that many beginners to the crafting world are unsure of how these machines work. Asking how to use a cricut is actually one of the most common queries I get.
Getting Underway With A Cricut
It's important to remember that even your friend who uses a cricut with ease and grace was once in your position. We all have to learn the basics before stepping up our cricut game and you are about to embark on a new crafting journey that will allow you to craft far more than ever before.
Cricut machines are simple to use. But, you have to take some time to get used to them first, particularly if you're a complete beginner — If you're anything like me, you'll need to set aside a week or two just to familiarize yourself with the ins and outs of these crafty machines. Note that many of the best printers for sublimation follow similar steps!
The first thing you'll need to do is open the box to reveal your new cricut machine. Then, it's simply a matter of asking yourself, "what do I need to do first?," "what should I craft first?", and "how do I get underway with the machine?"
It's very exciting when you get your first cricut machine. You can start making handmade gifts to give to friends and family or even sell online! But, I know from experience that combined with this excitement can also be a tinge of intimidation. After all, it's a machine you've never used before so you don't want to use it incorrectly. 
You'll need to find out how to use its design software, the tools and supplies you'll need, and the materials to try out first. Don't worry, though! I'm here to answer all of these questions.
Whilst it may take a little time to get used to a cricut machine, I'm sure you will love the process of using one. If you're like most people, you'll adore the clean, fast cuts the machine makes and all the new crafting possibilities it presents.
A Cricut: How Does It Work?
Many compare a cricut machine to a printer. The main difference is that a cricut cuts shapes out of a type of material, rather than prints an image into a piece of paper or card.
When looking inside a cricut machine, you'll find a small blade. This moves much like a cartridge does in a printer but instead of releasing ink, the blade cuts your desired design. This blade typically has a fine point, similar to an X-acto knife. Therefore, it can cut very delicate and precise shapes with ease.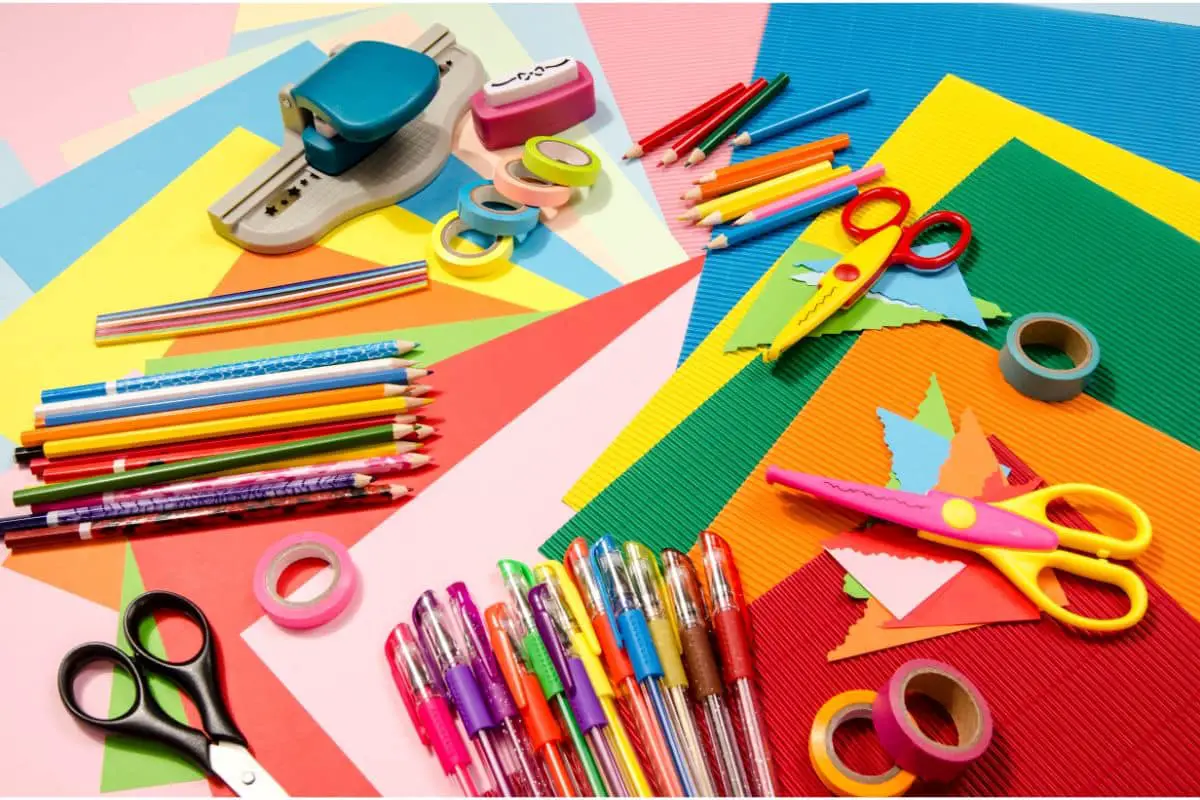 Materials A Cricut Can Cut
Different models of cricut machines can cut different types of materials. Nevertheless, all Cricut machines are capable of cutting a vast range of materials.
Listing them all would be a challenge to say the least. Once we get to the bottom of the list, new machines would have been introduced with new power cutting abilities!
Here's a list of some popular materials that are commonly cut by cricut machines.
Just expect this list to grow as cricut machines advance further:
Cardboard
copy paper
printable sticker paper
construction paper
parchment paper
wrapping paper
aluminum foil
cardstock
butcher paper
craft foam
chalkboard vinyl
iron-on vinyl
felt
faux leather
glitter vinyl
glitter cardstock
Infusible Ink sheets
natural wood veneer
removable vinyl, (just like in our how to remove vinyl stickers article)
permanent vinyl
magnetic sheet
washi tape
stencil film
Vellum
smart materials
The three latest Cricut models on the market can each cut a range of materials.
The Cricut Maker 3 can cut over 300 types of materials, such as vinyl, paper, wood, fabric, and leather.
The Cricut Explore 3 is capable of cutting over 100 materials including vinyl, cardstock, glitter paper, bonded fabric, and iron-on vinyl.
The Cricut Joy can cut around 50 materials, such as paper, thick faux leather, and vinyl.
What model you purchase depends on your crafting needs.
The Cricut Maker 3 and Cricut Explorer 3 can cut more materials but the Cricut Joy will cut most types of materials that you will work with.
Supplies And Tools Required 
When you open the box to find your gleaming new Cricut machine, you will notice that it comes with some additional supplies. Inside, there will be a pen, a blade, a charging cable, a USB cable (if compatible), and some samples of materials to help you get started. A few machines also include cricut cutting mats, but not all do.

Just a quick tip – you don't have to buy Cricut branded materials to use with your cricut machine. But, using the Cricut brand is a sure way of knowing you're using good-quality materials. I tried a few fantastic alternatives, but ultimately, I decided to stick within the Cricut ecosystem.
Materials 
Once you have finished practicing with the sample material, you'll have to go and purchase further supplies and materials to continue crafting. 
If you need to make projects from vinyl, you will need to buy some – transfer tape, adhesive vinyl, and iron-on vinyl.
If you intend to make paper projects, you will need to buy materials, such as cardstock, scrapbooking paper, and vellum.
For Cricut infusible ink projects, you will need to purchase infusible ink sheets and/or markers, as well as a compatible item that is blank. I tend to stick with the Cricut-branded infusible inks linked above, as the richness of their colors is unparalleled.
Blades
You can buy more Cricut blades and tools to further your craft projects and cut different materials, for instructions on how to change a Cricut blade, see these steps. .
Some tools you can invest in include an engraving tool, scoring wheels, a knife blade, and a rotary blade to be used on fabric.  I'd recommend picking up one of each as I did, perhaps not right away, but collecting the blades linked above will diversify your machine and crafts.
Pens 
As well as cutting materials, cricuts can be used to write with.
By inserting a Cricut pen or marker into the machine's dual tool-holder, you can then start to write on different materials.
You can also draw detailed designs on paper and write smart addresses and messages on envelopes and cards.
Mats
Some cricut machines do not come with mats. If this is the case with yours, you may need to buy some additional mats.
You can choose from four mat strengths, which suit different kinds of material. For larger projects, you can also find 12-inch square or 12-inch x 24-inch mats.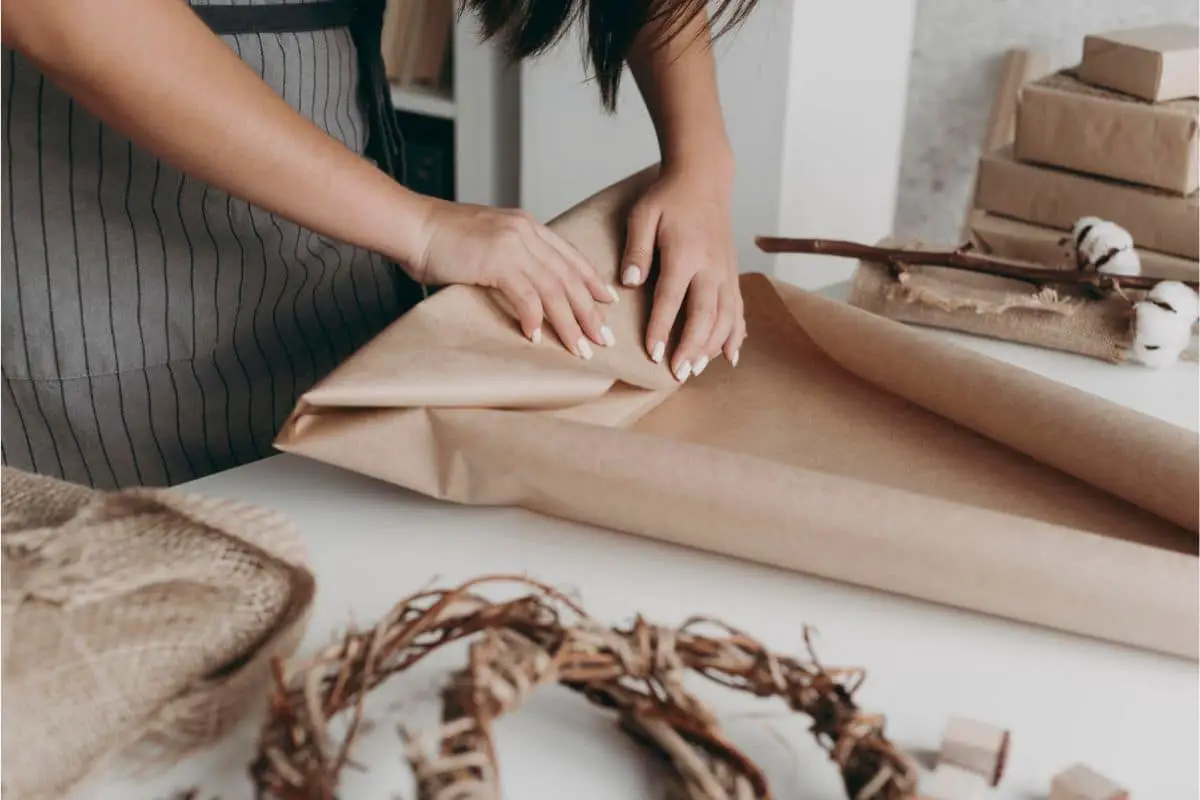 Hand Tools
Although not always required, we suggest investing in some hand tools to make the cricut process even easier and smoother.
I highly recommend buying a scraping tool, as well as this weeding tool — it's helped me out of a lot of sticky situations in the past!
There are a few kits available from Cricut for beginners, such as the Basic Tool Set and Essential Tool Set.
What you need depends on how often you'll use the cricut machine and what projects you will be working on regularly.
These kits include essential handheld tools like tweezers, scissors, a weeding tool, a spatula, a scraper, a paper trimmer, and a scoring stylus.
You should save money by buying a set rather than buying each tool separately.
Heat Press
If you want to use iron-on vinyl for your Cricut projects, then you will have to press the vinyl using a heat press. You can also use an iron or the Cricut EasyPress.
For the most even and consistent heat, we highly recommend the Cricut EasyPress, but all heat presses should do the job well.  
A Cricut: How To Set It Up
Before you start using your cricut machine, you will need to set it up.
For this, you will require a computer or mobile device that has an internet connection. 
I recommend using a desktop computer or a laptop as this offers a more streamlined setting up process.
Here is how to set up a new Cricut machine:
Take your Cricut machine out of its packaging and plug it into a socket close to your computer. Now, turn the machine on.
Pair your machine to your computer or mobile device using the included USB cable or via Bluetooth.
Navigate to Cricut.com/setup and download the Design Space.
The screen will prompt you to complete the setup. Follow all prompts closely.
And, that's it! You're set up and ready to get cutting! Simple, right? 
How To Use A Cricut Machine – Your First Project
Once your Cricut machine is out of its packaging, you will need to plug it in near your PC or Laptop.
Jump online and sign up to Cricut with a free Cricut account.
Then, download the Cricut Design Space application onto your computer.
Once you're all signed in, it will be time to start on your first cricut project!
Here are the fundamental steps to using a Cricut:
Firstly, you need to select a design within the Cricut Design Space. You will have a selection of pre-made images to choose from or you can make a personal design.
After this, choose your material and place this on the cutting mat. This mat is sticky, so your material is secure at all times whilst the Cricut machine cuts. When in position, press the button on the machine to load the mat into the Cricut.
Now, select the appropriate material settings within the Cricut Design Space. This will then send your desired design to your cutting machine.
Once the design has been sent, press the button that flashes on the Cricut machine to begin cutting your material.
Simply wait for the machine to work its magic. Once it has finished cutting your design, take the mat away from the Cricut and then the material from on the mat.
And, that's it! Your paper or vinyl design (or whatever material you used) has been completed and you can now use them in your craft projects. 
How To Use Cricut Design Space
Setting up your Cricut machine is pretty straightforward and using its Design Space online is also simple.
Here, you can create and customize intricate designs and then send them to your Cricut machine to start cutting.
Although relatively easy to use, Cricut's Design Space is like any software in that it can take a little time to get used to using it. But, with some practice, you'll soon master it!  It took me a few solid hours behind the desk to acclimatize and years to come to terms with the true depth of the software.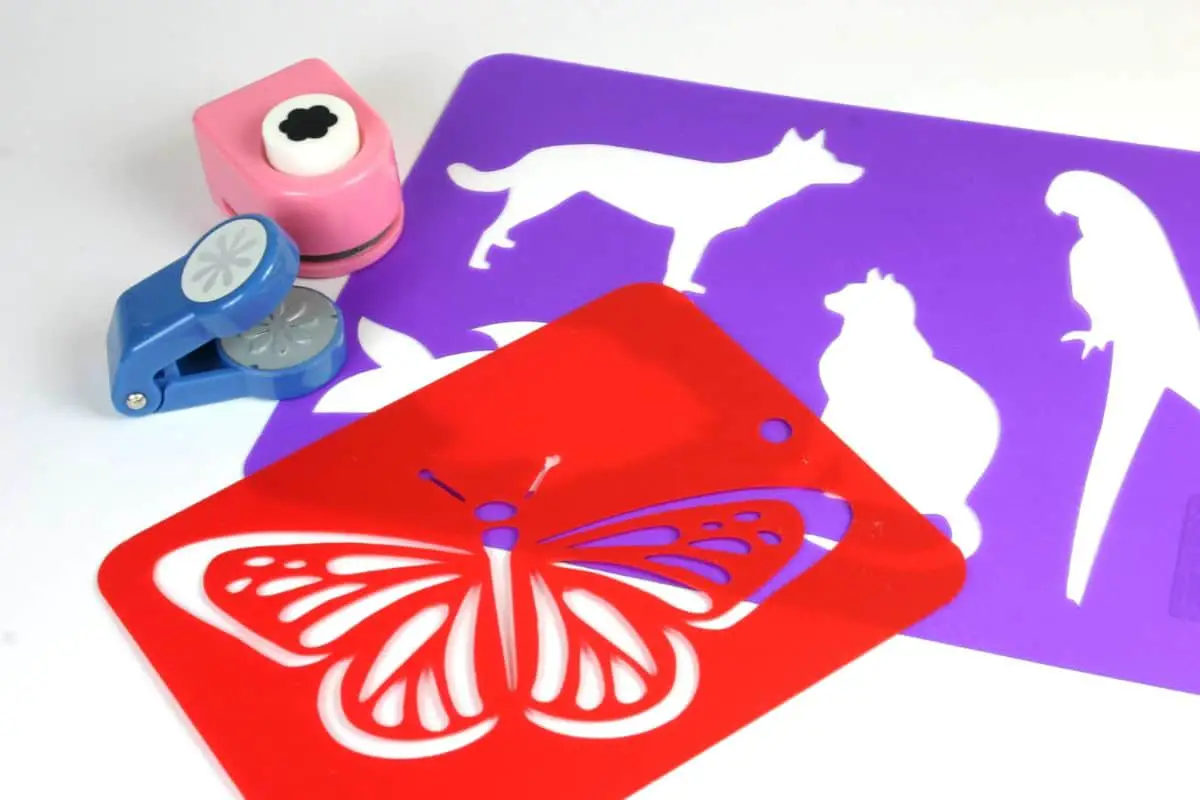 There are four main screens within Cricut Design Space:
Home Screen
This is the screen where you will find all of your saved projects, images, ready-to-go projects (from Cricut), and various Cricut videos to help you get started.
Canvas Screen
Here, you will design and edit your projects.
This is where you upload your own images, add text, patterns, and various shapes.
Prepare Screen
Once you have clocked on "Make It" you'll find yourself on the Prepare Screen.
Here, you will find the mat preview where you can rearrange materials on the mat, alter how many project copies you want, and even make a mirror of your project.
Make Screen
This screen is where you can select your material settings.
You can also make sure you have the correct tools and pens inserted into your machine's dual tool-holder. Then, you simply start cutting.
How To Cut Paper Using a Cricut
Cutting paper is one of the most common uses for a Cricut. Here's how I do it:
Place your paper (or cardstock) onto the cutting mat.
In Design Space, create your design and load the paper or cardstock into the Cricut machine.
Choose the material settings (paper), and load the fine point blade into the Cricut.
Now, hit "Go"and let the machine start cutting.
Once the machine has finished cutting, simply unload the mat and take your material. 
Top tip alert!!! When removing the paper from the mat, I turn the mat upside down and peel the mat off the paper, rather than the paper off the mat. I find that this will help prevent the paper from curling.
How To Cut Vinyl Using A Cricut
After you have mastered the art of cutting paper with your Cricut machine, you can start cutting vinyl.
You can use either adhesive vinyl which is like a sticker and/or heat "iron-on" transfer vinyl.
Here' how to cut adhesive vinyl with a Cricut:
Make your design in the Cricut Design Space.
Place the vinyl material onto the Cricut cutting mat, but ensure the back of the paper facing down.
Load the cutting mat into the machine.
Choose the vinyl setting in Design Space and load the appropriate blade into the machine.
Press "go" and start cutting.
Once cutting is complete, unload the mat and weed the additional vinyl from the design using your weeding tool. 
For iron-on vinyl:
Place the shiny side down on the mat.
Click "Mirror" in Design Space.
Once cut, use the plastic carrier sheet to transfer the design to your project. 
Frequently Asked Questions
Is Owning A Cricut Worth It?
A cricut machine doesn't only open the door to tons of new crafting options, it speeds up each project exponentially, improving your output many times over. If you choose to sell only a handful of the items a cricut machine helps you make, it'll pay for itself in no time, so, yes, a cricut machine is definitely worth it!
Do I Need A Computer To Use A Cricut Machine?
You can do some pretty neat stuff with a cricut machine just using your smartphone, but in my experience, this is pretty limiting. To get the most out of your cricut machine, I advise you to use it in conjunction with a computer.
Is It Hard To Learn To Use A Cricut?
Cricuts are all about making things easier, so manufacturers make them as intuitive as possible, but the software is a different story. It can take a while to get to grips with all the different options available to you and how to approach certain techniques.
Does Cricut Print Or Do I Need A Printer Too?
As versatile as cricuts are, printing is a step too far, so if you're planning on doing some "print & cut" projects, you will need to pick up a discrete printer.
In Summary
I hope this guide has helped you start your Cricut cutting journey.
Save this post so you can come back to it when you use your Cricut machine next time.
This content may contain affiliate links. We earn a commission at no extra cost to you if you make a purchase. We may earn money, free services or complementary products from the companies mentioned in this post. All opinions are ours alone…
The following two tabs change content below.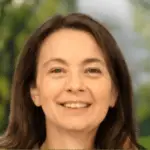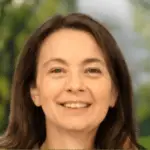 Latest posts by Kelly Dedeaux (see all)