Must Do Dallas Family Activity
I was provided free entry for my family to experience this exhibit to share with y'all. All opinions are mine alone.
Summer's here, and many families are looking for fun things to do. If you're in the Dallas area, I've got just the thing – and it's so exciting, people of any age will love it (yes, even the adults). Starting TODAY through January 6th you can check out the newest Must do Dallas Family Activity – the Perot Museum's Ultimate Dinosaurs Exhibit!
We've always loved the Perot Museum, because it's such an excellent place to go to PLAY – but also LEARN. Everything from robotics, to natural gas and energy, to animal life, space and especially prehistoric friends (aka: dinos) will delight the entire family, and can spark some amazing conversations and questions from your kids. Now the Perot has brought the travelling exhibit Ultimate Dinosaurs to Dallas, and we got to check it out a little early at a media preview – so I'm telling you all about it and why it's a MUST DO if you're needing an unforgettable Dallas family activity!
Of course they have plenty of dinosaur models to see – most of which are casts of real skeletal remains, due to the fact it's a MOVING exhibit and it'd be too risky to take all of the pieces. You can check out some rarely seen, exotic species from the other side of the world. There's all shapes and sizes – from the tiny Eoraptor to the huge (that seems to be an understatement) Giganotosaurus.
This isn't just your basic walk-through exhibit to glance at models, 'ooh' and 'aaaah' then move on. There's TONS of interactive screens, models, even games and activities for the kiddos! Starting at the entrance, kids can pick up a card to work through the different stations – learning as they go to complete the questions or tasks. Once one is complete, they can emboss/stamp the spot on their card until it's all full. My kiddos were thrilled to accomplish the entire sheet – and I loved that what they considered simple play was also a great learning opportunity!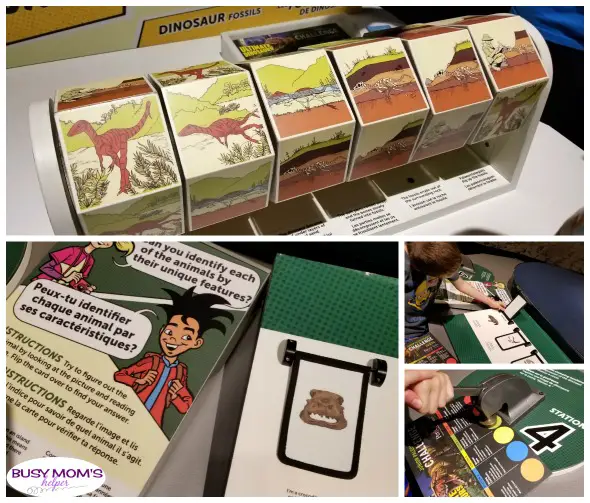 If you're into learning EVEN MORE than is shown, you can look at the numbers at certain areas and pull up the website – then it'll give you more audio info so you can become a dino expert in no time.
One thing that really peaked my kids' interest (and mine) was seeing more exactly how Pangaea broke up all those many years ago. In a teamwork-based game, the kids got on the four different stations and each guided a piece of the broken Pangaea until they complete the puzzle. It took a bit of trial and error, but they eventually got it and had a blast (plus I love it when they work together nicely!)
All of my kids really enjoyed the different stations, talking with the 'Brainiacs' about these prehistoric giants, and learning more. One of my boys, in particular, just couldn't stop talking to his new friend Amanda (one of the Brainiacs – she was fantastic!) about anything and everything. From dinosaur teeth and different uses for the variety of shapes, to what defines a dinosaur, why chickens are so cool and much more. He just took in all that wonderful knowledge and enjoyed every bit!
At the Ultimate Dinosaurs Exhibit your family will get to see 15 fully articulated dinosaur casts, over a dozen prehistoric specimens, dino fossil specimens you can TOUCH, plus fun hands-on play spaces such as little dinosaur dioramas with toys – yes, plenty of kids were drawn to these spots to play out some dino scenes 🙂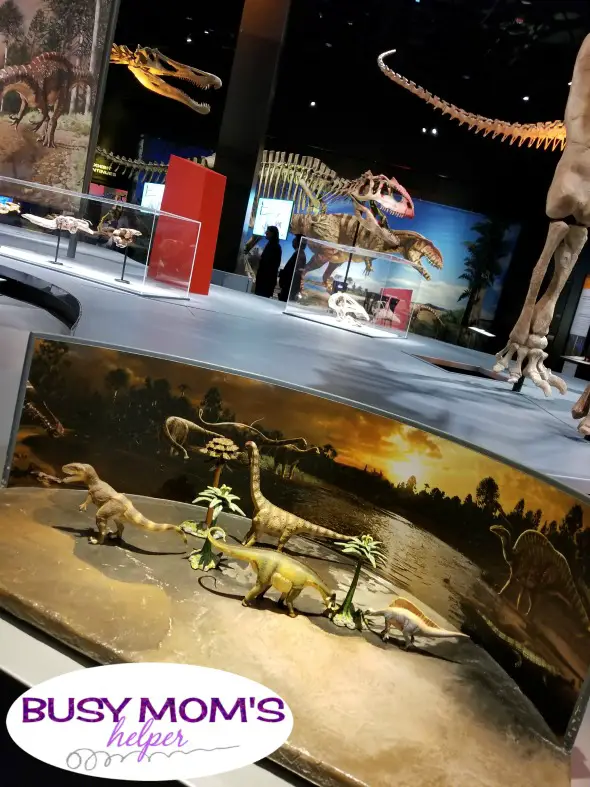 To take the learning (and FUN) to a whole new level, there's even screens with augmented reality to show the dinosaur skeletons with flesh – see it in action:
Don't forget to check out the awesome dinosaur-themed merchandise specially for this exhibit at the end! My kids wanted pretty much everything, of course.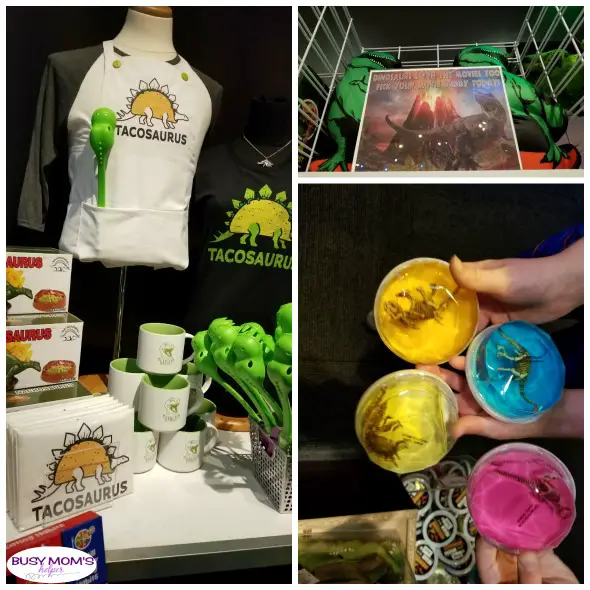 After you finish with the exhibit on the Lower Level, make your way up to Level 4 on the T. rexcalator – a casting of 'Stan' (the second most complete T. rex skeleton ever found) is waiting right at the top as you ride up, making for an exciting time!
Also on Level 4 is the interactive 'dancing with dinosaurs' experience. Kiddos (or adults!) can put on some headphones and make three raptor friends dance on the screen. This was definitely a popular stop for families at the Perot Museum!
Dallas news was there, and caught a little of my kiddos enjoying the dinosaur dancing spot….check time 0:50 in the clip below:
Coming later this summer, there will be a spot on Level 4 where families can actually SEE paleontologists at work – because what they do is so important to learning more about these historical creatures, but we rarely see their side of things!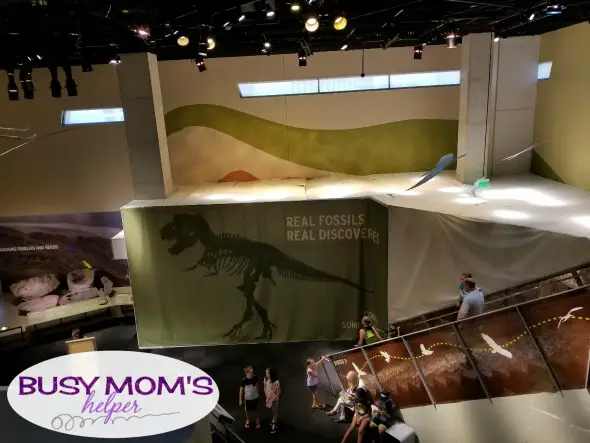 To celebrate the opening of the Ultimate Dinosaurs Exhibit, they had 'Rocko' the raptor at the media even to greet everyone – he was such a gentle dino, but definitely playful. He had quite the photogenic grin!
Oh, and while you're on Level 4, check out the guy on the left – because his skull actually wasn't found, but since he's so closely related to the Rapetosaurus, they were able to enlarge the head from THAT one to give this guy a head – don't miss either of them at the Perot Museum!
The mayor of Dallas officially named this the 'Summer of the Dinosaur' – so grab the kids and get ready for a truly exciting, unique and educational (shhh – I won't tell the kids if you won't) experience at this must do Dallas family activity, now through January 6th, 2019!
What's YOUR favorite Dinosaur?
This content may contain affiliate links. We earn a commission at no extra cost to you if you make a purchase. We may earn money, free services or complementary products from the companies mentioned in this post. All opinions are ours alone…
The following two tabs change content below.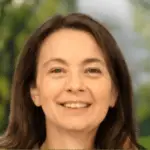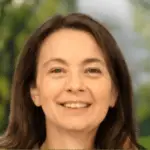 Latest posts by Kelly Dedeaux (see all)