Best Knitting Row Counter Reviews in 2022 | Top 7 Picks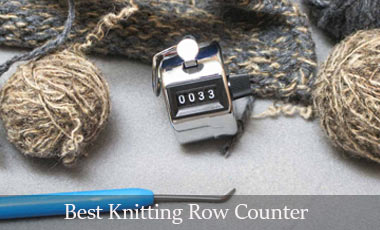 This is the 3rd time you count the rows on your knitting project.
It is very time-consuming to count the same rows over and over again. To save some energy you put into counting in your knitting projects, you can opt for the best knitting row counter as it saves you from a lot of future hassles.
There are different counters, mechanical and digital. Both reduce the stress of keeping track of the rows without putting in a lot of effort. That surely aids in staying sane throughout a long and complicated project.
With the help of knitting stitch counters, you won't be counting another knitting project more than one time. Let's have a look at some of the top-notch options available to help you choose the suitable row counter.
Our Selected Top 7 Best Knitting Row Counter Reviews in 2022
We rounded up some counters for your knitting projects based on durability, build, and accuracy that might make you say, "can't knit without it".
1. KTRIO Metal Hand Tally Counter for Knitting
Want to count beyond 99 rows? This option is available in mechanical knitting counters as well.
KTRIO metal hand is a mechanical device with four discs mounted on the axle with 0 to 9 marking on each, which counts up to 9999. In fact, I bought this counter right after I bought my rigid heddle loom for beginners to complete my weaving and knitting materials set.
This type of counter was used to count events long before the electronic counter came. The counter doesn't need any batteries to power the screen. So, there is one less headache of maintaining it.
The housing is made out of durable steel. Besides, the build quality is impressive, and won't be easily damaged. Also, the clicker and resetting knob is made from steel. Although it has durable material, the counter is lightweight.
You can hold the knitting counter in the palm of your hands with ease. It also has a finger ring to hold the counter in place. As a result, it does not have any possibility of slipping out of your hands. If you bulk click on the counter in a short time, it still shows accurate results.
It is suitable for everyday use, thus making it the best row counter for knitting. However, just make sure to hear the clicking sound as it ensures the numbers add up.
Highlighted Features
Counts more than 99, so you can do longer projects.
Does not have batteries that do not need maintenance.
Made of steel and lasts long.
The clicks are pretty accurate as well.
2. Amble Tally Clicker Counter with Nylon Lanyard
Do you want to put more concentration on the knitting project or the knitting counter? A durable counter lasts long without much care.
The Amble tally clicker counter has a stainless-steel body, ensuring longevity. The housing is smooth and strong as well.
It is less likely to break if it accidentally falls on the floor. These are the perfect counters for knitting if you plan to keep them for a long time.
The counter counts from 0 to 9999. It has a sturdy knob on the side to reset the numbers to 0. There is a slim chance of accidentally resetting the row count.
If the resetter had a tapping motion, it would have been risky. The adding clicker is bouncy. It has a good amount of resistance that makes usage satisfying, and the sound is also melodic.
You can use it with both hands by putting it through the index finger. Also, you can hang it around the neck with the lanyard which it comes with. As it is lightweight, it is easy to carry around.
Highlighted Features
Counts from 0 to 9999 are more than typical mechanical knitting counters.
If the counter falls from a low height, it will still work.
The clicker has a nice bounce to it.
There is no need for a battery.
3. Herrschners Susan Bates Digital Row Counter
An electronic row counter in the convenient shape of a ring is the perfect knitting assistant you will find. So, you won't have to yell at anyone to keep yourself focused.
The Herrschners Susan bates is lightweight, making it easy to wear around your finger and work on the knit project simultaneously.
You can keep it aside and count on it. However, keeping it on your index finger makes your work much easier.
Soft straps on both sides of the counter are made of plastic. It does not irritate the skin or restrict blood flow.
The device is adjustable, so it does not sit tightly on your finger. You can make adjustments to make it a snuggly fit.
The bright color makes it fun to work with and easy to notice. The size is small, so the bright color makes it visible even in discreet places.
There is a count-up button and a reset button. The battery has a long life. You won't have to replace it soon.
Highlighted Features
You can wear the plastic straps around your finger like a ring.
Very lightweight to wear for a long time.
Bright color makes it easy to find.
The battery like if very long and lasts more than a year.
4. Digi 1st TC-890 Electronic Up Down Counter
Making mistakes is almost unavoidable when you got a big knitting project on your hand. It would be amazing if you could correct the mistakes made.
With the help of Digi 1st TC-890, you can make corrections to your count. The tally lets you go up and down when counting.
If you mistakenly overcount, you can use the subtract button to decrease the number. Easily rectify your mistakes with its help.
You can turn off the sound and display as per your need. The sound turn-off feature is useful at night or in any public area.
You don't want to annoy anyone with the constant beeping sound when trying to sleep or at a public place. You can also turn off the display when you are not working with it to save battery life.
Easily set the goal first, then work your way down to Zero. It ensures that you don't count beyond the pattern requirement.
If you often forget which number to reach, setting the goal at first gets rid of the hassle of remembering it till the end.
Highlighted Features
The automatic crochet stitch counter is very accurate.
Turning off the sound makes your work irritation-free.
You can count back if you mistakenly overcount.
Pre-set your goal and count down.
5. Clover 336 Knitting Row Counter
There is a good reason this knitting counter is called the Kacha Kacha counter. It makes this Kacha sound when clicked on the press top.
Clover 336 is functional and easy to use. You simply have to press down the top part. It makes a noticeable sound to ensure that the numbers are added.
Sometimes the top depresses without adding a number. You have to make sure that the counter makes the sound to avoid that.
The build quality is liked by many for it is durable. Firstly, it has a bright red color. That makes it easy to find in your bag or couch.
It has a rectangular shape that is easy to hold. You won't have to worry about the counter rolling away if you unconsciously put it on the table.
It has resetting options on both the numbers on either side. You can individually change them to zero. The counter supports a maximum number of up to 99.
Highlighted Features
Makes a melodious Kacha Kacha sound.
You can count up to 99.
The bright red color makes it easy to find.
Made of high-quality plastic for better durability.
6. Woniutch Electronic Handheld Number Clicker
Digital knitting counters can be tricky to understand. How can you remember the pattern and all that button functions simultaneously? Fewer buttons are better to understand.
Woniutch electronic has fewer buttons to control all the knitting counter functions. It lets you do all the counting, resetting, and more functions with only three buttons.
Now you might wonder, only three buttons mean only three features. You might be surprised to know that it has 7 options. It turns on, off, resets, counts up, counts down, turns sound on, and turns sound off as well.
The knitting counter has a lightweight build. The LCD screen shows digits up to 9999. Its design is compact and easy to carry around.
The lanyard option lets you wear it when knitting a sweater in public, and you can't put the counter anywhere. It is battery-operated, and you also get a replacement battery.
Highlighted Features
Fewer buttons make it easy to remember all the functions.
Has a lot of functions which include a sound on/off option.
The counter is lightweight and easy to carry around.
Uses a battery to operate.
Counts up to 9999 for longer projects.
7. Knitter's Pride Row Counter
If your knitting keeps you engaged most of the time, you might want to get a row counter ring. It becomes easier to keep track of the position you're in without the hassle of looking for the counter.
Knitter's pride row counter ring is two in one. It works as a row counter and a stylish accessory simultaneously.
The ring has a stainless-steel body, making it durable. Also, you can wear it on your fingers makes it less likely to break.
There is no need to click on this knitting counter. You simply turn the numbers manually. That makes sure the numbers are added each time. There is little to no room for errors when using this ring counter.
The numbers only go up to 99. After that, you start from zero again. There is no sound when you use this counter.
You can work on the project without disturbing others. Wear it on the finger or a lanyard around the neck, so you don't lose it.
Highlighted Features
Shaped liked a ring and looks stylish.
The counter can count up to 99 is suitable for smaller projects.
Wearing it on the finger prevents it from getting lost.
There is no sound when counting.
You don't need any battery to operate it.
Comparison Table for Knitting Row Counter
| | | | | |
| --- | --- | --- | --- | --- |
| | | | | |
| | | | | |
| | | | | |
| | | | | |
| | | | | |
| Clover Knitting Counter 336 | | | | |
| | | | | |
| | | | | |
Row Counter for Knitting Buying Guide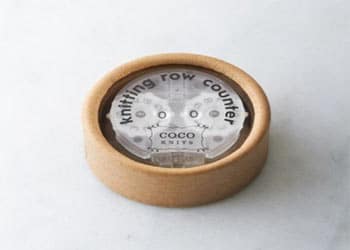 People who knit take their projects everywhere they go. It might be the same for you too. Let's say you are sitting at the dentist's office, and you can knit while you wait.
The row counter has to be in your bag. Some features make it the perfect counter to use anywhere at any time. We compiled them to make it a lasting one.
Build Material
The first thing to do in any craft project is to build your material. If you're doing rhinestone crafts, grab your rhinestone applicator. If you're weaving, grab your Rigid Heddle Loom. The main material that the row counters for knitting should be durable. Stainless steel provides a strong body for the housing.
You need to look for strength and durability to ensure it lasts long. It is because knitting stitch counters are prone to falling from hands.
In this type of scenario, a flimsy one won't last if a high impact falls. Good quality plastic counters are also lasting.
The plastic ones are lighter to carry and wear around the neck. Some people prefer lighter counters. If that is the case for you, make sure to opt for a high-quality plastic knitting counter.
Counting Accuracy
The second position on the must-have quality list is that the knitting counter must have accuracy. You want the counter to be as accurate as possible. That is the main reason why knitters widely use knitting counters.
If you accidentally knit more or fewer rows than the pattern, the symmetrical parts of the knitwear will be uneven when finished.
That will not look flattering on anyone. The user-experience paint a clear picture of the accuracy performance. Nothing beats real experience in this case.
Counting Options
All the counters go up in number, but it is a steal if you find one that goes down as well. It is because you might make an error.
That may be a double tap when you only intended one or someone pushed you, and you made that mistake. To rectify the error, you want a counter that can count down.
This is not a must-have feature. Rather it is a good-to-have feature that makes your knitting process easy and accurate. As we are human and bound to make mistakes, this feature lets us correct where necessary.
Power Source
Most knitters prefer mechanical counters over digital counters. It is because there is no need for an extra battery.
The worry of the battery running out of charge can be a headache. However, most of the batteries last more than one year.
A digital knit counter is better if the battery life has satisfactory performance. It is lighter and easy to use too than the mechanical one.
How to Use a Knit Tally? Ultimate Guide for Beginners
Let's get into the details –
How to Start?
You have to keep track of every row you knit when starting a project. Make sure you don't mess up the counts; there should be a general rule.
This rule will make sure when you add a row in the process, that is documented correctly. The trick is to tap on the counter after knitting a row.
You don't want to add a row after clicking on the counter. This is where you can forget to add the row. So, to be extra secure, you may add the count afterward.
How to Restart After a Pause?
To restart after a pause, you have to remember how you started the process. If you started with knitting a row, this time, you also have to start by making a row first. Afterward, you have to click on the counter to make a count.
The Storage Process
When your counter has a lock system, you don't have to put a lot of effort into storing it. If you are done with the session, just lock the numbers. Simply carry the knit counter in your bag without worry.
If the knitting counter does not have a lock system, you have to store it differently. The process is to write down the last row number on paper.
Keep the paper and counter in a box. Ensure the box is away from children so that no one accidentally clicks on the counter.
Frequently Asked Questions
Is a digital knitting row counter better than an old fashion knitting counter?
The digital knitting counters are better in a way that it lets you count down. Also, you can set the goal and then count backward. Mechanical counters don't have that type of feature. So, digital counters are better for correcting mistakes.
Why do you need a row counter?
If you choose to count your knitted rows repeatedly, you might not need a knitting row counter.
However, if you want to save time, it is one of the most appropriate solutions for expediting your knitting process. This helps to keep sanity while working on long projects.
How do you keep track of rows in knitting?
One way to keep track of the rows in knitting is by printing out the pattern you are using. Another way is to grab a paperclip and attach it to the row you are on as you knit. This will help you keep track of where you are in the pattern, and ensure that you don't accidentally skip a row.
Is cast on Considered row 1?
The cast on doesn't count as a row. When you're knitting, the first row is always the one in which you knit into the back loop of the stitches on the needle. So, when you're casting on, you're not really starting to knit yet. You're just making a foundation for your knitting project.
Conclusion
Knitted projects give us immense joy after we see the final outcome. However, the process mustn't be lengthy and daunting.
A faster pace encourages future projects. The best knitting row counter allows you to go for the next one right away.
Counting many times take longer to get results. However, correct row count according to the pattern is essential.
If you don't correct it, you might end up with a sweater with two different size hands. Pretty sure it won't look trendy at all.
Our others review articles: