2 Ingredient CopyCat 3 Musketeers
Love candy bars? Well, make your own and enjoy making a classic favorite with the simplicity of 2 ingredients CopyCat 3 Musketeers!  This recipe is incredibly easy, has only two ingredients and still has the smooth and comforting deliciousness of the original. You'll never buy store bought again!
I've been experimenting with different homemade copycat recipes for a while now. It can be dangerous sometimes, with my tootsie roll experience that ended up being a huge mess and didn't even turn out anything like tootsie rolls (trust me, don't try them).  Or like my homemade butterfingers where I ate the whole pan in a day (mistakes can turn out to be delicious). We loved how simple these CopyCat 3 Musketeers were to make. We made bite size pieces and froze them – a nice to have a little chocolate treat to melt in your mouth whenever I need something small to get me by. I love this recipe because it's so simple, no corn syrup or candy thermometer needed! 
If you don't have a prepared loaf pan or an 8 x 8 pan, make sure you double the recipe, or your copycat 3 Musketeers will be mainly chocolate coating and no marshmallow gooeyness in the center.  My first batch ended up like this. While they were still good, I really enjoyed was the soft marshmallow texture in the center. So, use either a small pan or double the recipe to get about 3/4 inch thick center. Also, this recipe calls for Chocolate bark, but I have used milk chocolate chips and semisweet chocolate chips with a little coconut oil in a pinch. Also try dark chocolate if you have dark chocolate fans at home.
Ingredients
1 (7 oz) container marshmallow creme
(16 oz) milk chocolate almond bark – use quality chocolate just like in our chocolate bark recipe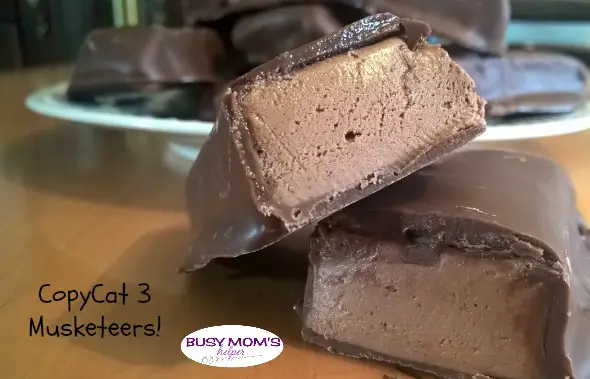 Directions
Spray a loaf pan with nonstick cooking spray or line with parchment paper, or wax paper and set aside.
In a small microwave-safe bowl, melt 8 oz of the chocolate in 30 second intervals until smooth.
Heat the marshmallow crème for 30 seconds in a small microwave-safe bowl.
Combine  the melted chocolate and marshmallow crème.
Evenly spread the marshmallow mixture evenly into the pan and then chill for several hours until firm or place in freezer for 30 minutes.
In a microwave-safe bowl melt the remaining almond bark in 30 second intervals until smooth.
Cut the marshmallow mixture into bite size pieces or bars with a sharp knife, then dip into melted almond bark. Tap on the side of the bowl to remove excess chocolate then place on waxed paper until harden.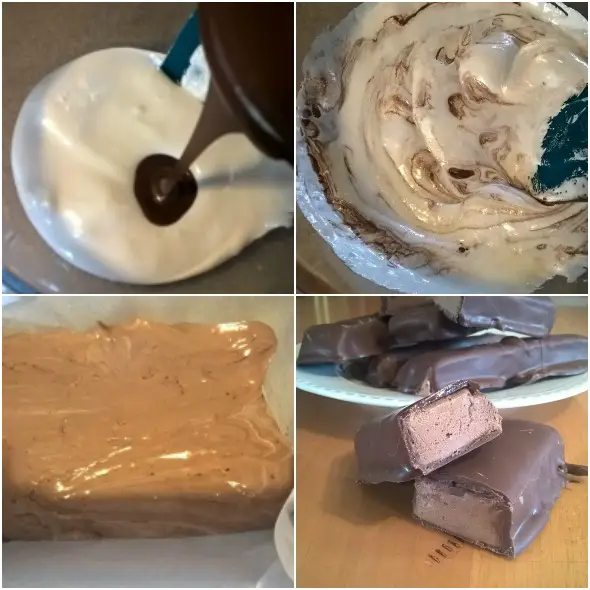 FAQ
What is the nougat in 3 Musketeers made of?
The nougat chocolate center is made by whipping egg whites until they are light and frothy. Sugar syrup is then added, stabilizing the foam and creating "frappé." Other flavoring ingredients are then added to the frappé to create specific flavors.
What flavor is the nougat in 3 Musketeers?
Because it was so expensive to make all three chocolate, strawberry, and vanilla flavors, the company decided to make only one. Starting in 1945, three Musketeers was sold as a single bar made with only the delicious chocolate nougat. The candy was marketed as so big that it was able to be shared with two friends
Is a Milky Way just a 3 Musketeer with caramel?
The version of the Milky Way bar sold outside the United States has no caramel topping, and consists of a nougat centre that is considerably lighter than that of the British Mars bar and the American Milky Way bar. The global Milky Way bar is marketed in the United States as 3 Musketeers bar
Final Thoughts
We can all agree that there is not much better than an easy homemade treat that your whole family will love! You will come back to this recipe time and time again because it is so amazing! If you want to make it more homemade try making homemade marshmallow creme with this recipe, it makes it extra tasty!
This content may contain affiliate links. We earn a commission at no extra cost to you if you make a purchase. We may earn money, free services or complementary products from the companies mentioned in this post. All opinions are ours alone…
The following two tabs change content below.
Latest posts by Nikki Cole (see all)