Easily Make a Brick Wall with Stencils
I received a free stencil for this post. All opinions and ideas are my own. See my Disclosure Policy for more info.
Have you ever wanted to do a specific design on your walls, but the thought of doing each piece by hand made you want to cry? That's how I felt when I decided to make my kids' playroom wall look like bricks…old, sloppy bricks (that still looked fabulous)! Luckily, you can Easily Make a Brick Wall with Stencils from Royal Design Studio!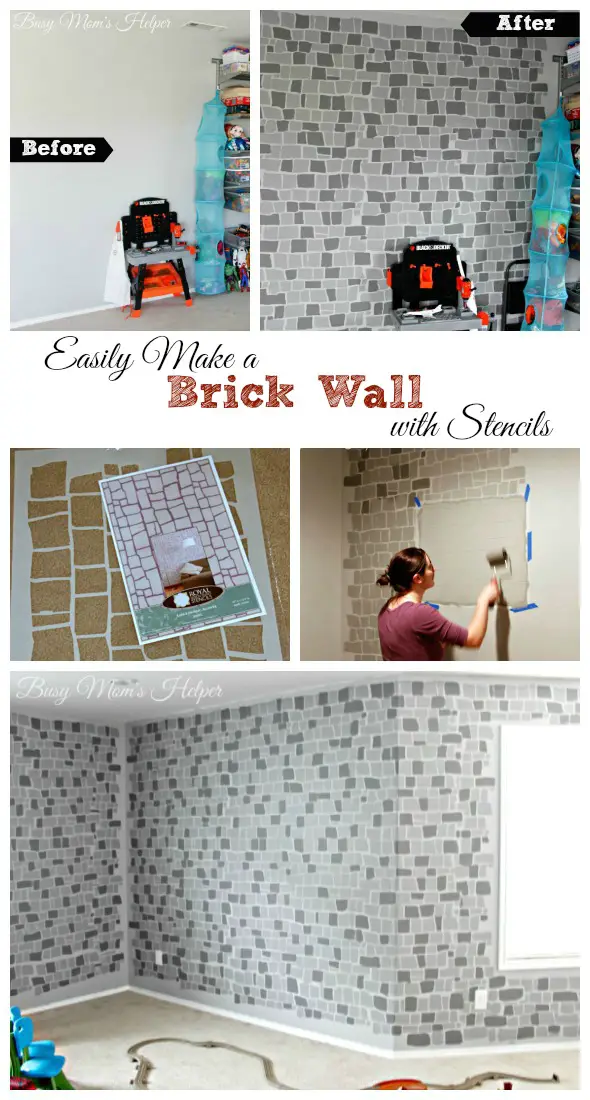 When we bought our house, the biggest reason we chose this specific floor plan was because of the HUGE loft upstairs, knowing this would be the playroom while the kiddos are younger. The last couple months I've been working on remodeling it to be more fun, organized and look AMAZING! After I painted the yucky, builder-grade wall a nice grey color to install our new shelving area, I got ready to create a 'brick' look on the rest.
Before the Brick Wall Look…
My go-to place for stencils is, of course, Royal Design Studio. They have an amazing selection, and I know my chances of finding exactly what I need for a project are high. Sure enough, I browsed through and found their Mosaic Stencil (in large) that would be PERFECT for a brick wall! I contacted their amazing staff (seriously, they're all super friendly and helpful!) and got started right away…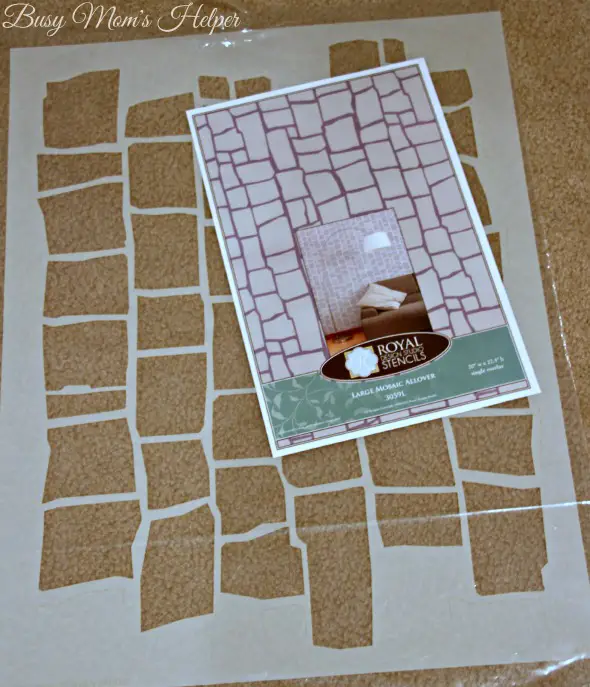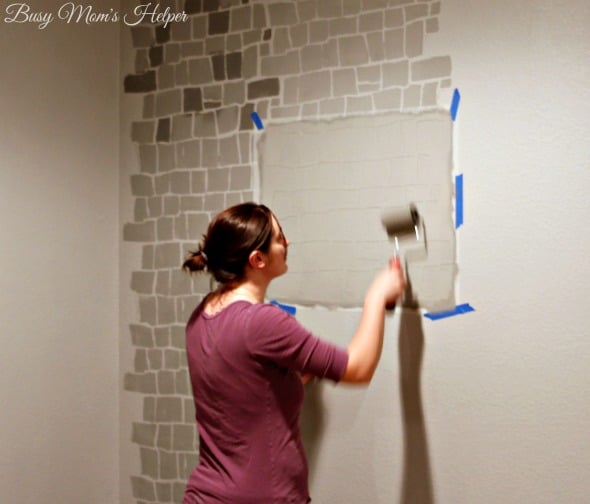 Although in their project images they have the lines running up and down, for the brick look I did mine horizontal. I loved the variety of shapes and sizes, since I needed it to look NOT perfectly matched. I went one shade darker than my wall for the majority of the 'bricks', then two shades from that for some.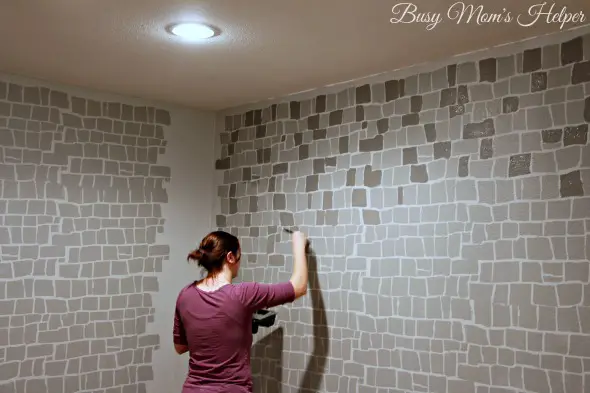 Originally, I considered just doing the one color….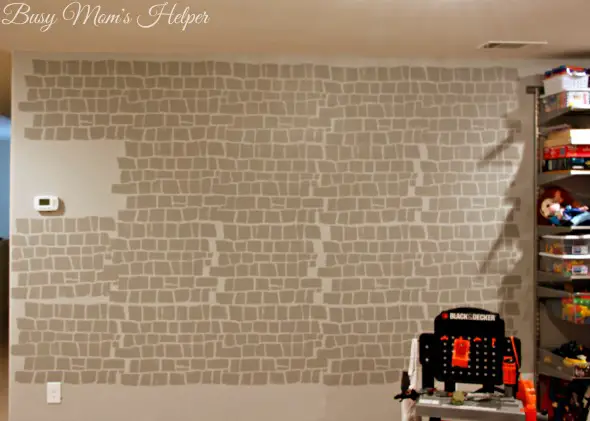 Not quite the 'POW' amazing look I was going for…it needed that other coloring for some accents and variety! Much better, right?!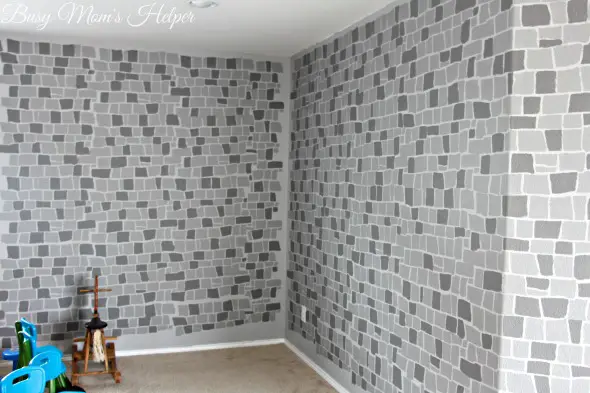 Since I didn't decide this until later, I did things the REALLY hard way and went back over for the dark 'bricks' by hand….every single dark one you see wasn't roller, it was a brush.
So the EASY way to do it, other than make up your mind before the 'end', is to follow one (or more) of these great stenciling tutorials from Royal Design Studio.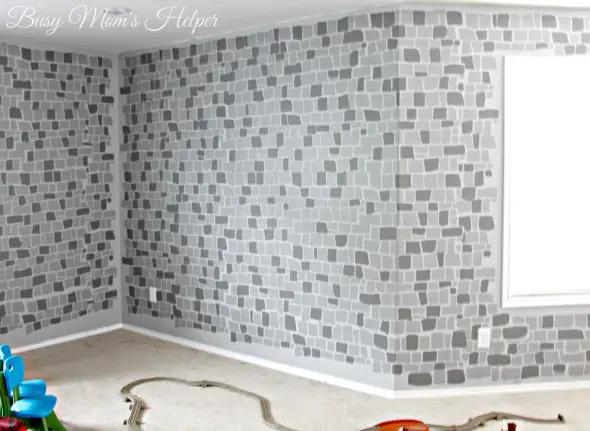 After the Brick Wall Look…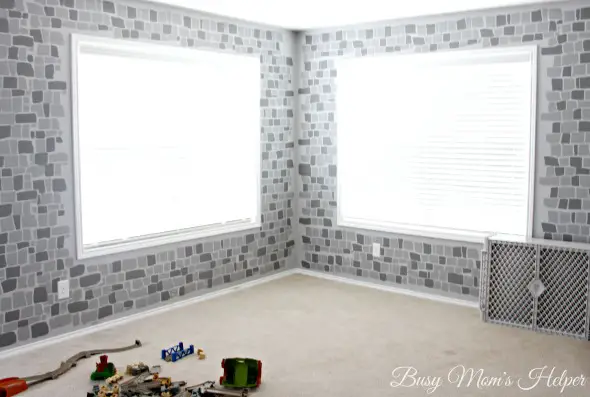 Check out my cute little photo-bomber in this picture….he LOVES the new look of their playroom!
I seriously can't WAIT to finish the entire playroom remodel! Still a lot to do, but it's going to knock your socks off, so be sure to check back! And the next time you have a fun project you want to make simpler and look FABULOUS, check out the selection at Royal Design Studio!
Other Royal Design Stencil Projects I've done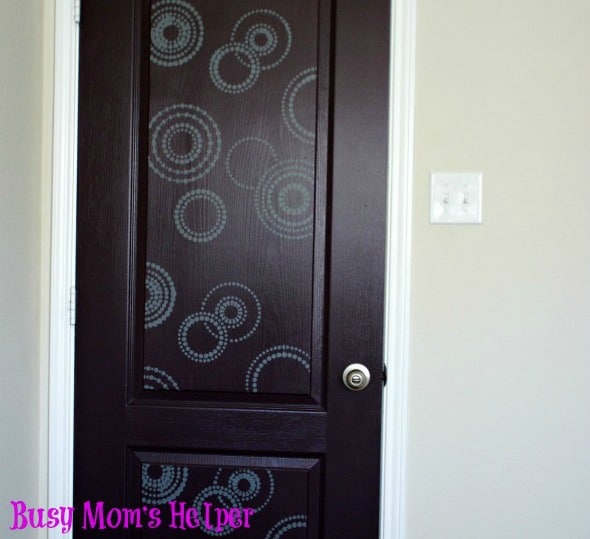 This content may contain affiliate links. We earn a commission at no extra cost to you if you make a purchase. We may earn money, free services or complementary products from the companies mentioned in this post. All opinions are ours alone…
The following two tabs change content below.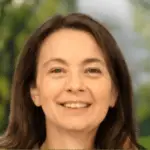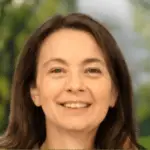 Latest posts by Kelly Dedeaux (see all)