Is A Crib Necessary To Use?
When you're getting ready to welcome your little one into your world, life, and home, there is a wealth of things to purchase to make sure this tiny human is fully accommodated, the most expensive of which is typically a crib.
With money seemingly flying out of your savings accounts, you wouldn't be the first to wonder if a crib is strictly necessary; I certainly did! After all, there are a few cheaper alternatives out there.
That said, no frugality should come at the expense of our children's comfort or safety, which is why I consulted a baby sleep expert that paid a few visits to a parenting class my partner and I enrolled in before our daughter was born.
Here's what she told us.
A Crib Isn't Strictly Necessary… At First
For the first six months of your baby's life, they should take their naps in a safe sleep space beside your bed.
This safe sleep space needn't be a full-blown crib, and in fact, bringing a crib into your bedroom isn't always a practical or even possible solution.
If you have a smaller living space, there may not be enough room for a full-size crib to fit anywhere, let alone right by your bed.
And if there is just enough room, it might make the space dangerous to navigate, which isn't great when you'll be walking babe in arms for a while.
In light of this, a more compact sleeping space is the only option, and as long as it's a sturdy design that adheres to all the latest safety regulations, that's absolutely fine.
Early Life Crib Alternatives
My partner and I chose the Baby Bedside Sleeper Bassinet from Besrey based on a shining recommendation from my sister (who has two beautiful girls now 10 and 8), and were incredibly happy with it.
The 360° swivel wheels make it easy to get in place and then to push away from the bed to make getting up easier in the mornings, and as it's height-adjustable, we could level it with our bed that's a little on the high side due to our cozy mattress topper.
It doesn't have as much going on in the way of additional features, but we felt the bassinets out there with storage spaces and caddies were a bit much of a muchness.
There's safety in the simplicity of this design, and it served us incredibly well.
Alternatively, if you want to cut down on even more expense, you could choose a quality playard (often also called pack'n'plays), as your child will likely need one of these for safe play eventually anyway — Two birds, one stone.
While we never used one for early sleeping, the one we eventually purchased was designed to accommodate napping babies — This is it, if you're interested.
We bought it for its portability, but it comes with a mattress that's comfortable yet firm, which is precisely what babies need to stay safe when they visit the land of nod.
The only downside I can think of using this early on is that it's very low down, which will play havoc with your back, especially when your baby starts getting their growth spurts.
And speaking of growth spurts, all crib alternatives have comparatively low maximum weight-bearing capacities, which brings me to the baby sleep specialist's second point.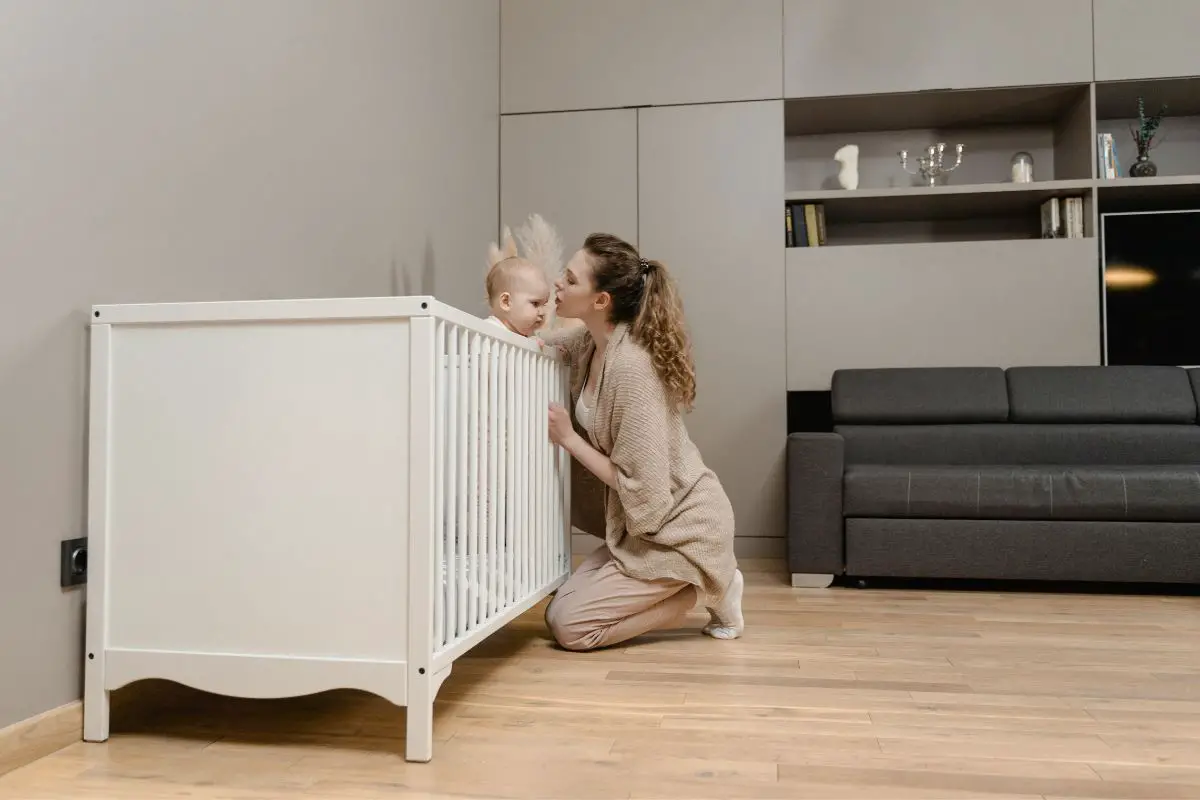 In Most Cases, A Crib Will Be Necessary Eventually
Smaller, portable safe sleep spaces are fantastic, but babies grow fast. Like… really fast! It's only a matter of time before those sleep spaces ain't so safe.
Your baby will either become too tall or too heavy to remain where they are, which is where a crib comes in handy.
Made of solid wood, cribs have far greater structural integrity than any alternatives, and studies show that they're by far the safest place for babies to sleep, even during that first 6-month period.
Some people (myself included) worry about the gaps between the slats initially, but when they're spaced correctly, nothing bad can happen.
A little limb may poke through from time to time, but according to extensive research carried out around the globe, this will only ever cause mild discomfort and never any injuries.
Frequently Asked Questions
What Are The Benefits Of Using A Crib?
We've already spoken about the safety aspects of eventually using a crib, but there are a number of other benefits to speak of.
Cribs often arrive as a 2-in-1 sleeper that accommodates both babies and toddlers, too, meaning you'll save money on a new bed once your child is toddlin' around — Hooray!
Some even expand into full-size beds meaning you wouldn't have to purchase a second sleep space until they reach around 5 years old.
The platform can be lowered
As your child gets taller and stronger, they learn to sit up on their own or pull themselves up from a lying down position to a kneeling or standing position.
In a smaller, less stable structure, it's all too easy for your active baby to fall out and injure themselves, but with a cot, you can lower the platform as they grow, ensuring they'll never be able to climb or tumble out.
I know as well as anyone that you grow accustomed to having your little one right there in your bedroom with you, but once you get your privacy back, and you know your child is safe in their crib, life gets a lot easier.
It promotes independent sleep
A crib offers your baby a safe space all of their own to enjoy.
Unlike the transitory alternatives that come and go, the crib is there to stay, meaning your baby becomes well acclimated to and comfortable within it, increasing the chances they'll take well to independent sleep.
Are Drop Side Cribs Safe?
Drop side cribs are incredibly dangerous and have been banned from the market.
The mechanisms that facilitate the drop side action can come loose, opening a gap that your child can get trapped in. Never, ever purchase a drop side crib!
Final Thoughts
There you have it, straight from the baby sleep specialist's mouth. Well, not straight from her mouth, as I have been the conduit through which her advice has traveled to you, but you catch my drift.
It's more than likely that your growing baby will need a full-size stationary crib at some point in their development, as alternatives are either too small or too fragile and being that they're the safest option, I think it goes without saying that they're a worthy investment.
This content may contain affiliate links. We earn a commission at no extra cost to you if you make a purchase. We may earn money, free services or complementary products from the companies mentioned in this post. All opinions are ours alone…
The following two tabs change content below.
Michelle Jacobs
Michelle is a young mom and crafts fanatic. In her free time she loves to write about her latest creations, and how other moms can entertain their children with some colored paper and a pair of scissors!
Latest posts by Michelle Jacobs (see all)