Red, White and Blueberry Muffins
Just a Note: due to vacation and moving, new posts will be posted Monday, Wednesday and Friday, with an occasional 'BONUS' post. Thanks for allowing me this time with my family!
So I've seen about a million 4th of July posts lately: the colors, the fireworks, the USA pride…but it just hasn't hit me how CLOSE that is. I mean, this week!!! I kept thinking 'oh, I've still got time to get all celebrate-y'. Eeeeeek! So this was our breakfast yesterday, to get us in the spirit of the week – and it's such an easy one! (I say easy, really I mean it was almost a cheat how easy it was to make this patriotic).
So these 4th of July muffins are very patriotic: Red White & Blueberry, yumm-o!!! (think of Sid's voice from Ice Age Continental Drift here. What, nobody else has a million kid movie lines running through their head constantly? Just me? Oh well, ignore that, then!)
Red, White and Blueberry Muffins
Ingredients
4 cups Flour
2 tbsp. Baking Powder
1 tsp. Salt
2 Eggs
2 cups Sugar
1 Stick (8 tbsp) Butter, melted
2 1/2 cups Sour Cream
2 tbsp. Vanilla Extract
3 cups Blueberries
Directions
Preheat oven to 350 Degrees. Spray two 12-cup muffin tins, or line with baking liners. Set aside.
In a large bowl, mix the Flour, Baking Powder and Salt. Add the Blueberries, tossing lightly to coat.
In a separate, medium bowl, whisk the Eggs well, then add the Sugar and continue to whisk briskly until it's thick and well-incorporated (about 45 seconds). Add the melted Butter, Sour Cream and Vanilla; mix until combined.
Add the wet mixture to the flour mixture and stir together carefully. Batter will be very thick.
Scoop the batter into the muffin cups. Do about 3 randomly-placed drops of red food coloring over the tops of the muffins. Bake about 25-30 minutes or until a toothpick inserted comes out clean.
Allow to cool and ENJOY!!!
Look at all of that ooey-gooey Blueberry wonderfulness!!! Delish!!!
This content may contain affiliate links. We earn a commission at no extra cost to you if you make a purchase. We may earn money, free services or complementary products from the companies mentioned in this post. All opinions are ours alone…
The following two tabs change content below.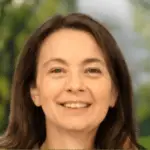 Latest posts by Kelly Dedeaux (see all)