Transportation at Walt Disney World & Universal Orlando
As many of you know, I'm a seasoned Disneyland traveler – I've been there more times than I can count, and consider myself a bit of an expert. When it comes to my trip to Orlando last October, though, I was in a whole new adventure trying to figure everything out. There's so many aspects to my trip to Disney World & Universal that were new and different, but one of the most confusing was getting around places! Here's what I learned about Transportation at Walt Disney World & Orlando.
Magical Express
If you're staying at a Disney World resort, you can utilize their FREE Magical Express bus system. They even grab your checked bags and deliver them to your hotel room for you, if you like! You reserve this in advance, and they send you special tags for your bags so they have an easier time locating them and making sure they end up at the correct destination. I don't have photos of them because, of course, I lost them the day prior to leaving so wasn't able to utilize this 🙁
When you arrive in Orlando, you follow the signs for Magical Express, use your magic band to scan at the desk, then they direct you to the appropriate line. And guys….where is line #7?!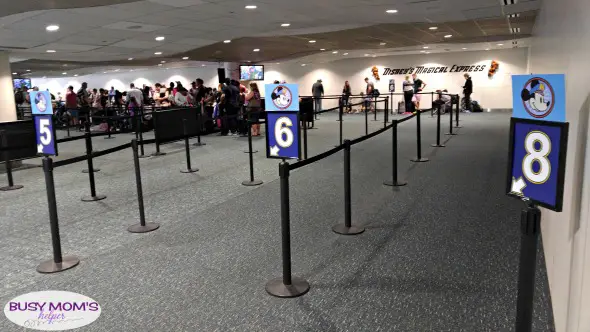 I'll be honest, it felt a LOT like a herd of cattle there, being divided into our different lines and waiting until the next bus came. At least we were waiting indoors, so that's a perk.
When they arrived, we scanned our bands again to make sure we were boarding the correct one, handed bags (if you have some) to the driver to store under the bus, then climb on board.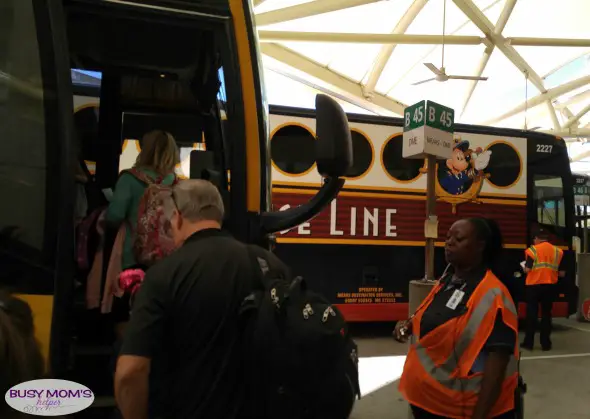 There's a TV screen that does short cartoons, announcements or fun little 'safety briefings'. And yes, there's a restroom on the bus, for those that may need it. The bus wasn't anything elaborate, just a regular tour bus type ride – not extremely uncomfortable, but not too comfy either.
The buses go to various Disney hotels – some only go to 1, while others make a couple of stops. We stayed at the All-Star Movies Resort first, so it did a quick stop at All-Star Sports and Music before hitting ours.
For the return trip, just confirm at your hotel lobby and get your tickets and time you need to be down to meet the Magical Express to go back to the airport.
Other Airport Options
If you want to do your OWN time and place for when you arrive, you could always use one of these other options to get to and from the airport…
Uber
Taxi Cab
Private Car
Shuttle (like Mears)
At Walt Disney World
This is where I kept getting really confused – luckily I had Michael's VIPs to help me know what I should take and when! It seems like every hotel has a shuttle for each of the Disney parks, as well as Disney Springs. I was told they leave every 20 minutes or so, which seemed mostly accurate for the times we used them. There are seats, but also standing room with poles and bars you can hold on to for when it's extremely crowded – which it seemed to be mostly at the start and end of the day. Not a very comfortable ride, but it got us where we needed to go just fine and it was free.
The Disney Monorail was convenient when we were at the Contemporary just going in that small loop between the main monorail station, the Polynesian Resort, Grand Floridian, and the Magic Kingdom (then back to Contemporary). It stopped at each, and sometimes was VERY crowded – especially at the end of the day, which is when everyone is tired so the seats are often taken. The monorail that goes from outside that little loop and then back to the main monorail station was a nightmare, though! When we were trying to get back to Contemporary from Epcot, it had such a long line – and the wait for the monorail to even get there was quite extensive. Then we had to hop onto the loop monorail, which took another long wait, until we finally got back to the Contemporary. From getting in line at the Epcot monorail to getting off at Contemporary took us over an hour – not fun.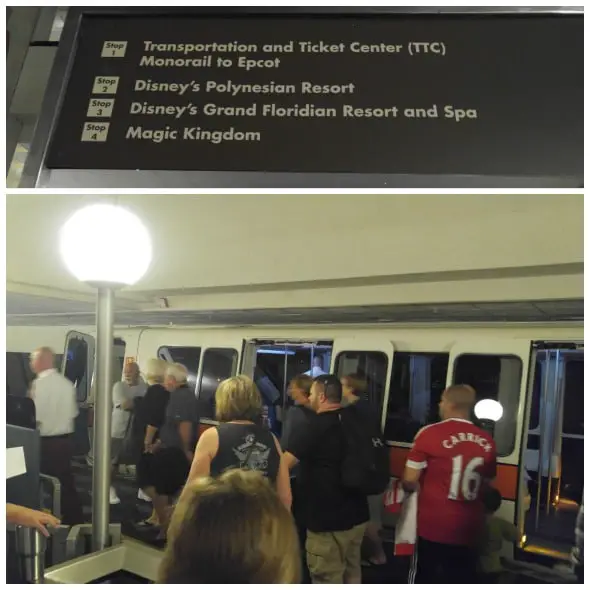 When we had early breakfast reservations, it was much easier to just call an Uber. They can't go EVERYWHERE, like certain park entrances, but you can have them drop you off at hotels or somewhere nearby when needed. Yes, you have to pay, but the time and hassle it saved us some days was more than worth it, especially if you're park hopping.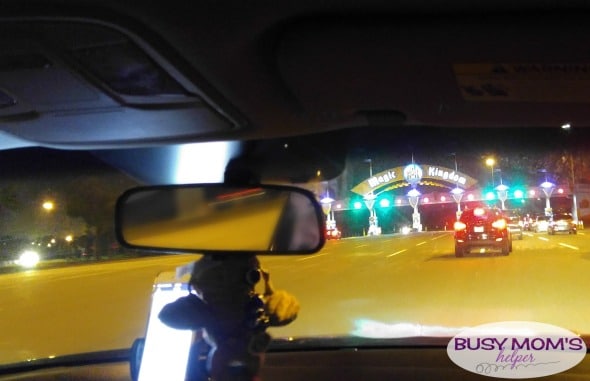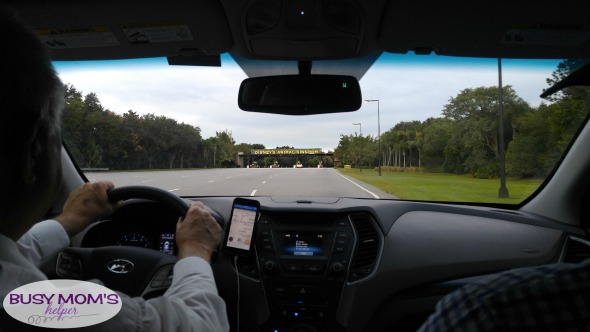 At Universal Studios
Since Universal's parks are all right around each other, there's not much of a hassle getting between places. From their on-site hotels, you can take the shuttle, or the closer ones like Loews Royal Pacific offer boats to take you from the hotel to City Walk. From there, you can also take a beautiful walking path that wasn't that long – the kids even did fine on it at the end of a long day. The Hard Rock Hotel seemed to be the closest, being able to just walk right out by the park entrances.
I didn't have to worry about further distances here, so can't offer much more input there. We did take a private car from Disney World to Universal on this particular trip, and it made it super convenient – our own timing and pick-up/drop-off locations, professional service, very comfortable ride, and our driver was able to tell us about things we passed.
Just ask Michael's VIPs when you're planning your trip, and they can help with all your transportation coordinating!
Don't forget to check Get Away Today for great ticket/hotel prices for your trip – and use
Promo Code: BusyMomsHelper for even more savings!
This content may contain affiliate links. We earn a commission at no extra cost to you if you make a purchase. We may earn money, free services or complementary products from the companies mentioned in this post. All opinions are ours alone…
The following two tabs change content below.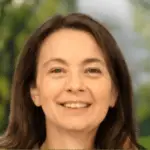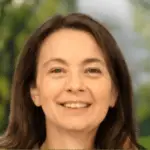 Latest posts by Kelly Dedeaux (see all)