You've Been BOO-ed!
You've been BOOed! This is Nikki and one of my favorite holiday traditions is 'You've been BOOed!' gift for Halloween. I love sneaking up to a neighbor's house and leaving some goodies, but instead of a plain old paper plate this year I'm going to leave a festive treat bag.
Supplies:
Square scrapbook paper (Halloween theme, orange, black, whatever you like, sizes are variable too, my biggest was made by a 12 x 12 piece of paper and my smallest was an 8 x 8)
Crafting wire (about 12 inches per door bag)
Extra festive paper cut into 12 x 1 inch pieces
Tape
Hot glue gun
Goodies!
This bag is easy, cheap, and way cute for all your neighbors. It is also very customizable in size, patterns, and looks.
Instructions:
Fold square paper into a cone. Try making the tip pretty pointed so your treats don't fall out the bottom. Glue the edge to hold together. Careful you don't burn yourself!
Cut any unsightly paper that hangs over or cut the back tip off to make it more circular. (optional)
With the wire or a pin to get started, on both sides about 1 ½ inches down poke a hole for the wire.
Over the place two pieces of tape on the inside and outside for extra strength.
Put the wire through the whole and twist to secure.
Take your piece of 12 x inch paper and fold it to make it look like ruffles. Glue to the top of the cone. Can put two strips all the way around or just in the front.
Print out this We've been BOOed tag, and this poem plus sign for the window.
Tape the small tag to the front of the cone.
Put treats, poem, and a window sign in the cone and sneakily deliver to a friend or neighbor! (if you don't want to fill the whole thing with treats you can put crinkle paper in the bottom and the treats on top!)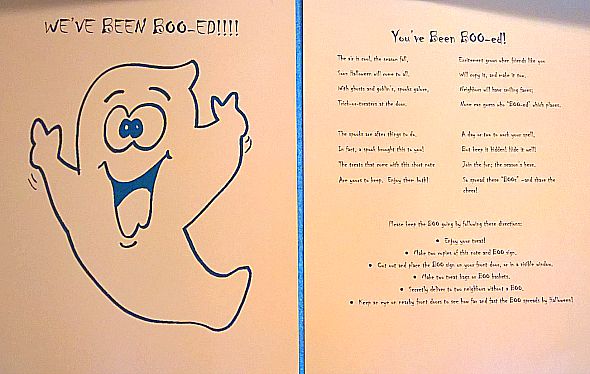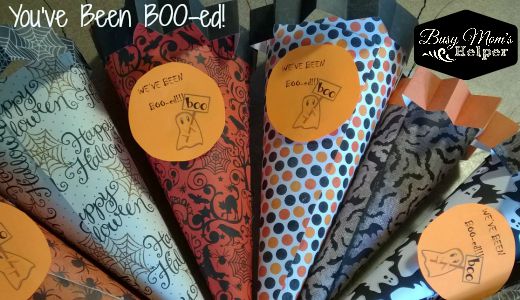 This content may contain affiliate links. We earn a commission at no extra cost to you if you make a purchase. We may earn money, free services or complementary products from the companies mentioned in this post. All opinions are ours alone…
The following two tabs change content below.
Latest posts by Nikki Cole (see all)