Best Iron On Transfer Paper Reviews: Top 10 Picks for 2022
Have you ever wanted to print your own custom designs on your t-shirt? Well, the truth is many people actually do this very thing. You may have no doubt noticed t-shirts with unique designs on people.
But when you want to buy them, you will have a hard time finding them on the market. The reason is, the person did not actually buy it, but rather printed the design on his t-shirt himself.
This is a great way to add a touch of flair and personality to your outfit. And you can do it on any plain t-shirt you own. To do that, you need a printer, the t-shirt you want to print, and most importantly a transfer paper. Transfer paper is one of the top 10 basic tools for the beginning crafter.

Transfer papers are unique printer papers made to transfer designs from paper to fabric. There are many types of transfer papers out there. But the easiest one to use is perhaps an iron on transfer paper.
You do not need a heat press to operate it. Simply place it over your t-shirt and roll an ordinary hand iron over it. In this article, we will give you an in-depth look at some of the best iron on transfer papers available on the market.
And also help you figure out which one you want for the best possible results. So, without further ado, let us dive in.
What is Iron On Transfer Paper?
Before we dive deeper, let us take a moment to discuss what exactly is an iron on transfer paper. Well, it is exactly what it sounds like; a transfer paper that you iron on! They are also commonly referred to as T-shirt papers.
If you break it down, it is essentially a type of heat transfer paper. But instead of having to use a heat press machine, you can easily transfer the design printed on the paper to the t-shirt using a hand iron.
Typically, you need a printer to use it though as you need a way to get your design printed on paper first. After that, you position the paper on the t-shirt where you want to paste the design and press down on it using your hand iron. After a couple of minutes, you will have your design printed on the t-shirt perfectly.
Top 10 Best Iron-On Transfer Paper of 2022
Now that you know what this product is and what it does, you might be wondering what your options are. Remember, this is a very popular way to personalize your t-shirts.
And these days, there are endless options out there when it comes to a transfer paper. However, not all of them give you equally great results. In the following section, we will give you our top picks for some of the finest options in the market when you are looking to buy a set of iron on transfer paper.
1. PPD Inkjet PREMIUM Iron-On White and Light Color T-Shirt Transfers Paper
Photo Paper Direct, or PPD for short, is a trusted name among fabric crafters. The PPD Inkjet Premium as the name suggests is their premium option for people who want to take their work to the next level. This particular iron on transfer paper is suitable for white and light-colored t-shirts, aprons, and other similar garments.
With this transfer paper, you can transfer any images or texts to your garments with minimal hassle. You can use any normal scissors to cut the paper as it is quite soft. The papers are 8.5 x 11 inches in size which means each sheet will give you a lot of materials to work with.
Thanks to the special formula with which it has been produced, the fabric will remain soft and flexible after you transfer the design. All you need is a simple inkjet printer by any brand and you can start using it right away. After printing the design on your textile, you can even wash it without any fear.
This pack includes 10 sheets of transfer paper and comes at a very reasonable price. So, you can keep the cost of your textiles low if you are planning to use them professionally thus attracting more customers. It is also a great choice if you want to make some custom t-shirts for yourself or your loved ones.
Highlighted Features:
Compatible with almost any type of garments
Can be cut using regular pair of scissors
Does not require special clothing dye
It comes as a pack of 10
2. AVERY Printable Heat Transfer Paper For Dark Fabrics
Avery, as a brand, really requires no introduction if you are a fan of printing labels and envelopes. When it comes to printable transfer papers for fabrics, turns out, they are one of the top brands out there. This particular option, for instance, is arguably the best iron-on transfer paper for dark shirts in the market.
If you are just getting into the craft, this is one of the best choices out there for you. It comes as a pack of five giving you plenty of options to experiment with your designs. The paper is made for darker fabrics and works well with any type of garments on which you might want to print your design.
However, make sure you are using cotton t-shirts as with polyester the results seem a bit lacking. With 100 percent cotton blend shirts though, the output is sublime giving you flawless colors in your image or texts. And the best part is that you can even download and use Avery templates from their official website seamlessly.
This transfer paper is made for inkjet printers only. For the pack of five, the price might seem a bit high, but the quality it offers makes it pretty much worth every penny. You can easily transfer your design with a simple household iron and do not need to use a heating press to transfer design efficiently.
Highlighted Features:
Long-lasting colors after transfer
Suitable for 100 percent cotton fabrics
It comes as a pack of 5
Compatible with any inkjet printers
3. PPD Inkjet PREMIUM T Shirt Transfers Paper
Next up we will be looking at another option by PPD but this one is more suited for darker fabrics. If you loved the first unit on our list, then you will be glad to know that this one is pretty much the same. The only major difference between the two is the color of the fabric where you can use it.
Similar to the previous option, this one is made compatible with any inkjet printer available on the market. However, if you have a laser printer only, then this might not be the ideal choice. For laser printers, we have different options on a latter portion of this article.
Each of the papers in this bundle is around 8.5 inches in length and 11 inches in width. So, you pretty much get the same paper space with this one as you get with its light-colored counterpart. Thanks to its size, you can use the same sheet of paper for different prints.
With this bundle, you get 10 sheets in total giving you great value for your investment. After print, your design should leave a matte finish that does not fade away with washes. It also does not require any special dyes making it a great choice for any hobbyists.
Highlighted Features:
It comes as a pack of 10
8.5″ X 11″ size of each sheet
Washable matte finish
Suitable for dark-toned fabrics
4. TransOurDream UPGRADED Heat Transfer Paper for T Shirts
The brand TransOurDream is a great choice for small-scale fabric design businesses because of how versatile their products are. The Upgraded Iron On Heat Transfer Paper by the brand is a great choice if you plan on working with different types of textiles. That too, at an affordable price.
Not only does it work with cotton fabrics but also with canvas, Lycra, elastic, mesh, and even nylon textiles. This means you do not have to stay limited to only t-shirt printing and can work on other forms of fabrics including pillowcases, caps, or even bags.
This unit comes for both light and dark fabrics so make sure you pick the one that is right for your type of project. It is compatible with all inkjet papers but requires pigment or dye ink to transfer designs to the fabric effectively. The quality of the print is superb and it is durable for at least 30 washes.
It is considered one of the highest value bundles out there. For a small cost, you get 20 sheets of paper, four of which are reusable Teflon papers. If you want an affordable way to get into the craft this can be a great choice. You can cut it using both regular scissors or a cutting machine.
Highlighted Features:
Comes as a pack of 20
Includes four reusable Teflon papers
Compatible with inkjet printers
Compatible with a wide range of fabrics
5. NuFun Activities Transfer Paper for Cricut
Until now, the products we have reviewed were mostly focused on DIY enthusiasts and hobbyists. However, if you are planning to use iron-on heat transfer papers professionally, you need larger quantities of them. That is where the NuFun Activities Inkjet transfer paper truly shines.
This might be one of the few papers on the market that is compatible with both inkjet and laser printers. The manufacturers recommend sticking to HP, Epson, or Canon if you are using inkjet printers and HP, OKI, and Ricoh if you have a laser printer at home.
These papers promise the highest of qualities in design transfer with full resistance to washing. So, after any t-shirt, you design with this paper is meant to last for a respectable period. This is a must-have for both amateur designers and professionals as nobody wants a temporary design on their t-shirt.
Sure, you can get this as a bundle of five sheets if you are unsure about the quality. But for people who know what they are getting, they offer excellent packs of 25 to 500 sheets at massive discounts. If you are talking about value for money, you simply cannot overlook this option.
Highlighted Features:
Excellent wash durability
Comes as a pack of 25
Compatible with both inkjet and laser printer
Perfect for both personal and professional use
6. HTVRONT Iron On Transfer Paper For T Shirts
The brand HTVRONT might not be the most well-known option in the market, but when it comes to quality transfer papers that work with a hand iron, they have some pretty good units to choose from. We recommend giving this particular pack a try if you want something that comes at a lower cost.
It is a simple and straightforward transfer paper that is capable of capturing every bit of detail from your design. So, you can go wild with vibrant colors and intricate patterns without worry. This transfer paper will make sure that none of the details get lost in the transfer.
After transferring the design to the fabric, you can stretch your t-shirt and even wash it without ruining it. And if you wan't to tie dye a shirt, be sure to get the best fabric to tie dye possible. The design is flexible, soft, and resistant to cracking. For such a price, the durability it offers is quite astonishing. Make sure you are only using an inkjet printer though.
This bundle comes as a pack of 20 giving you enough sheets to experiment and print your favorite designs for all your clothes. Even if you are planning to start a business, 20 sheets are more than enough to get you started. It is easy to use and does not require any special skill or experience to master.
Highlighted Features:
Can transfer rich and vibrant colors
Comes as a pack of 20
Suitable for white or light fabrics only
Compatible with inkjet printers
7. Frisco Printable Transfer Paper
For our next option, let us go with something different. The Frisco Craft Stencil Film is not your typical transfer paper nor does it come as individual sheets. Instead, the manufacturers give you a complete roll of vinyl stencil that can transfer designs onto your favorite t-shirts easily. In fact, I even have a list of the best vinyl sticker printers that I've ever tested.
The vinyl stencils come in blue color. Whether you are using white fabric or dark ones, it has the ability to make the design pop out instantly. It does not bleed colors and you do not need to worry about air bubbles while pasting it on the fabric. After print, the design you get is also quite durable and does not crack.
If you are looking to buy the best iron on transfer paper for Cricut, this is the one you pick. However, without an inkjet printer for cricut, there is no point in buying this one. If you are a beginner and do not know much about such fabric crafts, we recommend staying away from this one.
But if you do know your way around this craft, this can be a fantastic investment. At a small cost, you will get two whole rolls of 12″ x 30″ materials that will comfortably let you go through a bulk load of projects. This is a great choice for people who regularly partake in this line of work.
Highlighted Features:
Compatible with Cricut, Silhouette, and other cutting machines
Includes two rolls of materials
Adhesive backing for better application
Offers great value for professionals
8. HP Iron On Paper for Fabrics
HP is a name that is not only reputed in the electronics world but also equally as respected in the craft industry. With their iron on transfer paper, you will be able to print your favorite designs on your favorite t-shirts. It might not be enough to start a business, but it is more than enough for personal use.
This transfer paper is for inkjet printers only and HP recommends using their own line of printers with this product for best results. However, we experienced no decline in quality even when used with other brands of printers. As long as your printer is inkjet variant, you should be fine using this transfer paper.
Each sheet of paper comes with a size of 8.5 X 11 inches giving you plenty of paper space. You can use it with a wide range of fabrics to get your vibrant and colorful images and text printed on it. It also works great for designing caps, bags, and other small items.
This pack includes 12 sheets of paper which should be enough for personalizing a couple of your favorite items. For business, you might need to buy a couple of these bundles which might not be the most economically wise decision. However, for casual use, it can be a pretty good investment.
Highlighted Features:
Comes as a pack of 12
Can transfer colored designs flawlessly
Compatible with inkjet printers
Each sheet is 8.5 inches in length and 11 inches in width
9. Jolee's Boutique Easy Image Iron-on Transfer Paper
The Jole's Boutique Easy Image Iron on Transfer Paper might be the first pick for thousands of users. This unit by EK Success Brand gathered a lot of popularity because of its ease of use, and how flawlessly it can transfer the print to your fabric. If you have never used it before, now is a good time to get one for yourself.
You need to use an inkjet printer to print on this transfer paper. Once you print it, you can simply iron it onto your fabric of choice. For best results, you should use it on cotton shirts. But it can still be used perfectly well with other surfaces and materials without any noticeable decline in quality.
One thing to keep in mind though; this particular option is suiatable only for darker fabric colors. For lighter fabrics, you want to look for a model specially designed for that type of material. After printing your image on the shirt, you can wash it without any fear of damaging the design.
With your purchase, you only get five sheets of paper. Considering the price it asks, it does seem like a bit of a letdown especially if you want to use it professionally. However, if you want to print a couple of t-shirts with your own design, then you can go with this option in a heartbeat.
Highlighted Features:
Comes as a pack of five
Suitable for darker fabrics
Compatible with inkjet printer
Durable and colorful print results
10. Epson Transfer Paper
Let us wrap up this list of reviews with another name that is quite well-known especially among those who regularly use a printer. This time, we will be looking at an entry by Epson. This Iron-on Cool Peel Transfer paper has many features that make it worthwhile if you are looking for the best iron on transfer paper for t-shirts.
Not only is it compatible with cotton t-shirts, but is also suitable for other fabric materials. This makes it a great choice for designing products like aprons, tote bags, pillowcases, etc. Whether you are transferring texts or images, you should find no lacking in quality.
The thing that we love most about this unit is how easy it is to peel off after cooling. With cheap transfer papers, there are instances when the design would come right off with peeling. Though it is priced so low, we never faced such issues with this product.
This is advertised as a starter bundle which is why it comes with 10 sheets of paper. The simple design and user-friendly nature of this bundle make it a great choice for any beginner. And considering the laughable price of the unit, there is no reason to at least try it out to see if you like it.
Highlighted Features:
Comes as a pack of 10
Perfect choice for beginners
Easy to peel after cooling
Suitable for multiple fabric types
What to Look Before Buying an Iron On Transfer Paper?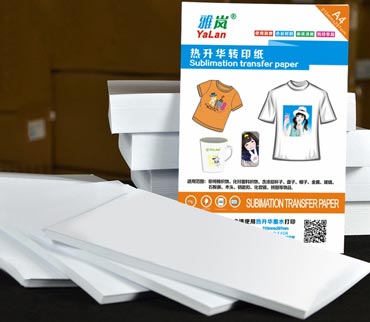 Getting good transfer papers is the first step to starting a custom t-shirt business. But many people use it to make t-shirts for personal use too. In either case, you want to make sure that you are getting some high-quality transfer papers. Otherwise, the finished output might not be as good as you wanted.
Our list of products should already give you some pretty great options. But which one do you choose? Well, despite the simplistic nature of iron on transfer papers, there are actually many small details you need to think about when you buy one for yourself.
You need to think about factors like the type of printer you use or the color of the fabric you want to print before settling on a specific product. Otherwise, you might end up with a result that does not fully satisfy you.
Since the whole point of printing custom designs on a t-shirt is self-satisfaction, that is the last thing you want. To that end, here are a few things to know and consider when you are deciding on an iron on paper.
Compatibility
The first thing you need to check is whether the transfer paper is suitable for the type of fabric or surface you are working with. When it comes to textile, typically, iron on photo transfer paper is compatible with cotton and polyester. But there are other options out there for different surfaces.
If you want to transfer your image or text to surfaces like wood, glass, or leather, you need to go with specialized papers for those specific surfaces. These days, there are a few different options available for people with these requirements. All you have to do is make sure you are buying the paper compatible with your needs.
Fabric Color
If you are printing exclusively fabrics, then take some time to consider the color of the fabrics where you want to transfer the print. You will have different options depending on whether you are printing on a piece of light-colored fabric or a dark one. You do not want to overlook this critical detail.
Using an iron on heat transfer paper that is made for white fabrics on a dark surface may cause the image to look pixelated and underwhelming. If you care about the looks of your textile after printing, make sure you are investing in a transfer paper for your specific fabric texture.
Quantity
Everybody wants the best value when buying a new product. Since transfer papers come in a bundle, you want to make sure you are getting enough sheets of paper for your specific needs. Typically, you can buy this product in packs of ten or twenty. But you can also order more quantities if you are printing in a professional capacity.
If you are just trying out this craft though, we recommend going with at least a pack of 10. This would give you enough papers to experiment and figure out the best possible output from your prints. And once you become more comfortable with this type of project, you can invest in higher quantities for better value.
Size And Shape
Iron on transfer papers come in different sizes. Some units come with a length of 12 inches and a width of 15 inches whereas you might get only 8.5 inches length and 12 inches width with some bundles. This might not seem like a big deal to many, but to get the most out of your purchase, this is an important consideration.
Remember, transfer papers can be cut down to match the size of the print. This means you will be able to use one portion of the paper for one project, saving the rest for later. Going with a larger and wider transfer paper often gives better value to the consumer.
Printer Compatibility
Before you can use the transfer paper on your fabric, you need to print the design using a scrapbooking printer. That is why you need to know whether you have a laser or an inkjet printer at home. Usually, transfer papers are only compatible with one type of printer, not both.
If you check our list of reviews, you will find options for both types of printers. We have showcased some great laser iron on transfer papers if you have a laser printer at home. With inkjet printers, you have a bit more flexibility as most modern papers are designed for inkjet printers.
Ink Compatibility
You also need to think about the ink that your printer uses and whether it is compatible with the transfer paper that you are planning to buy. Not all papers work equally well with the standard ink that you use for printing documents. Some even require special fabric dyes to print quality images.
If you are working as a hobbyist or a small-scale businessman, we would suggest getting transfer papers that work with regular inks instead of dyes. That way, you do not have to invest in an industry-grade printer and can work with the basic inkjet or laser printer you have at home.
Print Durability
What is the point of printing your own design on a t-shirt, if it starts fading after a couple of wash? No point at all! With high-quality transfer paper, you should be able to wash it immediately after printing. The quality of the print should not take a hit if you wash it.
Unfortunately, there is no easy way to tell whether the print will come off after wash or not just by looking at the transfer paper. That is why before committing to a specific option try to look at other people's experience with that specific transfer paper. If there are any potential red flags you need to know about, you will find them instantly.
Ease Of Use
Some transfer papers make it extremely easy for beginners to work with them. If you are relatively new to this line of work, consider investing in a unit that does not require any extra skill to use. The simpler the process, the better the experience for a new user.
Unless you are using cloth dyes and industrial-grade printers, there is no point in getting transfer papers that require special dyes. You want to go with a simple option that works with regular ink. Also, consider whether you need any special cutting machine to cut the paper. For best results, go with papers that you can cut with a normal pair of scissors.
Versatility
By versatility, we mean a couple of things when it comes to transfer papers. Some options on the market allow you to transfer designs not only to fabrics but also to a wide range of other surfaces including glass or leather. In addition, some papers are compatible with both inkjet and laser printers.
Though this might not be a critical factor for everyone if you are someone who changes gears frequently it might be worth thinking about. That way, when you upgrade your printer, you do not have to invest in a new bundle of iron on transfer papers making your previous investments obsolete.
Price
It might be tempting to go with cheap iron on transfers for t-shirts, but that is rarely the best idea. The quality of the print that you get using low-end papers is not worth the hassle of printing your own design. And if you are printing fabrics professionally, using low-quality, cheap papers damages your reputation.
However, that does not mean you should go with the most expensive option on the market. There are some great options in the affordable range that give you excellent color output. In fact, a lot of the products that we showcased are inexpensive and offer superior quality.
How To Print On A Transfer Paper?
With all the information you already have gathered from above, you should have no trouble buying a high-quality iron on transfer paper. Tranfer paper can be very useful for things like learning How to attach a patch onto your shirt without sewing. However, getting the print that you desire is a whole other thing. If you are a complete beginner, printing designs using transfer papers might be an entirely new concept for you.
To help you learn how to use it efficiently, we have created a detailed guideline on how to print on a transfer paper efficiently.
1. Creating the Image
The first step to creating your custom t-shirt design is to create the design itself. If you have worked with any image editing software, you should have no trouble figuring this step out by yourself.
However, if you are completely new to this, we recommend choosing a free software like GIMP or PhotoScape and watching a few tutorials on the internet.
2. Printing the Image
Once you have the designed image that you want to apply to your t-shirt, you need to print it on the transfer paper first. This step is quite easy and effortless. Simply place the transfer paper on the appropriate slot of the printer and press print.
One thing to note before you print, however, is that you need to flip the image that you are printing on the transfer paper. The reason is that after applying the image on the t-shirt, it will flip back to its original design
3. Pasting the Image
The final step to printing using your iron on transfer paper is to paste the printed image on your desired t-shirt. Place the shirt on a flat surface and stretch it out to remove any wrinkles.
You want to place cardboard or a block of wood under the part of the fabric where you want to paste the design. This means if your goal is to print on the top side of the shirt, place a block of wood inside the shirt separating the top and the bottom.
Then position the transfer paper with the image facing towards the shirt. Turn on your hand iron and switch to high heat settings. Then carefully go over the entire area of the transfer paper a couple of times.
Make sure you are applying heat evenly across the entire surface. It should not take more than two or three minutes for the design to be pasted perfectly. After it is done, peel off the sticker on top of the design and you are done. And if transfer paper isn't for you & you'd rather glue fabric directly onto your shirt, be sure to check out Our list of good fabric glue for patches for you.
Frequently Asked Questions
1. Are there different types of transfer papers?
Yes, there are many different types of transfer papers out there. In fact, transfer papers can also vary depending on the type and color of fabrics you are working with.
2. Can I use any heat transfer papers with a hot iron?
No. Just because you have heat transfer paper, does not necessarily mean that it will work with a hot iron. You might need a heat press machine for that. That is why it is important to check if your transfer paper is compatible with hand iron before you buy it.
3. What type of finish do I get using iron on transfer papers?
Typically, most irons on transfer papers leave a matte finish on the design. However, that can vary depending on the brand and the product you are using. If you want a glossy finish, there are several units out there that give you that type of finish.
4. Can I wash t-shirts designed using iron on transfer papers?
Yes. Iron on transfer paper designs can last through at least twenty to thirty washes without fading.
5. Which type of printer is best for iron on transfer papers?
These days, you can find iron on transfer papers for both inkjet and laser printers. However, we recommend using an inkjet printer since the ink settles down better on the fabric with this type of printer.
Final Thoughts
Learning how to use an iron on transfer paper will let you experiment and print custom designs on your favorite t-shirts. Following directions during ur crafting is important no matter if you're learning How to print vinyl stickers at home with inkjet printer or use transfer paper. The quality and durability of the print will be superb as long as you invest in high-quality papers and follow the printing process to the tee.
We hope our article on the best iron on transfer paper could help you out with all the information you need to start printing your own t-shirts like a pro.