Chocolate Monster Cake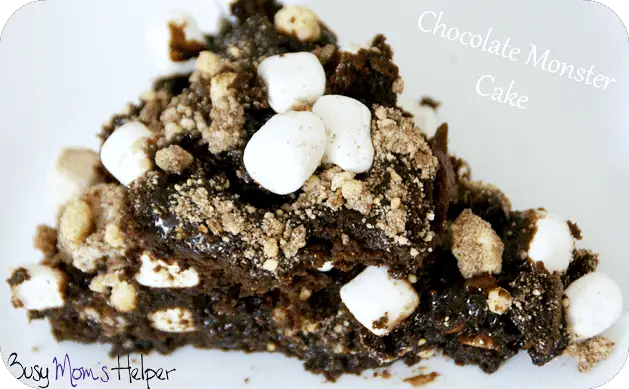 Adapted from bon appetit
Okay, so I know this site is made for busy women, and that the majority of my recipes are quickly prepared. However, there are occasions when I find a recipe that just sounds so delicious and unique, that it just might be WORTH the extra time it would take. This was one of those times. Flipping through my recipes, magazines, books and trying to find something amazing to bake for the weekend, I came across the most drool-worthy photo of a chocolate cake. It was settled, I was going to bake this, regardless of the almost 2 hours of prep work (this actually takes about 20 hours total, if you count that it must be refrigerated overnight, but only 2 active hours).
To my absolute delight, I found it to be completely worth the time and effort! My family agreed, of course…except those who don't like chocolate COUGH (hubby) COUGH! So, if you don't have the time, definitely pass on this recipe; I do recommend it if you have some time and want to create something exceptional!
Before making this, please read over the entire instructions FIRST, so you're familiar with the process, as it's a bit complicated. Don't be intimidated, though; if I can make this, so can you!
Chocolate Monster Cake
Ingredients:
6 tbsp. Plus 3 tbsp. Plus 1 1/3 cups Ovaltine chocolate malt mix
1 ½ oz. White chocolate, chopped
4 oz. Plus 2 oz. Bittersweet chocolate, chopped
1 tsp. Mild-flavored molasses
Salt
½ cup Heavy whipping cream
½ cup plus 3 tbsp. Light corn syrup
¼ cup plus 2 ¼ cup plus 3 tbsp. Sugar
1 1/3 cup plus ½ cup All-purpose flour
¾ cup Unsweetened cocoa powder
2 tsp. Baking powder
¾ cup plus 6 tbsp. Unsalted butter, room temperature
3 Large eggs
¾ cup Buttermilk
1/3 cup Vegetable oil
1 tsp. Vanilla extract
½ cup Whole milk
2 cups Mini marshmallows
¾ cup Nonfat dry milk powder
2 tbsp. Cornstarch
Milk Crumbs:
Preheat oven to 275 F.
Line baking sheet with parchment.
In a bowl, mix all milk powder, ½ cup flour, 3 tbsp. Sugar, allCornstarch, and ¾ tsp. Salt until well combined.
Add butter and stir with a fork until clusters form.
Spread mixture evenly on sheet.
Bake until crumbs are dry and crumbly, but still pale (about 10 minutes).
Cool completely on sheet.
Chocolate Malt Crumbs:
In bowl, mix milk crumbs and 6 tbsp. Ovaltine.
Put white chocolate in small microwave-safe bowl and microwave until melted, stirring occasionally.
Drizzle chocolate over crumb mixture and toss to coat.
Malt-fudge Sauce:
Put 1 1/3 cups ovaltine, 4 oz. Bittersweet chocolate bits, all molasses, and a pinch of salt in a bowl. Set aside.
Mix all heavy cream, ½ cup corn syrup and ¼ cup sugar in saucepan and bring to a boil, stirring until sugar dissolves.
Pour cream mixture over chocolate mixture in a bowl.
Let stand for 1 minute, then stir until smooth and glossy, about 2 minutes.
Cake:
Preheat oven to 350 F.
Coat three 8-inch cake pans with nonstick spray. Line with round parchment, then coat parchment with nonstick spray.
Place 2 oz. chocolate in small microwave-safe bowl and microwave until melted, stirring every 15 seconds. Set aside.
Sift 1 3/4 cups flour, 3/4 cup cocoapowder, 2 tsp. baking powder, and 1 tsp.salt in medium bowl.
In large stand mixer, combine 3/4 cup butter, 2 1/4 sugar and 3 tbsp. corn syrup. Beat on medium-high speed until fluffy and pale (about 2 minutes). Scrape sides of bowl.
Add eggs. Beat until mixture is fluffy (about 2 minutes). Scrape sides of bowl.
Add melted chocolate. Beat until well-blended (about 1 minute).
Add 3/4 cup buttermilk, 1/3 cup oil and 1 tsp. vanilla. Beat until pale brown, about 2 minutes.
Add flour mixture. Beat on low just until blended (about 1 minutes).
Divide batter among pans, smoothing the tops.
Bake until toothpick inserted into the center comes out clean (about 20 minutes). Cool completely in pans on racks.
Final Creation:
Stir milk and 3 tbsp. Ovaltine in small bowl.
Invert 1 cake form pan onto flat plate and peel off parchment. Place top-side down in 8-inch springform pan.
Brush cake with 2 ½ tbsp. Ovaltine-milk mixture, letting it soak in.
Drizzle 1/3 cup malt-fudge sauce over cake, spreading evenly over the top.
Sprinkle ½ cup chocolate malt crumbs over sauce.
Drizzle 1/3 cup malt-fudge sauce over crumbs.
Scatter 1 cup mini marshmallows over sauce.
Use a kitchen torch to toast marshmallows.
Repeat with second cake layer (ovaltine milk mixture, sauce, crumbs, sauce, marshmallows).
Remove third cake and place top side down on marhsmallows on second layer.
Brush with remaining ovaltine milk mixture.
Cover cake with plastic wrap and chill overnight. Cover and chill fudge sauce in microwave-safe bowl.
Next day, run knife around sides of pan to release cake and remove pan sides.
Place cake (still on springform pan bottom) on plate.
Rewarm sauce until pourable, and pour over cake, letting it drip down the sides.
Mound handful of marshmallows in center of cake, and toast with kitchen torch.
Sprinkle remaining crumbs over cake.
Let stand at room temperature 3 hours before serving.
Notes: Use a springform pan; I don't know how it would work otherwise! I honestly didn't own one before this, now I'm SOOO glad I have a few! Milk crumbs may be stored up to one week in an airtight container. Malt-fudge sauce may be stored, covered and chilled, for up to one week (rewarm until pourable before using). In the stand mixer, it's best to use a paddle attachment. The final product will rise well above the edge of the springform pan. This cake is VERY rich, so have a glass of milk handy, or serve with vanilla ice cream!
This content may contain affiliate links. We earn a commission at no extra cost to you if you make a purchase. We may earn money, free services or complementary products from the companies mentioned in this post. All opinions are ours alone…
The following two tabs change content below.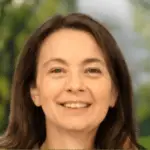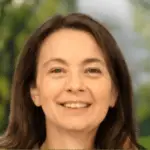 Latest posts by Kelly Dedeaux (see all)