McDonald's Hotcake Recipe That You Need!
Now you can make these delicious hotcakes at home with this McDonald's Hotcake Recipe!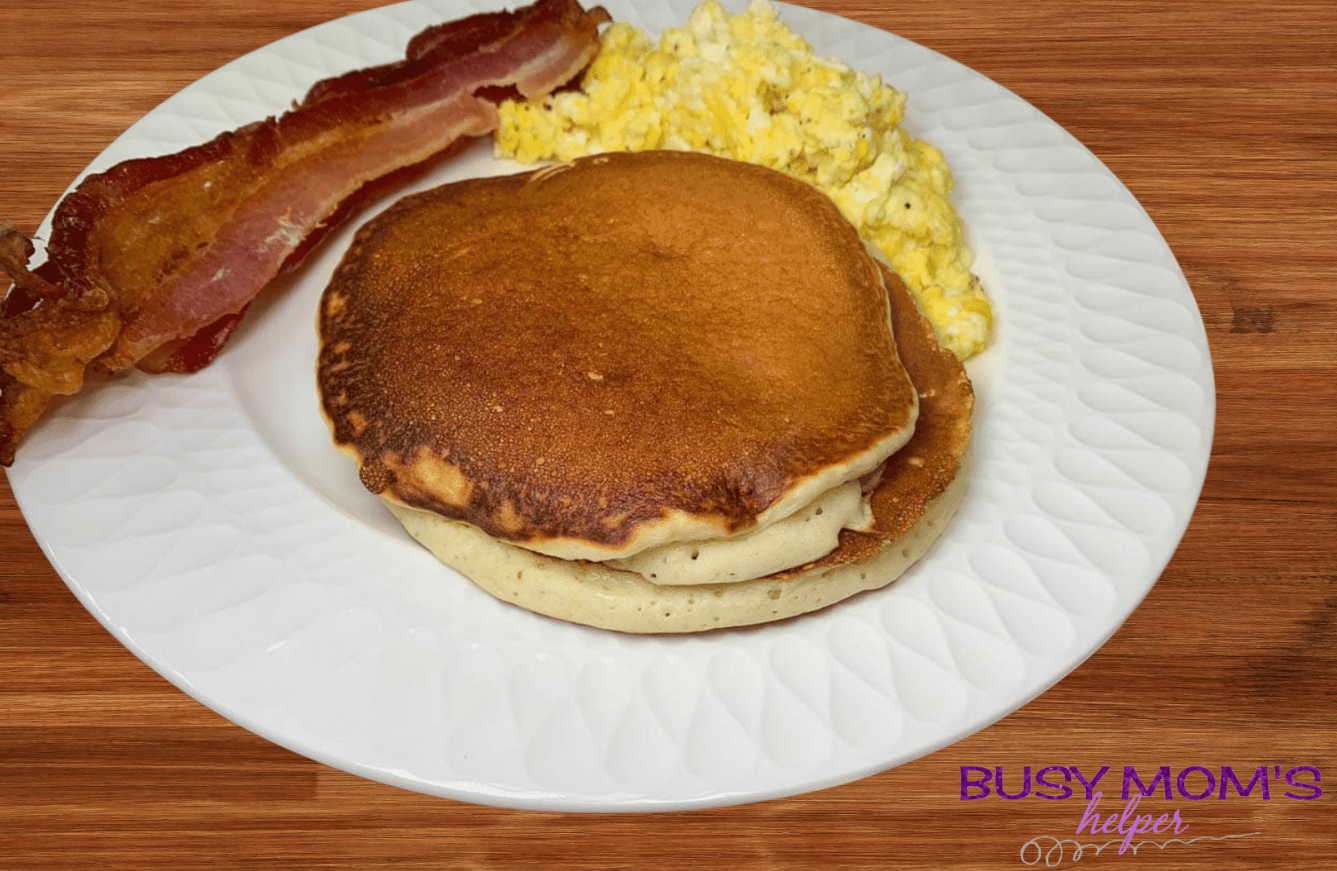 Print Recipe
Copycat McDonald's Hotcake Recipe
Just like our favorite hotcakes we get at McDonald's, these are fluffy and delicious!
Ingredients
2

Cups

All Purpose Flour

1

Tbsp

Baking Powder

1

tsp

Salt

4

Tbsp

White Sugar

2

Eggs,

Beaten

2

Cups

Milk

1

Tbsp

Lemon Juice

4

Tbsp

Vegetable Oil
Instructions
Preheat and grease a griddle or frying pan over medium heat.
Make Hotcake Batter
In a mixing bowl, combine all the ingredients until there are no lumps. Make sure not to over-mix. I like to mix all of my dry ingredients together first to accomplish this.

Pour about ⅓ cup of the batter onto the griddle. When the edges become dry and the top is bubbly flip the pancake and cook the other side for about a minute. Remove from Griddle.

Repeat this step until all the batter has been used and enjoy!
Notes
I sure that the lemon juice may seem off in this recipe, but the acid from the lemon works with the baking powder to create the fluffiest hotcakes! You will not taste the lemon I promise. If you are not so sure, you can always sub out the milk for buttermilk and not add the lemon juice. 
For some reason my kids prefer the McDonald's hotcakes recipe to my own that I make every weekend. I was sick of hitting the drive through and I decided to try and figure out the McDonalds hotcake recipe myself, with a lot of trial and error. But I finally got it and my kids love this recipe!
We love a classic breakfast with eggs and bacon, so we always have it on the side of our hotcakes. We love to scramble our eggs with this recipe. But do what works best for your Family. If you are in need of more ideas check out 60+ Breakfast Ideas.
Freezing Instructions
This recipe is also amazing to make a big batch and freeze for those busy school mornings. Once you make the McDonald's Hotcakes recipe let them cool and add some parchment paper between hotcakes so they do not stick together. I use the pre-cut sheets, like these to make it easier. I put them in a freezer plastic bag and into the freezer they go.
Once I am ready to make the kids breakfast, I just pull the hotcakes out of the freezer and microwave for 20-30 seconds. I have also used the toaster on the lowest setting as well and they came out wonderful!
McDonald's Hotcake Recipe Variations
Sometimes we just need to mix it up! We love to add in different things to keep this recipe fun! We love to add in sprinkles, chocolate chips, blueberries, and dash of cinnamon and nutmeg. Whatever sounds good to you, add it on top of the pancake right before you flip it over on the griddle. We of course love to top ours with butter and real maple syrup. We also love to top with fresh fruit like strawberries. While I do love this recipe if you have not tried German pancakes, you are missing out, definitely worth a try to get another recipe in rotation.
Lately, my kids have really been enjoying this pancake maker from amazon. It makes perfect silver dollar hotcakes with Dinos and cars on them!
FAQs – McDonald's Hot Cakes
What is the difference between hotcakes and pancakes?
Hotcakes are a type of griddlecake that is thicker than a normal pancake. Hotcakes have been cooked for longer so they have more browned areas on them from being in contact with the pan. Both have very similar ingredients, pancakes are thinner and have shorter cooking time.
What is McDonald's hotcake syrup?
The "maple" syrup is kind of another story: It's the customary blend of flavored corn syrup you'll find in diners nationwide. The restaurant's website lists "natural flavors" in its table syrup blend, but we get the distinct feeling that no maple trees were harmed in the creation of this syrup.
What butter does McDonald's use?
Real butter, just like how you butter toast at home, McDonald's uses real butter on English muffins, biscuits and bagels used for some of our breakfast menu items.
Final Thoughts
While the drive through is always convenient and we will still use it when we are in a pinch for time. This McDonald's hotcake recipe is an amazing way to enjoy your morning still in your PJ's, relaxing at home, no car ride needed.
Gather-up all of your ingredients and let's get cooking! We hope you love this one as much as we do!