Frozen's Anna Dress in 2 hours or less
I'm totally not a professional seamstress. Not even close! I don't like spending forever on a costume that'll just leave me frustrated with a mangled mess of fabric and thread! So I love putting together quick tutorials that don't take much time, such as Frozen's Anna Dress in 2 Hours or Less!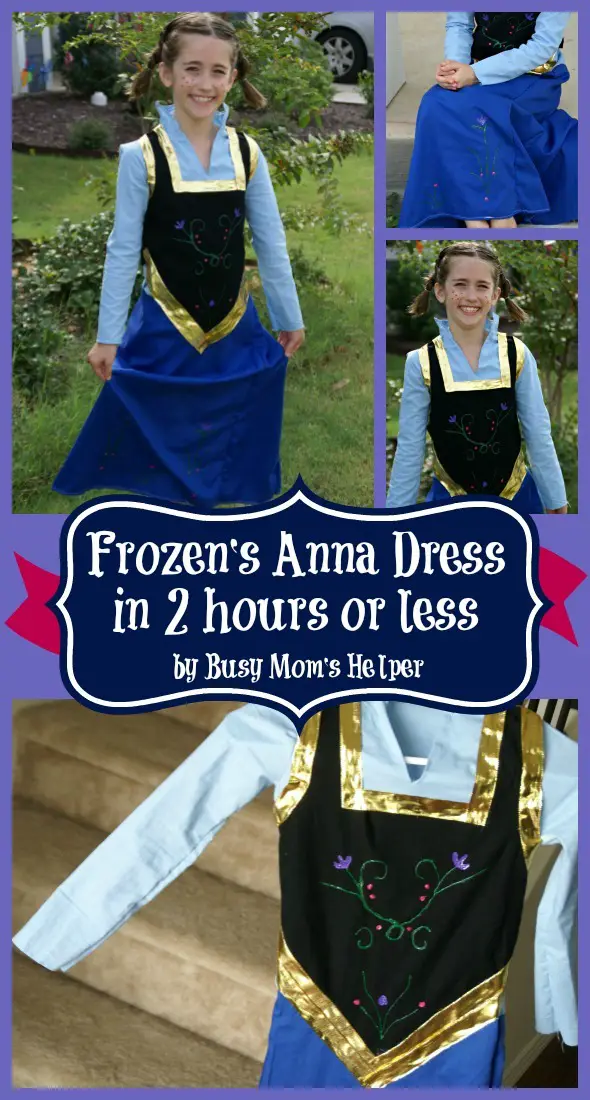 Especially since kids change their minds all the time on what costume they want, or grow too much to wear the same one more than one year, it's nice to not spend forever making it. Just like my simple Elsa Dress Tutorial, Wonder Woman is loving wearing her Anna Dress around!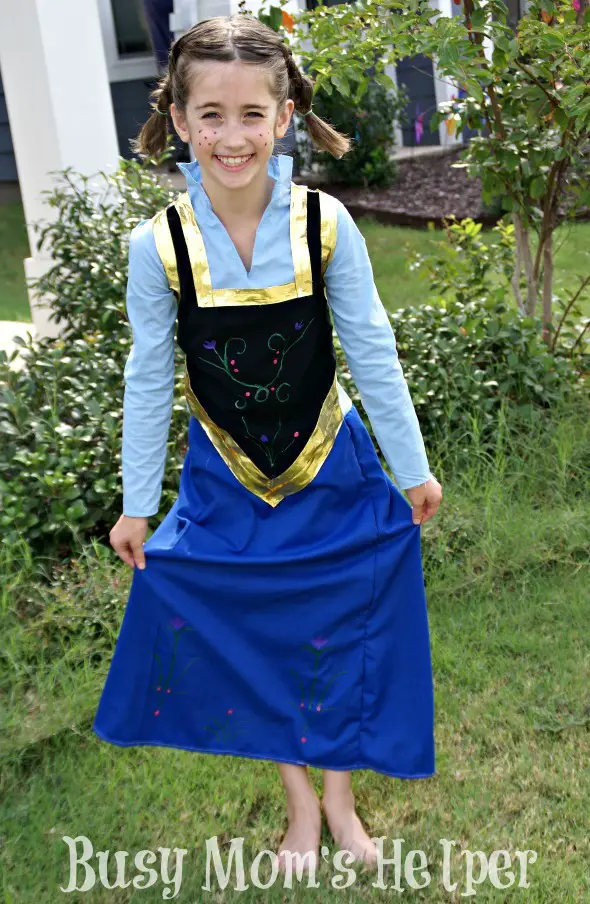 Note: The amount of fabric and such you'll need will depend on your measurements. A lot of this tutorial is just based on the size you need, then cutting out/sewing the correct form. Simple and quick! Just make sure you double check your measurements as you go, to avoid cutting/sewing more than necessary!
Supplies
Light blue fabric for bodice and sleeves
Black fabric for bodice
Dark blue fabric for skirt
Thick gold ribbon for trim
Sewing machine/Scissors/Thread/Etc.
Hot glue gun/glue sticks
Puffy Paint for designs
Directions
Make your fabric cuts: Light Blue: the main bodice with a slight collar with slit down the front, as well as arm holes. Also cut out two sleeves.   Black: over-bodice part with straps going over the shoulders and a point at the bottom center.  Dark blue: skirt, making sure if goes outward at the bottom to flow well.
Make sure to sew with the fabric inside out, so the seams are on the inside and the seen parts look clean. Sew the side and top edges of the light blue bodice piece. Hem the wrist part of the sleeves, and bring the two edges together for the tube-like sleeve.  To attach the sleeves, put them connected inside the bodice part to sew the seam inward:  
Hem the bottom of the skirt, then sew the two sides together to make it an actual skirt piece. Being sure you put the smaller end to the bodice, sew the skirt to the bottom of the light blue bodice. Again, be sure to sew inside-out so the pretty seam is on the outside. 
Either sew or hot glue the black bodice piece over top the light blue top.  
Carefully use hot glue to attach the thick, gold ribbon as the trim around the black bodice piece.
Your dress is pretty much finished! If you don't want to bother with the accents, then don't and just enjoy the dress.
And that's all there is to it! It took me just under 2 hours (aside from drying time for the puffy paint), and that includes one or two sewing mishaps and taking pictures along the way.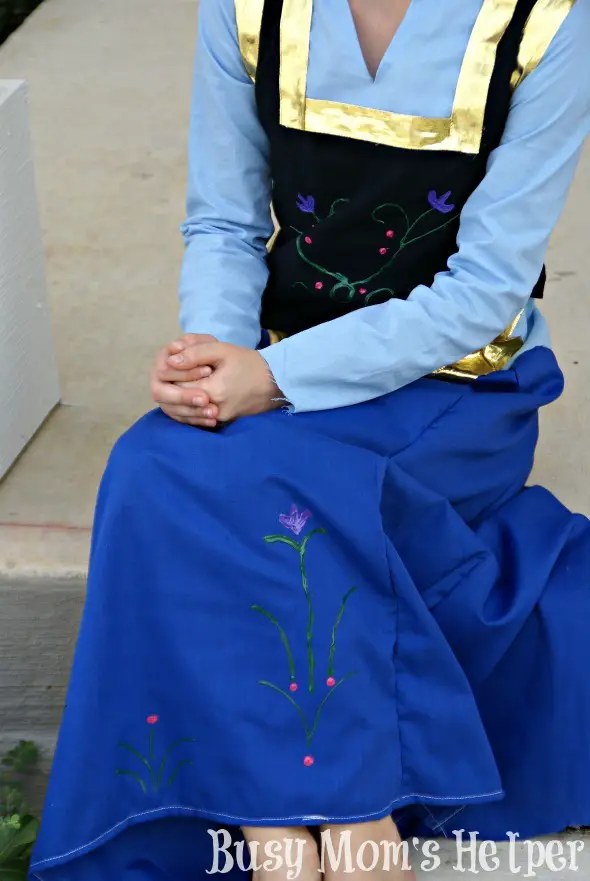 Wonder Woman is so torn between wearing her Elsa Dress and this Anna Dress for Halloween…perhaps she'll switch half-way through trick-or-treating so she can do both! Next on my list? A cloak to go along with this Anna Dress!
If you like this, don't miss this Elsa Dress Tutorial!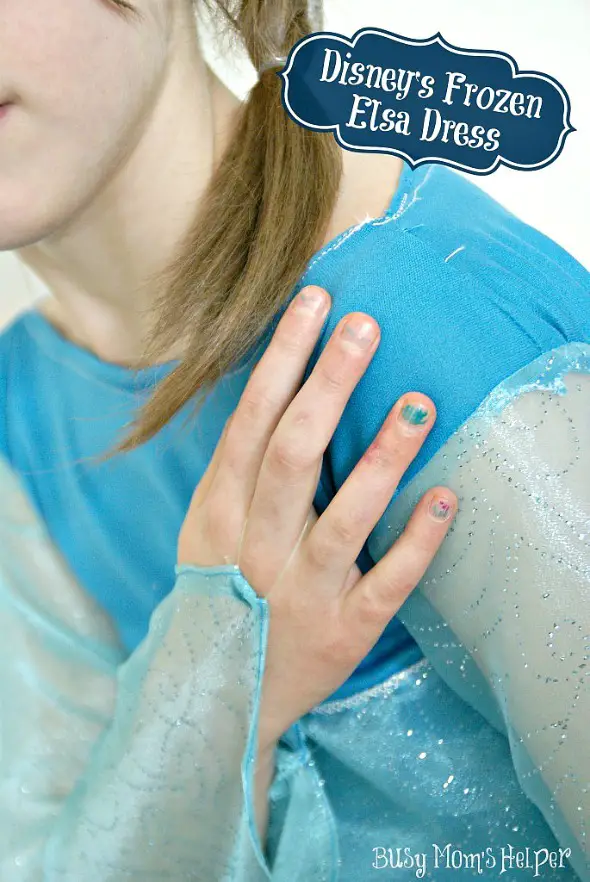 This content may contain affiliate links. We earn a commission at no extra cost to you if you make a purchase. We may earn money, free services or complementary products from the companies mentioned in this post. All opinions are ours alone…
The following two tabs change content below.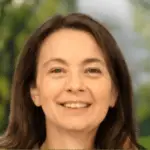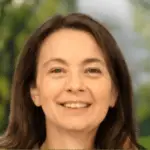 Latest posts by Kelly Dedeaux (see all)